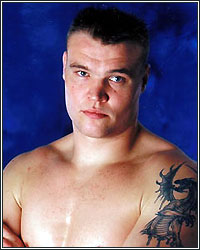 FightHype.com recently caught up with Semmy Schilt, the first ever three-peat K-1 World Grand Prix winner, to discuss his recent win over Peter Aerts, his future plans and more. Check it out!

TN: Congratulations Semmy on becoming the first ever 3-time consecutive K-1 World Grand Prix winner. How is life right now?

SS: Life is good. I'm becoming a father soon and I didn't get injured at the Grand Prix.

TN: To be so successful in K-1, how many times do you train per week?

SS: 2 times a day, in the morning and in the afternoon, for a total of 3 hours a day.

TN: If Tim Sylvia wins the UFC Heavyweight title again in February, any chance of us seeing you come to the US to try and knock him out?

SS: My manager and K-1 are trying to work out a deal with the UFC to make this fight happen. I am ready to get back in the Octagon!

TN: When you go out in Japan, are you easily recognized?

SS: Well, with my height, I don't put on sunglasses and go up in the crowd. Yes, I get recognized everywhere.

TN: Who is someone you look up to for inspiration?

SS: My trainer Dave Jonkers, my team Golden Glory, my manager Bas Boon and all my sparring partners.

TN: Is there anything you'd like to say to your fans in closing?

SS: I am still developing my skills and speed. Being a world champion in karate and Pancrase and now three-time world K-1 Grand Prix Champion, I would like to get the heavyweight title in the UFC and fight a rematch against Fedor, with the right preparation. I mean, from not doing K-1, then to mma, then back to K-1, it is very hard for me to shuffle between styles. I see that as a huge challenge.

For more information on Semmy Schilt or the Golden Glory team, please visit www.goldenglory.com.