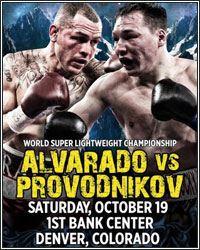 As I stood in a gloomy hallway under the bleachers that not 20 minutes ago were rocking and rumbling, I was once again reminded of how lonely the sport of boxing can be. I sat in a chair five rows from the ring, when emerging from a deafening crowd of over 7,000 came the hometown hero, "Mile High" Mike Alvarado, decked out in Bronco Blue and Orange. Alvarado had done this 35 times before, but this time, it was different; he was at home, a world champion, and a well-known star in the sport of boxing. His opponent was a man, just like any other he had faced in his entire career, yet there was something different in his eyes and his temperament. This wasn't just a guy who enjoyed to fight or was fighting for the paycheck; this was a man who came to the ring with a look as cold as the ice from his motherland of Russia. As quickly as the 1st Bank Center in Broomfield, Colorado erupted, it was silenced; its' hometown hero was defeated, and the chants of "3-0-3" became a distant memory as the "Siberian Rocky" and all his supporters took over with chants of their own. As I stood in that hallway alongside Alvarado team member Brad Goodman, some things hit me: A) this was not supposed to happen, and B) all those cheering for the hometown fighter could not be there to uplift the spirits of their fighter Alvarado after the fight.

I was allowed entrance to Alvarado's dressing room by trainer Shann Vilhauer, whom I know and have a great deal of respect for. I saw various family and team members sitting around with not so much as a word here nor there being said. You see, this is the tough part; this is the humbling part of boxing. As you enter the arena, fans are there to lift you up and let you know you are loved, but in defeat, in a dressing room, it is just you and those that love you to replace that. Boxing is the most humbling and realistic form of art I know. You cannot hide from who or what you are in the ring. All will come to light. Alvarado is, and always has been, a warrior; a warrior who fights with his heart on his sleeve, a fighter who gives everyone in attendance or watching EVERYTHING he has. He always has, and he always will. It is for that reason he will always be loved and embraced in the boxing world. It's hard to find the words or know how to say them in moments like this. The only thing I could do was put my hand out and embrace in a friendly handshake and tell him what I felt at that moment and let him know I appreciated the effort and desire I had just seen spill out in 10 bloody, vicious rounds of combat. "Keep your head up champ, you will be back; you fought your ass off and you have nothing to be ashamed of," were the words that had left my mouth, delivered from my heart, in the purest form I could deliver them.

I had followed the Provodnikov train, led by HBO cameramen, to the end of the hallway where Team Provodnikov supporters were happy and celebrating, but in a much quieter and controlled manner than I was used to seeing or thought I would see considering the circumstances. I congratulated him and let him know he put on a great show, but my heart was concerned for the former champion. Alvarado received stitches in his right eye on a couch where various family members were sharing a bag of Cheetos. There was a team prayer and photo before the room was picked up and exited. It was decided that Alvarado should go to a Denver area hospital for precautionary tests, which I was informed came back negative, and Alvarado left the hospital to go home and rest.

Alvarado trainer Shann Vilhauer was asked in a short interview before leaving the arena about various topics, from his fighter's health, to their fight plan, to talks of a rematch. In response to questions about a rematch with Provodnikov, which some reports say the new WBO champ wants to take place in Russia, Vilhauer said, "Why not? Mike needs to avenge this loss." This would make the most sense under the current circumstances; Alvarado gave Provodnikov his shot, so it is only right that Provodnikov returns the favor. This fight was again a Fight of the Year type battle (Alvarado's 5th consecutive fight to carry the label) and fight fans, critics, and media members alike would love to see another. I'm sure it will become clear in a few weeks if that is the direction each fighter is headed or not. Until then, we have this epic fight to watch over and over should we so choose.

What Alvarado and Provodnikov provided us civilians last night is what we think about when we go to bed at night or when we are alone in a dark room: What is it we are truly made of? What is in our heart, or spirit? Do we have the guts and will to push forward when things get tough? Each of these fighter's answers to those questions is a resounding "YES," and always will be. That is why they are fighters. The show of pure will and desire these men gave us is the thing of legends, and we need to praise them for it. Fighters like Alvarado and Provodnikov are everything we wish we were deep down inside. They give us their all and only ask that we appreciate it and respect it. These men put more than a belt on the line on a cold Saturday night in Colorado; they put their lives on the line. That's what fighters do. One man entered the ring a champion, and yet both left as such. Fighters like this don't come around all too often, and when they do, they need to be celebrated for what they make us feel and think. Boxing can be the high of highs and the low of lows. There is a reality to boxing that is missing from other sports: it is beautiful brutality, and that is why we love fighters such as Alvarado and Provodnikov so much. They paint a picture in the ring as beautiful as any such piece an artist can create with a brush. This is boxing and this is why we love it.