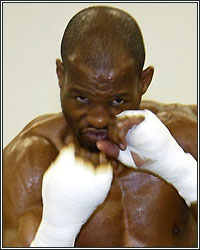 It's Monday. Welcome back for another edition of Observe and Fight, The Boxing Observer's compilation of observations and random thoughts from the week that was in boxing. Get caught up on some of the most recent events you may have missed out on, including "The Alien" still beaming along, a big change to the end of year boxing schedule, Peter Quillin's victory over Gabriel Rosado, and much more. Without further ado, check out the latest observations from the Boxing Observer, David Kassel.



I don't necessarily agree with most that Hopkins brawled against Karo Murat, but it was much more entertaining than normal. I think Hopkins knew going into his fight Saturday that Murat couldn't hurt him and he was willing to try to close the show. I also think Hopkins was trying to impress because he may be trying to position himself for a super-fight with Mayweather. Nonetheless, it's amazing to see an athlete in such amazing shape, especially considering Hopkins, at 48-years-old, is in much better condition than most fighters half his age. "The Alien" is simply amazing and I don't care who he fights next. If Bernard keeps winning, it will always be amazing from here on out. Remember when B-Hop said he wouldn't fight until he is 50? I think he might eat those words because he is still the best light heavyweight in the world, at least until Andre Ward moves up in weight.


Bernard Hopkins is the most intriguing fight for Floyd Mayweather. Before anyone wants to murder me for making this bold claim, please allow me to state my argument. I do understand that there are more deserving fighters in boxing, such as Timothy Bradley, who should have a chance to fight Mayweather. However, I'm also taking into account the fact that, as Hopkins so eloquently stated on Saturday night, boxing is going through a Cold War. The Cold War exists between HBO, who is promoting fights for Top Rank, and Showtime, who is promoting fights for Golden Boy and Mayweather Promotions. The fact that some of the fighters, including Manny Pacquiao, who would still generate the biggest payday for Mayweather, only fight on HBO severely limits Mayweather's options for opponents in May. Certain fighters who are out of the question for Mayweather due to their affiliation with HBO include: Pacquiao, Bradley, Sergio Martinez, Gennady Golovkin, Brandon Rios, and Ruslan Provodnikov. Miguel Cotto, who is not affiliated with any network, seems to be content working with Top Rank to try and put together a fight with Sergio Martinez in June, but even if he wants a rematch with Mayweather, we've already seen that fight and it was a clear-cut victory for Mayweather. Taking these names off the list, the following opponents are viable and legitimate candidates to face Mayweather in May: Danny Garcia (who stated he isn't in any hurry for a Mayweather fight), Zab Judah (whom Mayweather already dispatched in 2006), Devon Alexander (a legitimate possibility, and welterweight titleholder, but doesn't bring in a very big fan base), Adrien Broner (which I will address in my weekly email at the bottom of this page), Amir Khan (who hasn't done anything, in my mind, to prove he deserves a chance against Mayweather), Canelo Alvarez (maybe down the line, but not as an immediate rematch), Peter Quillin (who is a very big middleweight, but hasn't earned the right in the ring to face Mayweather), and Hopkins. Of the names on this list, taking into consideration which opponent would bring in the most money and draw the highest pay-per-view numbers, Hopkins is, by far, the most intriguing match-up for Mayweather. Hopkins said he would make 160lbs for the fight, and Mayweather has stated he is reluctant to move up to middleweight (and rightfully so because he cannot even get his weight up past about 150lbs), but if Mayweather is strictly looking at this from a business standpoint, Bernard Hopkins is the man who will bring in the biggest numbers for Floyd Mayweather.


Peter Quillin needs to fight more than once every 6 months. At this point in his career, it will be difficult for a middleweight titleholder to fight 3-4 times a year, but Quillin is still somewhat of a baby in terms of boxing experience. His skill, power, and work ethic are there, no question, but Quillin didn't start boxing until later than most and is still developing his raw talent. He gets better every time out, but he also needs to work on taking less punishment. Quillin is a fan-friendly fighter, but I don't think he can stand up to the likes of Gennady Golovkin if he ever got the chance to fight him. Golovkin is a puncher, but he is also a very good boxer. Gabriel Rosado is always going to be in entertaining fights, but he is not an elite fighter. If Quillin truly wants to make a statement, he needs a dominant performance in his next fight against a Top 7 middleweight contender.


Gabriel Rosado is a true warrior, but that fight was correctly stopped. Even though the fight with Quillin was close (forget the judges scorecards, which were ridiculous), Rosado's eyelid looked like it was 2 steps from falling off. I know Rosado is a tough luck fighter, but he'll get another opportunity. Fans want to see him fight. His cut reminded me of the nasty gash Vitali Klitschko suffered against Lennox Lewis in 2003.


Deontay Wilder vs. Chris Arreola needs to happen ASAP! Wilder is ready for a major step up. His 4th-round knockout of tough-guy Nicolai Firtha was impressive, but Firtha had been stopped 4 previous times. Last year, I boldly stated that Chris Arreola would be America's next heavyweight champion because I felt he was going to work himself into shape to get it done. I'm not so sure that is going to happen anymore. To me, Wilder is the guy who can get it done because of his supreme power. Arreola has only been down once in his career and has never been stopped. Arreola is the guy who will push Wilder past the 4th round (a place Wilder has yet to see in his 30 victories), and we'll see what kind of a punch Wilder takes because Arreola will hit him. If he can knock Arreola out and look impressive doing it, Wilder may have his title shot by the end of 2014.


Speaking of heavyweights, I am very impressed with 2012 Olympic Gold Medalist Anthony Joshua. It's still WAY TOO EARLY to determine if Joshua has what it takes to become an eventual heavyweight champion, but he has the size, skill, and speed to keep rolling toward his goal. He's only had 2 professional fights, and he has not yet been hit by a true heavyweight, but Joshua has the "IT" factor that could lead him to a heavyweight title in a few years. Promoter Eddie Hearn needs to bring Joshua along at a smooth and steady pace rather than rushing him along for a quick payday.


Kell Brook better hope Shawn Porter beats Devon Alexander. If Porter can beat Alexander for the IBF welterweight title on December 7th, I have no doubts that Brook will defeat Porter for the title as the #1 mandatory challenger. Should Alexander beat Porter though, which most are expecting he will, Alexander is going to knock Brook out. Brook has been in serious trouble in some of his previous fights. Brook was out on his feet against Carson Jones, and Vyacheslav Senchenko had him in trouble Saturday before Brook was able to regain his composure and stop Senchenko. If the former world champion, Senchenko, and Carson Jones, who are both slow and predictable fighters, can cause Brook such problems, Alexander is going to dominate "Special K." It's just a prediction, but Alexander has faced much better competition, has better skills, is faster, has a better chin, and is slicker than Brook. How is Brook going to deal with all those issues?


Gennady Golovkin is going to run his KO streak to 14 on Saturday night. Don't get me wrong, Curtis Stevens is coming to fight. Stevens is a puncher, and he will test Golovkin's chin, but Golovkin takes one heck of a punch. The world will see that on Saturday night. Golovkin and Stevens are in two completely different classes. Stevens will come out fast and try to go for the early knockout, but when he realizes he can't hurt GGG, it will be all she wrote.


Make sure not to miss Hernan "Tyson" Marquez vs. Giovani Segura on Saturday night. This battle of little men is a can't miss fight. They are both knockout artists, and I'd be surprised if this goes all 12 rounds.


Arthur Abraham gave the crowd the same show as Robert Steiglitz did last weekend...BORING! Should Abraham and Steiglitz meet for Steiglitz's super middleweight crown, no American TV network will scrape together 2 pennies to televise the bout because it will be a snooze-fest. At this point, I'm not so sure anyone in Germany wants to see the trilogy fight anymore.


Good for Shane Mosley for pulling out of his fight with Anthony Mundine. Even though I was highly critical of this fight because it was disgraceful, Mosley was absolutely correct for not taking the fight without the terms of the contract being fulfilled by the promoter. Even Mundine agreed with Mosley's decision to pull out of the fight. I didn't like the fight from the beginning, but I am glad that the fighters would not sacrifice their well beings for the possibility of a payday.


Don't forget about the bouts on Fox Sports 1 tonight. Super bantamweight prospect Manuel Avila gets a chance to showcase his skills in front of a national TV audience. It's just great to see so much boxing programming airing on a seemingly daily basis.


Thoughts and prayers go out to family and friends of Javier "Frankie" Leal. Leal died on Tuesday after falling into a coma following his knockout loss to Raul Hirales in Mexico two Saturdays ago. Leal was far from an over-matched fighter, but this tragedy should remind all of us, once again, that boxing is the most brutal sport in the world. Anyone willing to step foot into that ring should never be ridiculed for having no heart. Every fighter puts his/her life on the line when they step into the squared-circle. Rest in peace "Frankie" Leal.


Each week, I feature an email from a fan on Observe and Fight. This week's email comes to us from Damon regarding the possibility of a future fight between Floyd Mayweather and Adrien Broner...


"Why hasn't Adrien Broner been mentioned as a serious opponent to Floyd Mayweather in May? I mean he has a belt and he is a big name fighter. Doesn't it make sense to match up those two since they both talk a lot?"


Excellent question, Damon, and the answer to your question is extremely tricky. There are multiple ways to look at this. 1) I personally don't believe Broner has earned a chance to fight Floyd Mayweather yet. His only big win came against light-punching Paulie Malignaggi. That was a close fight and didn't show me Broner was ready for Mayweather. 2) Broner's fight with Marcos Maidana, on December 14th, will be another strong barometer to see how well Broner carries his weight at 147. If he can dominate, and possibly knock Maidana out, my opinion might change. 3) Broner and Mayweather are both managed by Al Haymon. Broner is supposed to be the heir apparent to Mayweather, so I'm not sure Haymon will risk having his two biggest, undefeated, cash cows fight and give the other a loss. If Mayweather loses before the end of his contract (which has 4 fights left), we might have something different to discuss. 4) Broner does not seem very eager to step in the ring with Mayweather. Even in his interview with Showtime on Saturday night, Barry Thompkins brought up the possibility of a Mayweather vs. Broner fight, and Broner was not so confident in his answer. He clearly does not want to fight the man he dubbed his "Big Brother."


Truth be told, the more Mayweather and Broner win over the next year-plus, the more the chatter for a fight between the two men will increase. I think Broner has a strong argument, but even a guy like Amir Khan (who is rumored to be the front-runner for Mayweather in May, whether it's deserved or not) has a better resume than Broner. Khan has defeated Malignaggi (Broner's biggest win) and Maidana. Yes, he has losses, but he has still fought much better opposition than Broner, such as Zab Judah, Danny Garcia, Lamont Peterson, Marco Antonio Barrera, Andriy Kotelnik, etc. I hate to think Khan has a legitimate chance to fight Mayweather in May, but if I had to choose the more deserving fighter, between Broner and Khan, to fight Mayweather in May, I'd have to go with Khan in a landslide.

That's all I've got for this week. Email any questions or comments to
dkassel@fighthype.com
and I will answer them throughout the week. Your email may be featured in the next "Observe and Fight." Follow me on Twitter @BoxingObserver, and be sure to "Like" The Boxing Observer on Facebook.
[ Follow David Kassel on Twitter @BoxingObserver ]