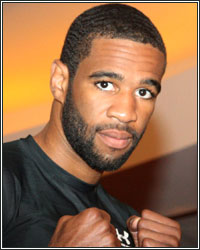 Golden Boy Promotions announced earlier this morning the official details of the upcoming IBF Junior Welterweight Championship bout between the current champion Lamont Peterson (31-2-1, 16 KOs) and the #1 ranked challenger, Montreal Quebec's, Dierry Jean (25-0, 17 KOs). The title bout will take place at the D.C. Armory in Washington DC on Saturday, January 25th.

For what many consider to be Quebec's biggest hidden boxing secret, this will represent his toughest test to date. Not only is Peterson a fierce and talented pugilist, he is also by far the most experienced of the two having face the elite of the division including Amir Khan, Kendall Holt, Timothy Bradley, Lucas Matthysse and Victor Ortiz.

"He's been in the ring with many good fighters. But he hasn't been in the ring with me!" Laughs Dierry. "I worked hard for this over a long time. I already started training camp and am in great shape. I just want to bring that belt home to Quebec where it belongs".

For further information, please visit www.eottm.com or contact us at (514) 632-5666.