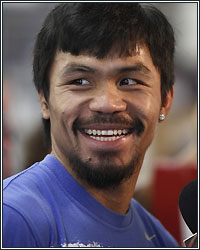 Multi-division world champion Manny Pacquiao has denied reports claiming that he owes more than $18 million to the IRS. Despite the fact that TMZ has obtained "official documents" outlining the IRS claims, Pacquiao insists that the report is simply the work of people who are "out to destroy my name." In a recent interview with Sports Interactive Network Phillipines, Pacquiao stated, "Bob Arum has paid all the taxes. The money goes directly to the IRS. It has people there during my fights, and Arum hands over the payment to them."

Pacquiao seemed unfazed by the news, confident that it's all just a lie and that everything will soon be cleared up. Insisting that he has nothing to hide, the fighting congressman from Sarangani has plans to vacation in the United States later this month. "That [report] is not true. In fact I'm going to the US with the kids in December for a vacation," he added. "I'm not bothered by that case. I have nothing to hide, I'm not a thief."

Pacquiao's adviser, Michael Koncz, also downplayed the report, telling Rappler.com "everything is fine" when asked for his comment. That being said, Koncz did admit that there is indeed some type of problem with the IRS. "This is now being handled by our lawyers in America. This is not something new that happened yesterday. We have been discussing this issue with the IRS during the last 3 years," he explained.

Evidently, according to Koncz, the IRS is demanding $18 million in back taxes due to someone making the mistake of claiming too many deductions on Pacquiao's tax forms. Though we cannot confirm or deny who that someone actually is, we assume that Koncz was the responsible party since he was the one handling Pacquiao's accounting during the years in question (2006-2010). In fact, when Pacquiao finally did hire a reputable accounting firm [VisionQwest] in 2010 to help him resolve an IRS audit, they quickly discovered what they described to be "various accounting issues". An excerpt from a 2011 press release sent out by VisionQwest details the state of disarray:

Prior to 2010, Manny Pacquiao ("Manny") and MP Promotions, USA, Inc. ("MP") never had a full time accountant or a bookkeeper, and did not have a full time accounting firm. Michael Koncz is the business advisor of both Manny and MP and he has no accounting degrees or training, yet he is in charge of their finances. For every year, before Manny and MP hired VQ for their accounting needs, they would hire different accountants who simply plugged in numbers supplied by Michael Koncz into the taxation forms and filed them with the IRS, without any backup or reconciliation. Due to this mode of operation on the part of Michael Koncz, Manny and MP had audits issued against them for at least two prior years (2006, 2007).

ALSO SEE "VISIONQWEST REVEALS PACQUIAO BELIEVED ARUM WAS HIDING MONEY, FINANCIAL RECORDS IN DISARRAY AND KONCZ WORKING FOR TOP RANK" FOR MORE DETAILS

Koncz went on to suggest that while Manny may owe some money, it won't necessarily be the full $18 million because some of the reported deductions will indeed be allowed.

"When you file taxes in America you have to itemize every deduction and there are four areas of tax deductions that is being disputed between us and the IRS. Its not a question of earnings its a question of allowable deductions," Koncz explained to Ronnie Nathanielsz of Philboxing.com. "One of the deductions being contested is the airfare of people whom we buy tickets for to come to the fights. Another issue is whether signing bonuses are taxable or not taxable...these are the issues at hand and its very simple. We have very competent accountants handling our taxes and a competent tax lawyer and this should be resolved shortly...if they disallow all our deductions then perhaps they are there. But that's not our tax liability. We are not going to come anywhere near that....we know we are going to end up owing some additional taxes but it will depend on what the tax appeals court will allow us to deduct and what they won't allow us to deduct."

I'm no tax expert, but if you ask me, this sounds a little bit more serious than just a simple clerical error. If someone did in fact claim too many deductions that they can't prove, that could be construed as tax fraud. Stay tuned as more details unfold.
[ Follow Ben Thompson on Twitter @fighthype ]