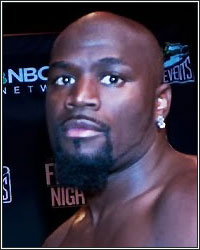 In a time when many fans feel that certain fighters are ducked, avoided, and straight out feared, one fighter has consistently faced the best names in and around his division without hesitation. Let me introduce you to Darnell Boone. In 44 pro bouts, 37 of Boone's opponents had winning records, 20 of them were undefeated at the time he faced them, and 9 only had 1 loss. He is the only fighter that can say he's faced Sergey Kovalev and Adonis Stevenson twice, losing a one-point split decision to Kovalev after their first meeting and knocking out Stevenson in the 2nd round of their first encounter. If you really dissect his resume, you have to pose the question, does he have the best resume in boxing? Take a closer look and decide for yourself.

First, just look at the list of fighters he faced who were undefeated at the time they fought: Chris Archer, Andre Ward, Ronald Johnson, James Countryman, Lajuan Simon, Jean Pascal, James Johnson, Bryan Vera, Craig McEwan, Erislandy Lara, Edwin Rodriguez, Brandon Gonzales, Adonis Stevenson, Lennox Allen, Sergey Kovalev, Marco Antonio Periban, Willie Monroe Jr., Derrick Webster and Morgan Fitch. Furthermore, he also faced guys like Enrique Ornelas (2 losses at the time), Curtis Stevens (1 loss at the time), Anthony Thompson (1 loss at the time), Jesus Gonzales (1 loss at the time), and Dyah Davis (2 losses at the time). And did I mention that his first ever sparring session was with 22-0 Kelly Pavlik?

Check out what Boone had to say about his own intriguing career!

THE BEGINNING

"My lil brother was boxing and we didn't know it and he came over to my house because I had moved out of my mom's house. He came to my house crying talking about didn't nobody want to take him to practice. So I'm thinking he was playing football for one of the teams. So I'm like, 'Okay, what team you play for? I'm gonna take you tomorrow, man.' He said, 'Nah, I box.' You know, being a big brother, I laughed it off like, 'You box? How long you been boxing?' He told me for a couple of months now. So I really wanted to bring him to practice then because I wanted to see what he had. So once we got in the gym, I'm messing around on the bag and stuff and I'm mesmerized by the whole atmosphere in there. I tell the trainer, 'Let me spar with somebody,' and he was like, 'Nah, I'm not gonna let you spar.' I was like, 'Man, I can fight.' And he said, 'You know how many people come here and tell me that every day and then we gotta clean them up and wash them off?' I told him, 'Listen, only one of two things gonna happen; either they gonna beat me or I'm gonna beat them.' He left it alone and walked away for awhile. So on the way leaving out, I say, 'What's up, man? You gonna let me spar with somebody?' He said, 'Alright, pick somebody.' I scanned the whole room and I looked across and I ended up picking Kelly Pavlik. I didn't know who he was at the time. He was already 22-0 and I said, 'Give me him!' And I remember everybody was like, 'No, no, no! He the best one in the gym.' I said, 'The difference between me and y'all is y'all scared. I'm gonna give it a try.' We went about a round and a half; he beat me from corner to corner, but after the rounds were over, he gave me a hug and said, 'Man, you got heart. You would do real good in this sport.' And I have been boxing ever since."

THE FIGHTS

"When I fought Andre Ward, I was fighting the hype. He wasn't all that special to me. So I was basically fighting what was behind him; his managers and the promoters and all that. I wasn't even fighting him. I didn't even think he was anything special skill-wise at the time. He tried to use his jab a lot against me. He was basically just boxing until I started roughing him up and then he started folding. Now he's grown as a fighter. He got bigger and he's starting to be more aggressive. Everybody know I put Adonis Stevenson out in the 2nd round of an 8-rounder. He was basically fighting the same way he fight now. With him, he just got bigger and whatever they got him on, he knocking out everybody (laughing). Kovalev has always been strong, but when I fought him the first time, I manhandled him. Cats are scared of both of those guys power now and they don't know how to fight them. Me, I ain't scared of nobody. If you put on a pair of gloves talking about what's happenin', I'm coming to see what you talking about. I beat Curtis Stevens, but he was the hometown boy. They gave me a lil' weak call where he hit me with an uppercut and I wasn't even hurt, but they gave me a standing eight and that's what kind of won him the fight. He wasn't nothing special either. Now, Jean Pascal was skilled. I kind of like Jean Pascal's style. He still actually fights the same way now. He just got bigger too. He fights the same exact way; he just got bigger and more aggressive. When I fought Erislandy Lara, I remember that well. They had me keep warming up and cooling off in the back. I got out there into the fight and I never really got warmed up again. By the time I got warmed up again, I was already down; it was in the 5th round or so of a 6-round fight. I've been put in some bad situations, man. I would say out of every fight that I lost, 10 of them were actually fair and square where they were just the better man that night."

TOUGHEST OPPONENT

"My favorite fight and the toughest fight I have ever had was against Anthony Thompson. That's my favorite fight that I ever had. Homes was just way skilled. He knew exactly what to do in there and what not to do. Even with me being as dangerous as I was, he was just like the total package, man. He was slick; he wasn't crafty, but he was slick, smooth, and he didn't have a lot of power, but his power came in pop. He would hit you in spurts. He may hit you with a 1-2-3 on the chin or something like that and his power came in between the shots. Yeah, homes was nice, man. What I think about him is, what got him where he at is his religion. I think his promoter just got tired of him and didn't want to deal with him too much, so they started getting him beat."

WHO IMPRESSED AND DIDN'T IMPRESS

"If I had to say a guy that I fought that I didn't think would make it big or get some quality wins, but they did alright for themselves, it would be Bryan Vera. Bryan Vera, when I fought him, it was a tough fight, but I didn't think he would make it this far to be where he's at. I thought he would be taking losses left and right, but he actually surprised me, man. And as far as someone who was being hyped a lot when I fought them and they didn't end up being what people expected...man, all of 'em. I think they are all overrated to a degree, with the exception of a few. All of them dudes with these amazing records, no, they are all padded. Everybody be getting their shots like that and I'm just wondering like, 'Damn, why it's gotta be so hard for me?' People always ask me if there is anyone I wanted to fight that I never fought. I say anybody that could have put me in line to be where I wanted to be or needed to be. They either wanted the fight and backed out or I signed the contract and they backed out. I was supposed to fight Peter Quillin a long time ago, I was supposed to fight Peter Manfredo a long time ago, and I was supposed to fight Carlos Quintana. All of the guys that I can beat that could put me in the position to do what I wanted to do, they all used to back out or go in another direction. When I look at my record, and like you say, 37 guys I fought had winning records, it just lets me know I'm a beast, man. I go in there and I give the best effort when I go out; even with the times I was called on short notice. I always gave the best effort that I had. It's not about the win or lose to me, it's about going out there, hood rat from Youngstown, Ohio, and I'm out there doing my thing, man."

THE FUTURE

"Just tell the fans I'm coming, man. I'm about to drop back down to 160 or 154, whichever one makes the most sense, and I'm about to show out. I'm about to shake up these weight classes because ain't nobody doing nothing too special in those weight classes, so I'm gonna come down there and show them how to do it!"
[ Follow Percy Crawford on Twitter @MrLouis1ana ]