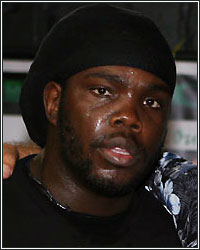 On his mission to become the first Haitian-born heavyweight champion of the world, World Boxing Council (WBC) Silver champion Bermane "B. Ware" Stiverne (23-1, 20 KOs) still doesn't know exactly when and where he will be fighting for the vacant WBC heavyweight world title.

After patiently waiting 2 ½ years as the mandatory challenger, though, the 34-year-old Stiverne understands that he will be in his first world title fight sometime during the first-quarter of 2014 - date, place and network to be determined - in a rematch with Chris "The Nightmare" Arreola (36-3, 31 KOs).

Once Vitali Klitschko finally announced his retirement, the WBC mandated a title fight between its top two rated heavyweights, No. 1 Stiverne and No. 2 Arreola, ordering their respective promoters, Don King Productions and Goossen-Tutor Promotions, to begin negotiations. Stiverne-Arreola will go to a WBC purse bid in Mexico if an agreement is not reached by the January 17.

Stiverne knocked out Ray Austin on June 25, 2011 in the 10th round of their WBC heavyweight title eliminator to capture the WBC Silver championship. Last April in another WBC heavyweight title eliminator, Stiverne successfully defended his Silver belt, winning an impressive 12-round unanimous decision (118-109, 117-110, 117-10) over Arreola, breaking Arreola's nose and dropping him in the third round. Also, three purse bids for Stiverne to challenge Klitschko were postponed during Stiverne's arduous journey to his dream of fighting for the world title.

"I believe that good things happen to those who wait," Stiverne said sounding more like a philosopher than world heavyweight title challenger. "I also believe that one of my best qualities is to be patient for things that I want and care about in life, especially if I'm putting in work at 110-percent.

"I am not disappointed that I won't be fighting Klitschko. All I care about right now is to get my hands on that green belt and to be the first Haitian heavyweight champion of the world. I have the best team in boxing to take care of this matter. It is not my concern about where or when. My job is to be ready when the time and date comes."

"Although we've been patiently waiting," Stiverne's manager Camille Estephan (Eye Of The Tiger Management) noted, "we have not been sitting idle. Bermane has been hard at work, perfecting his skills and abilities, and his time waiting has been an investment. We will show that the sacrifice in efforts during that time has, without doubt, produced the best heavyweight in the world. Bermane is eager to show that in his upcoming performance."

Stiverne, who lives in Montreal and trains in Las Vegas, isn't looking at his fight with Arreola as a rematch. "As far as I'm concerned," Stiverne explained, "this will be the first time I fight him. My performance will be impeccable and very painful. I will knock his ass out!"

For further information visit www.eottm.com, or follow on Twitter @eottmvd and @BermaneStiverne.