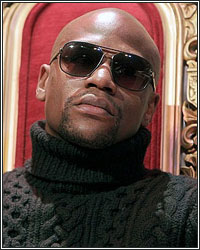 Recently, FightHype.com caught up with undefeated pound-for-pound king Floyd "Money" Mayweather to set the record straight regarding any and all rumors about his future plans. After clearing up the bogus story about a potential 2014 showdown with Manny Pacquiao, Mayweather reversed roles and played the part of reporter, asking me a series of questions regarding the news that former jr. welterweight champion Amir Khan allegedly signed a contract to fight him in May. As Mayweather has repeatedly stated, he has yet to make any decision on his next opponent, so when I brought up the comments that Khan recently made, he told me that if it were indeed true, the answers to the following 5 questions should be known:

1. Where did the contract come from?

Though I'm not an expert on all fight negotiations, I do know that Floyd Mayweather dictates the final terms of any contract that a potential opponent might receive. That being said, when it comes to his fights, all bout agreements are drawn up on his company's letterhead. If Amir Khan hasn't signed a contract from Mayweather Promotions, then he hasn't signed anything that ensures him a fight with the biggest name in the sport.

2. How much money is he getting paid?

Boxing is not called prize fighting for nothing. Naturally, the most important term of a contract that a fighter should be concerned about his guaranteed purse. One would think that if a contract was indeed signed, at the very least, Amir Khan should already know how much he's getting paid; unless, of course, he foolishly signed a blank contract, allowing any low number to be filled in at a later date.

3. What weight is the fight at?

Keep in mind, Floyd Mayweather is the reigning welterweight (147 lbs.) and jr. middleweight (154 lbs.) champion. Though one would assume the proposed fight would likely take place in the 147-pound division, that may not necessarily be true. Either way, the answer to that question should be known if a valid contract has indeed been signed by Khan.

4. Is it a championship fight?

As previously stated, Mayweather currently holds the WBC welterweight title, as well as the WBC and WBA jr. middleweight titles. Having just fought for all three straps in 2013, he isn't required to defend them all when he makes his anticipated return to the ring on May 3. Considering that Khan is not the mandatory challenger for any of the titles, Mayweather is free to decide if he wants to put any of them on the line. Again, either way, the answer to that question would likely be known.

5. What venue is the fight being held at?

Though Mayweather has fought in his hometown of Las Vegas, Nevada for the past 7 years, reports have surfaced revealing that the Barclays Center in Brooklyn, New York has presented a strong offer to host his next fight. While it's not uncommon for a fight to be signed before the venue is finalized, at the very least, Khan should have some idea of what the status is regarding the location. Is the Barclays Center still in play or will Mayweather once again be fighting in his "home" at the MGM Grand Garden Arena?

Obviously, I didn't know the answers to any of those questions, and if Floyd Mayweather is saying that he has yet to make a decision on his next opponent, then it's highly unlikely that Khan will know the answers either. That's not to say that Khan didn't sign any contract whatsoever. A more likely scenario is that he probably signed a new contract with his promoter, Golden Boy Promotions, which states that they will attempt to secure a bout with the biggest name in the sport. That being said, a promotional contract is a far cry from a bout agreement, so if you think that Amir Khan's comments are a sign that he's got next, think again. Mayweather's line of questioning didn't end with Amir Khan. There were two more burning questions that he asked which I had absolutely no answer for.

6. If Miguel Cotto had the WBA jr. middleweight title and Floyd Mayweather beat Miguel Cotto for that title, how did Austin Trout get the WBA jr. middleweight title and end up losing it to Canelo Alvarez?

Miguel Cotto captured the WBA jr. middleweight title back in 2010 when he defeated former champion Yuri Foreman. It was his first fight as a jr. middleweight division, having lost his final bout as a welterweight to Manny Pacquiao. Apparently, that performance alone was enough to convince the WBA to name him their "Super" champion, which essentially allowed them to free up their non-Super title in hopes of collecting more sanctioning fees. Cotto would go on to defend his WBA "Super" jr. middleweight title two more times before ultimately losing it to Floyd Mayweather. Meanwhile, Austin Trout became the WBA jr. middleweight champion not longer after Miguel Cotto was elevated to "Super" champion. After capturing the title from Rigoberto Alvarez in February of 2011, he successfully defended it four times before losing it to Saul "Canelo" Alvarez in April of 2013. So when Mayweather squared off against Canelo last September, it created a scenario where both titles, the WBA jr. middleweight title and the WBA "Super" jr. middleweight title were on the line. Obviously, Mayweather won that fight, so one would think that he now holds the distinction of being the one and only true WBA jr. middleweight champion. Well, think again, because recently, Erislandy Lara and Austin Trout squared off for the "interim" WBA jr. middleweight title. Lara won that fight, and from what we're told, Mayweather's non-Super WBA jr. middleweight title will be declared vacant. If it all sounds confusing, that's because it is, and that's why it's difficult to come up with an accurate answer for the question.

7. How is Manny Pacquiao in a #1 mandatory position to fight for a welterweight title when he just went the distance with Brandon Rios, who was coming off of a loss and had never fought at 147 before?

Pacquiao, who was coming off of back-to-back losses to Timothy Bradley (via split decision) and Juan Manuel Marquez (via knockout), wasn't even ranked in the top 10 by the WBC prior to his fight with Brandon Rios, who was coming off of his own loss to Mike Alvarado (via unanimous decision) and fighting for the first time as a welterweight. Evidently, Pacquiao near shutout victory over the former lightweight champion was enough to earn him a lofty elevation to the #1 mandatory contender status in the eyes of the WBC. While it's not uncommon for sanctioning bodies to drastically shift rankings based on performance, it's still hard to believe that a fighter not ranked in the top 10 was automatically inserted as the #1 contender after winning his first fight in 2 years following back-to-back losses. If it was any other fighter not named Manny Pacquiao, the move might have raised a lot more eyebrows. Nevertheless, it was definitely a question that I didn't have an answer for.
[ Follow Ben Thompson on Twitter @fighthype ]