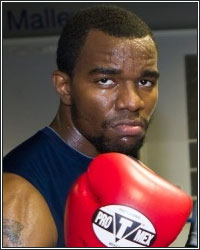 "I see him as a game guy. He has been in with some of the greats, like you just named, but these guys didn't have what I have. They are skilled guys and solid guys that he was in the ring with, but they didn't have the will to want to knock a guy out; they didn't have the will to want to punish a guy so bad to where he's either gonna get knocked out or he wants to quit. I want him to want to quit. I want that. That's what I train for and that's why I go so hard...I want to execute. It's not just about winning for me. I'm not the kind of guy that just wants to win. They just wanna win; that's all they want to do," stated undefeated super middleweight Jesse Hart, who talked about his upcoming January 25 return to the ring when he takes on Derrick Findley. Check out what else he had to say about the fight, the super middleweight division, and much more.

PC: Congratulations on your knockout win over Tyrell Hendrix earlier this month. You told me the fight wouldn't last long and you got him out in the 1st round. Why were you so confident against a guy with a winning record and proven to be tough?

JH: It was just a real, real tough training camp. I think we did 7 weeks for that one. My pops had me in the gym doing things that were new to me; more solid pro things. My conditioning was...I'm always in great condition, but I think last camp, I got stronger. I didn't believe I could get stronger, but they say with age comes maturity. I think my body is maturing, doing the different techniques and workouts that we are doing. I think this last camp that I had was just a wonderful camp. It was a long 7 weeks.

PC: They always say the harder you train, the easier the fight will be. That seems to be what happened for you in this case.

JH: Yes! At the Bradley/Marquez fight is when I found out we were fighting him. I was out there just for the fight itself. Bob Arum flew me out there and put me and my wife in a hotel room, and I didn't know that I was gonna be fighting on the December 7th card at the time. I see Bob and he was like, "You know you fighting December 7th on the Rigondeaux card?" And it was new to me, but right then and there. they gave me a list of opponents and asked who did I want. I told them to give me the best guy that they could and they pulled his name out of the hat. He had a winning record and he is a game guy, but I think I got up for that fight more than anything because I trained like I was fighting for a world title.

PC: Now you are coming back January 25th against Derrick Findley, who is a tough guy and who gave some work to guys like J'Leon Love, Anthony Dirrell, and even put Curtis Stevens down. When you look at Findley as an opponent, what do you see in him?

JH: I see him as a game guy. He has been in with some of the greats, like you just named, but these guys didn't have what I have. They are skilled guys and solid guys that he was in the ring with, but they didn't have the will to want to knock a guy out; they didn't have the will to want to punish a guy so bad to where he's either gonna get knocked out or he wants to quit. I want him to want to quit. I want that. That's what I train for and that's why I go so hard. If Curtis Stevens would have gave him as much as he gave Golovkin, I believe he would have stopped him. But I believe these guys are just satisfied with just winning rounds. Everybody is just satisfied with, "I'm winning, so I ain't gonna try to go for the kill." Nah, I want to execute. It's not just about winning for me. I'm not the kind of guy that just wants to win. They just wanna win; that's all they want to do. No disrespect...and I was saying this yesterday in the shower to myself, if I was to ever fight Carl Froch, I would say to him, "You are a guy that is satisfied with barely winning. You barely wanna get through. You were satisfied with the win against Andre Dirrell. You were satisfied with the narrow win against Kessler. You were satisfied with getting a gift against George Groves." He's satisfied with barely getting wins. Froch is a C-class fighter. He barely win fights. And they wanna talk about Andre Ward need to fight this dude again? For what? Andre Ward is not satisfied with barely winning. He wants to win unanimously and dominate. That's why he is a A-class fighter in my book. It's gonna take someone who has the same mindset as him to beat him, and I'm not taking nothing away from him. I just told him on Twitter that he has a very strong mindset and that's his best attribute. He wanna dominate guys so bad, he beats guys mentally in that ring. When these guys know you won't break, they break. Froch is a guy that barely wins. He lost to Kessler, came back and barely won the second time. There wasn't nothing unanimous about it. He struggles with these guys.

These guys that beat Findley struggled to beat him because they weren't willing to dominate him and get him out of there and make him feel like a guy who is 5'6". This dude is shorter than life itself, and I'm not taking nothing away from him, but at 6'0", come on, cuz. You 5'6"; you shouldn't even be here. You shouldn't be up here with these big guys. What are you doing up here? And this is my mindset, now I gotta make him feel his size. I gotta be that dude to make him feel little. I gotta send him down to 47 where he's supposed to be, and I think this is the fight that's gonna make him realize, it's not so much about me. it's more about him because at the end of the day, he shouldn't be at this weight class. There is no way in the world a guy 5'6" should be at 160 and lasting with these so-called good fighters. He shouldn't be here. That means you're lazy to me. In my mind, he's a lazy fighter. That's where my mind is at. My mind is already, I'm gonna work so hard. I'm gonna destroy them because he's lazy. I don't care how his body look. He got all that muscle, but he's still a weight class or two above where he should be.

PC: Do you second guess things about him being that he failed a drug test in his last fight for a banned substance?

JH: He's taken drugs and honestly, it's disputable now how many fights he actually won. His last fight, he took a banned substance and the fight was ruled a no-contest, even though he won the fight. I can't say how many fights he won or lost now. There will always be a question mark there because you took a banned substance. We don't know how many times you took this stuff or what you been doing; this just the only time you got caught. His whole career is a big question mark now to me. Everybody always say you are as good as your last fight, and he cheated in his last fight. I don't think Derrick Findley has a chance against me.

PC: I see you was on Twitter talking about a fight against Badou Jack. Is that a fight people have been asking you about?

JH: Ah man, I would stop that kid. He makes too many mistakes, and plus, he's still an amateur in my eyes. He a novice fighter at that. When you look at his fights, what does he do that's so special? I look at it as nothing. He is a fighter that doesn't know anything about boxing. He don't. It's like he's learning on the job. In the amateurs, they say you are supposed to learn your craft. He only went to the Olympics from his country because that was the first Olympic team they ever produced in 2008. Think about all of the Olympics that they missed. I dig into these guys' careers. He only went to the Olympics because that was his country's first boxing Olympic team. They just put a team together and threw him out there like, "Go ahead; go fight. We gonna get you off the corner, we gonna get you out of this gym, and you from this soccer team, and we gonna form a boxing team and send y'all together." And then he says, "Oh yeah, I made the Olympic team!" You really didn't because you didn't have no trials, you didn't have to fight in the nationals; they just picked a few guys. If I was over there, I would have been one of the first to get picked to go. Come on, man! Your career is a joke to me. And all that, "I'm with The Money Team, and I'm doing this and that," he rated and getting shots because the system is unjust because he shouldn't be rated at anything based on who he has beat. Who has he beat to even be rated in anything? Where does this guy come from for him to be rated? My last fight, when Bob Arum and Carl Moretti make these lists, I go to the best one I can find. And the thing about me is I don't pick around names where I think, "Oh, this dude gonna give me a run for my money." No, I want him. My thing is, for one, I'm gonna get up. I'm up now and alert and everything is sharp when I'm up against a guy that thinks he can give me a run. That's gonna make me even more dominant. I picked Derrick Findley; Derrick Findley ain't pick me. He's 20-11, okay, he has fought some greats, but they never stopped him. I seen his fight against Curtis Stevens and I thought, "This could make for an interesting case, give me Derrick Findley!" They had another guy on there that was 6-8 or something like that. I don't want him. I want Findley; he got 31 fights.

PC: You also put it out there that Bob Arum told you 2014 would be your year. What can we expect from you, man?

JH: Wow, man, you can expect good things. Like I said, man, I just really believe in Top Rank. Bob Arum himself called me late one night and he said, "You know, kid, I haven't had a fighter like yourself in a long time, with superstar quality. Everybody can be a boxing star; I'm this in boxing and that, but only certain fighters can separate themselves from the pack and be mega-superstars. What's the first Mexican that was on the Wheaties box from Mexico?" I was like, "I don't know." He said, "Oscar De La Hoya." I said, "Wow, how did he make that?" He said, "I set him up because he had the looks. I made Oscar come out with an album because the women would eat it up because of his looks and I knew it would sell. And he went platinum overseas and in Mexico. That was building him to become a superstar. I made him model for Calvin Klein...all of that was building him to be a superstar and he could talk well and he had a smile. Kid, you have the same qualities that I seen in Oscar. You have the same qualities that I seen in Mayweather. You're not as brash and as cocky as Floyd, but you know what you do have?" I said, "What's that?" He said, "You do have the will to win in there. You may not talk about your opponents, but you have the will to break him down to his lowest point and display a weakness in him while destroying him and you won't give him any courage on beating you in that ring. You will defeat his mind." And you know, Bob is from that old school. He's seen the Ali's and Ray Leonard's and the Hagler's and Hearns'; he promoted these guys, so when you got a promoter that has seen the best and been around the best and done had the best, and he's telling you all of this about yourself, you have no choice but to respect that.

PC: I saw you in Amir Mansour's corner. Great for him to finally get some television exposure. What was it like to see him get his opportunity after all this time?

JH: It was great seeing him get that exposure. He was in there with a big big guy. Amir was the shorter man, but he displayed power and he showed you just because you are little, it doesn't mean nothing because he also has that will to win. I think his will, not to win, but to knock this guy out was unbelievable. Like he said in the interview, they really gonna have to kill him to beat him. He is not gonna stop and he's gonna be relentless, and I call him champ because that's one of the guys I look up to and I have the utmost respect for him. He gives me talks and talks to me. I think that performance he put on was right for the fighter that he had in front of him because he couldn't outbox that big man. The guy was 6'6" or so. I'm taller than Amir, so there was no way in the world he was gonna outbox a 6'6" guy and expect to have success. He had to keep the pressure and move that head, and even though he swung some wild shots, at the end of the day, the power landed and that was all that mattered. Amir wasn't looking to box that giant. You gotta make a fight like that ugly.

PC: I really appreciate the time and we will definitely get up again before the 25th. Is there anything else you want to say before I let you go?

JH: I appreciate these interviews because the game...I just like putting it out there that certain guys in my weight class is fabricated. That's all I want to get out there. Like I said, I keep hearing my name with this Badou Jack character. What has he done in the amateurs, let alone the pros? They wanted to move him fast and he struggled with that Mexican kid that fought Sakio Bika. That was a draw; I believe he lost. He didn't throw that many punches. The Mexican kid outworked him, but because of the promotions and who he's with and the guys who is his backup, it was a draw. They know he lost that fight. I just think, don't have a kid walking around thinking he is a winner when he is a loser. He's gonna wake up one day and fight a real fighter and get beat so badly, he's gonna say, "Damn, I thought I was fighting good fighters and I was winning, and this guy destroyed me." And that may discourage him from being in this sport forever. That reality check of, my skills aren't where they need to be. I stop Badou Jack if he was to get in there with me. I'm not just saying that just because I don't like him. I'm saying that because people keep throwing his name in with my name and I don't respect that. He wouldn't last inside of 5 rounds with me. His feet are too heavy and his hands are too slow and he come forward in a shell trying to throw big shots. When you got somebody popping a tremendous jab on you, pushing you around, mauling you and dismantling you and outsmarting you, he know his feet too heavy. I would step around him and just crack him and come underneath and from the middle working shots around the head and around the body; what can he do? There is nothing he can do with that. I done dissected him already. They rated me in the top 10 for the USBA title already with 11 fights. They must see the potential. They know a real fighter. Bob Arum and Top Rank know what they doing with me. I asked Bob Arum what he thought about the Badou Jack fight and he said that fight would never happen because of Floyd Mayweather and promotional reasons. He knows they won't pick me. It's just the business, man.
[ Follow Percy Crawford on Twitter @MrLouis1ana ]