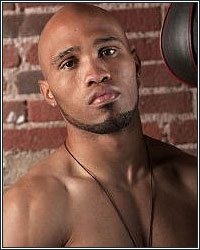 "You look at the situation and a lot of people can say what they want to say about me, but a lot of people thought he lost to Molina. I don't deem him no type of boogeyman or think people are scared to fight him. I don't look at him like that. He ain't built like that. He ain't cut like that to me. He decent, but I'm not overly impressed," stated former jr. middleweight champion Ishe Smith, who made it clear that not everybody is avoiding a clash with top jr. middleweight contender Erislandy Lara. In fact, according to Smith, it was Lara who once turned down an opportunity to face him. That being said, he would love to give Lara another opportunity to prove if he truly is one of the best fighters in the 154-pound division.

"Lara turned the fight down with me after his promoters contacted Leonard Ellerbe and asked us would we take the fight. I said yes and Golden Boy called us back and I guess they said no. I'm gonna do what I can do to make that fight at 154. One thing me and Gabe got in common is that we are road warriors. We will go up to 160 or fight at 154; it don't matter to us. We want to fight and I think if I can't get guys to grow some nuts and fight me at 154, I'll go back up to 160," Smith explained during a conversations with FightHype's Percy Crawford. "I did it before and I'll do it again. I know guys got fights coming up. Canelo is fighting Angulo, the Predator Twins are fighting...the Charlo's got some fights coming up, I don't know if Lara has any fights planned and I haven't heard nothing on Trout, but there are some good fights out there to be made still."

Smith added, "No matter what people say about me, I've been in there with some of the best fighters in the world and I was a world champion and I earned that. I ain't gonna make excuses and cry over spilled milk. It is what it is, but now I'm hungry to get back in there and right the ship and not make excuses about what happened on September 14th, but I want my title back; whatever title that may be. I'm happy the division got some great fights coming up, I want to get in there and fight the best, whether that's Trout, Lara, or whoever it may be. I want to fight the best; fight an eliminator at 154 and in the IBF, I'm still ranked. I'm just trying to stay in shape and do what I need to do."
[ Follow Ben Thompson on Twitter @fighthype ]