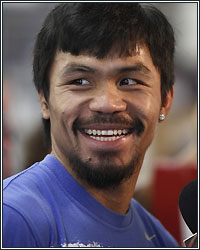 "I'm not desperate to fight him just for the sake of money or material things. I'm not the one seeking this fight, rather it's the boxing fans all over the world," stated multi-division world champion Manny Pacquiao, who made it crystal clear that money is not his motivating factor to face undefeated pound-for-pound king Floyd Mayweather. Evidently, Pacquiao took offense to Mayweather's claim that he is now desperate to make the mega-fight in hopes of solving a tax issue that could cost him upwards of $68 million.

"I am ready to submit myself to any kind of stringent drug testing. Above all, I challenge him to include in our fight contract that both of us will not receive anything out of this fight. We will donate all the proceeds of the fight – guaranteed prize, should there be any, gate receipts, pay-per-view and endorsements – to charities around the world," he commented during a recent interview with Inquirer.net. While the notion may sound admirable to fans still yearning for the fight, the reality is that such an arrangement would never be allowed by Pacquiao's promoter, Bob Arum, who stands to earn even more money than his fighter should Pacquiao and Mayweather ever meet in the ring.

It should be noted that the last time there was any type of discussion between the two camps, Pacquao was singing a different tune regarding the financial terms. In January of 2012, Mayweather himself contacted Pacquiao via phone and offered him $40 million to make the fight a reality. "He offered me $40 million, and no pay-per-view [money]. No pay-per-view. Can you believe that? Would you do that? Come on," Pacquiao explained at the time. Obviously, he rejected that offer, instead insisting on an even 50/50 split of all revenue, including the pay-per-view sales.

Nevertheless, Pacquiao now claims he's putting the issue of money, and who needs it more, to rest with his latest claim. "The public clamor for Pacquiao-Mayweather bout is getting stronger. The only way he [Mayweather] can avoid facing me in the ring is to retire from boxing," Pacquiao added. "Floyd, if you're a real man, fight me. Let's do it for the love of boxing and for the fans. Let's do it not for the sake of money. Let's make the boxing fans happy." It should be interesting to see if Bob Arum, the man that Pacquiao is contractually obligated to fight for, is on board with his fighter's desire to fight for free. Rest assured, it definitely doesn't sound like something that "Money" Mayweater would agree to, but that being said, if Pacquiao is willing to go through such extreme measures to prove that he's not desperate for money, perhaps he can work out a financial deal with his promoter that will give him a one-fight exemption to face Mayweather as a free agent.
[ Follow Ben Thompson on Twitter @fighthype ]