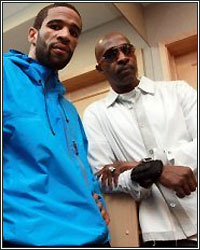 "I thought he did very well considering he had been off for almost 8 months, of course coming off of the loss to Lucas, which we would love to do again down the road. I thought he did very very good. He was actually sharper than I thought he would be...I have never seen him have two bad performances in a row. He has always been one to learn from his mistakes and he's always been the one to bounce back from a bad situation. I wasn't surprised at all," stated Barry Hunter, world-class trainer of Lamont Peterso, who talked about their recent victory, their future plans, and much more. Check it out!

PC: It's been too long since we've had you on, so thanks for speaking with me. Congrats on the win. How do you feel Lamont performed?

BH: Thank you, Percy. I'm glad to be here, number one, and two, I thought he did very well considering he had been off for almost 8 months, of course coming off of the loss to Lucas, which we would love to do again down the road. I thought he did very very good. He was actually sharper than I thought he would be. But it was nothing that we hadn't seen before and nothing that we won't see again.

PC: Coming off of the Matthysse fight, what were you looking for early in Lamont to assure yourself that your fighter was okay mentally and physically, and were you surprised he performed so well?

BH: Well, of course I know him better than most and I wasn't surprised by what he was able to do. I have watched Lamont for his whole career; the good, the bad, the highs and lows, and even going back to the amateurs, I have never seen him have...and this is from the juniors, I have never seen him have two bad performances in a row. He has always been one to learn from his mistakes and he's always been the one to bounce back from a bad situation. I wasn't surprised at all, and like I told some of the reporters leading up to the fight when they asked me about him possibly being gun shy, I told them that was never a worry with me.

PC: There were times during the Jean fight, Barry, where you had to tell him that he didn't have to go down the path he was headed down and that was turning the fight into somewhat of a war.

BH: Yeah, he is one of those guys, like an Arturo Gatti type of guy, where sometimes if you hit him hard or something happens where he feels challenged to a point, he gonna turn around and abandon sometimes his plans. We are a boxer first and fighter last, but he'll turn around and start fighting right from the beginning. I want to get away from that and stick to what got us there in the first place and that's being cerebral in the ring and relying more on boxing skills.

PC: Dierry Jean was a very tough opponent to come back with after that type of layoff. Going into the fight, what did you see in Jean as a fighter?

BH: He was a game fighter and I saw that on tape. I'm not a big video guy, but from the clips that I did view of him, I realized that he was good in a lot of areas, but he wasn't special in one area. And I knew this was his first crack at the title, and we were in that position before once upon a time and at that point, you are very hungry because you want it so bad. And at the age of 31 and 7 years of fighting to get to this point, I'm quite sure that they put in work and they did their research on us and he really wanted to win. I knew that he wasn't going to be that guy that just comes in and lays down. We have never had the luxury of fighting those type of guys and we never wanted it. We figure in order to really and truly be the best, you've gotta go through the best, and if you look at Lamont's resume and the people that he fought on his resume, Lamont never had those fights, should I say easy fights, leading up to the world title or defending the world title. So everything I saw from that young man, I expected to see. I knew he came there to win. He brought his fans with him and I knew he would be a more difficult opponent than most thought, but other than that, I saw that he didn't throw a lot of jabs. He would paw with it or throw it one time, but he relied heavily on his right hand more than any punch that he had in his arsenal. And I also saw that he had very, very little inside skills, and if you go back to the tape, you will hear me say to Lamont, "If you back him up behind a jab, he's gonna really just stop punching." And that's what he did and you can see how uncomfortable he was once Lamont got to him. So therefore, once we saw that, that's why we kept applying pressure behind the jab.

PC: You guys proved once again that those people in DC come out to support Team Peterson. Some fans are fickle and when a guy takes an L, fans can disappear, but the turnout and the reception you guys received shows that doesn't qualify for the DC fans. That had to feel good to see that.

BH: Absolutely! And they have been there from day one since we started boxing. We set out to win the world title, bring it back to DC, and defend it several times in the city. If you look at Lamont's career from the JO's [Junior Olympics] on up, we've been road warriors. We have been on the road and out of the country, got fights in Vegas and then moved down south to the Mississippi area, so coming home was a great thing. Seeing that people get behind what we have going on, and honestly, now it's becoming a real big fight town and a place where boxing is big again.

PC: Danny Garcia seems to be the guy that both you and Lamont are interested in. He has a fight coming up in March. I know you don't want Lamont to have another extensive layoff. What is the blueprint as of now to avoid a layoff while hoping to land a fight with Garcia?

BH: Definitely, I want to get him one or two fights while we wait. And I'd like to say, because a lot of people don't know this, I recruited Danny Garcia from the amateurs. I remember when I went to see his fight. He lost his fight, which was to qualify for the Olympic Trials, but he impressed me so much during that fight because I felt his style was more suited for the pros. I had made a statement that day and I wrote it down that you can take and put 8 oz. gloves on this kid today and he will be ready to fight a pro fight the next day. It was something that I saw that made me notice him then that made me know he would one day be a world champion, and he proved me to be right and I am very, very proud of what I have seen from him. And there was a lot of times where Danny would be going into a fight and most experts thought he was going to lose those fights and he was always able to find a way to rise. It would be kind of bittersweet, but I think it would be a great thing for boxing for two guys that's on top of their game to unify the titles, which you haven't seen in a long time. And it's east coast guys that represent the east coast, so it would be a beautiful thing. Definitely...I know he has a fight coming up; we gonna put Lamont in one or two before then and then if, like Lamont said, "If it's Danny, then it's Danny."

PC: How soon would you like to get him back in the ring?

BH: Man, within the next three, max four months. In his last fight, his energy was up. After the fight, he jogged around the ring and he didn't take punishment. And I want to go back to the Lucas fight real quick. The thing is, nobody likes to lose, especially us. That's like a disease to us, but nevertheless, the thing that I did take away from that fight is I hear people say he got knocked out. No, he got stopped. Smoger stopped the fight and it was a good thing because he did not take punishment. You have some fighters that take 8 rounds, 10 rounds, or 12 rounds of punishment and that's when the damage is done. We were able to go through that and not take that type of punishment and then we had a 8-month layoff, which is maybe his second longest layoff of his career, and it was a healing process. Physically, you get your body right and then mentally, he had a chance to heal. So what began as a very tragic thing to us ended up being a great thing for us. And if you looked at him, you couldn't tell that he had been gone that long.

PC: I can't let you go without talking about the infamous Barry Hunter slap that got some attention on Twitter. Was that just to get Lamont's attention because you felt he wasn't following instruction or just your way to communicate with your athlete?

BH: (Laughing) Well, you know a lot of times, people go through their whole career not knowing their athlete and not really having that connection with their athlete. You can't be all coach or all trainer; you have to sometimes be a psychiatrist, a parent, confidant, and a friend in that ring. You have to know what it is that gets your athlete going. Lamont and I are in tune with one another. He knows that everything that I do in that corner ultimately is to benefit him. And I laughed the other day because somebody asked me about that. I said, "Hell, you can't have smelling salt in the corner and that was my natural smelling salt to wake him up," and he got going right after that. But it's all out of love and sometimes, other things are necessary in that corner. Bottom line is, I was pleased with the way he performed for being off that long.

PC: Well, congrats again on the win. I wish you guys the best of luck and I have to say, you may never win "Trainer of the Year" because I think you are much more than that. You are a true teacher and that's a rare breed today. You put the gloves on these kids and then the titles around their waist as adults. Hats off to you my man.

BH: First of all, I'd like to say thank you for your kind words and thank all of your readers out there that backed Lamont during his high and his low times. It's really meant a lot to him and the team. We are looking forward to going out and performing once again for the fans and we hope to bring bigger and better fights here to the Nation's Capitol!
[ Follow Percy Crawford on Twitter @MrFighthype ]