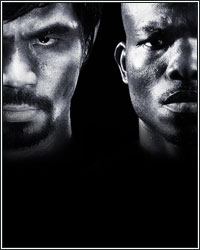 It's Monday. Welcome back for another edition of Observe and Fight, The Boxing Observer's compilation of observations and random thoughts from the week that was in boxing. Get caught up on some of the most recent events you may have missed out on, including Floyd Mayweather supposedly allowing fans to choose who he fights, another young boxer gone too soon, a world title changing hands, and much more. Without further ado, check out the latest observations from the Boxing Observer, David Kassel.

The boxing world lost, yet another, young fighter way too soon. On February 1st, Mexican featherweight Oscar Gonzalez suffered a brain injury during a 10th-round knockout loss to Jesus Galicia in Mexico. Gonzalez was taken out of the ring on a stretcher and was immediately transported to the hospital. Gonzalez, who appeared on ESPN Friday Night Fights in 2013 defeating former titlist Rico Ramos, passed away last Monday after being removed from life support because he had no brain activity and suffered a heart attack. Gonzalez is survived by his wife, Magaly Avalos. He was 23-years-old. Our thoughts go out to his family and friends during this difficult time. May he rest in peace.

Why is testing still being negotiated for Pacquiao vs. Bradley 2? Doesn't that seem like something that should have been placed in the contract if both fighters are willing to openly test? The fight is 2 months away. It's time to get this thing rolling. This is one of the only times I feel the government (and in this case, the United Nations) needs to step in and begin regulating drug testing in boxing because boxing is a killer's sport and everyone should be on an equal playing field.

Pardon me for being skeptical, but is Floyd Mayweather really allowing fans to choose who he fights? The boxing fan in me wants to say yes, but the cynic in me says this is nothing more than a ruse to drum up interest in the fight. It's definitely a novel concept and one that Adrien Broner tried (without much success) before his fight with Marcos Maidana. The poll allows fans to choose whether Mayweather will fight Maidana or Amir Khan on May 3rd. According to the early results, Maidana was leading the race by a wide margin, but the gap has supposedly been cut since Khan took to social media to make his case. In fact, Khan is now in the lead. Nobody really knows what is going on behind closed doors, but Khan already claimed he signed a contract for the fight, which means he has already agreed to all of Mayweather's terms. If you ask me, Maidana deserves the fight more than Khan right now (even though Khan did beat Maidana a few years ago). Since that fight, the fighters have gone in opposite directions. However, Khan would give Mayweather a more competitive fight. Let's be real about this. If Maidana is picked, Mayweather won't be able to knock him out, and we'll see a 12-round clinic, much like we saw against Canelo Alvarez. If Khan is picked, the first couple of rounds may be interesting because Khan can match Mayweather in the one area very few other fighters can, speed. However, once Mayweather begins to time Khan, it will be all she wrote and fans will get to see Mayweather's first knockout win since the Victor Ortiz fight (and first legitimate knockout since Ricky Hatton). Maidana is more deserving, but Khan is the better fight. In the end, I don't believe the fans will have anything to do with picking the fight and Khan will be standing opposite Mayweather in the ring on May 3rd.

Didn't Maidana say he wanted to take some time off anyway? The other thing very few people are considering in this entire scenario is the fact that Team Maidana already told Al Haymon that April 19th was too soon to get back in the ring for the Adrien Broner rematch because Maidana generally needs 6 weeks to rest after a fight and 10 more weeks for training camp. Add in the fact that Maidana is expecting the birth of his daughter in mid-March as another reason he wouldn't have enough time to adequately train. I am fully aware that a Maywaether payday could change all of that, but if Maidana is the one to get this fight, it proves that he was in no hurry to get back in the ring for a Broner rematch (and no, I'm not saying he is scared of Broner). In case you need a little help doing math, April 19th and May 3rd are only two weeks apart. Two weeks is not going to make or break anything in my opinion.

A world title changed hands in China on Wednesday. In what was viewed as a major upset, Mexican strawweight Oswaldo Novoa went into Zhao Zhong's home country, China, and shocked most observers by stopping Zhong in the 5th round. Zhong was the first, and only, Chinese fighter to win a world title. The only perceived advantage for Novoa going into the fight was the fact he was coming down in weight, which meant he would be the bigger man in the ring. That seemed to be the difference as he was able to overpower Zhong. Though this fight may not have been a huge fight worldwide, this is an early leader for Upset of the Year.

Congratulations to WBC light flyweight champion Adrian Hernandez on his 4th straight successful title defense Saturday night. Hernandez stopped the over-matched Janiel Rivera in front of 14,000-plus screaming fans in Mexico.

I finally got a chance to watch "Best of Showtime Boxing 2013" and it was fantastic! I thought the recap of the entire year in boxing was perfectly put together.

Don't forget about "Monday Night Fights" on Fox Sports 1 tonight. Knockout artist Fidel Maldonado Jr. returns to face late substitute John Nater, who steps in for Steve Forbes. Also, a big fight card featuring Dereck Chisora and Tyson Fury, in separate fights, takes place in London. Diego Magdaleno also returns on UniMas Saturday night.

Each week, I feature an email from a fan on Observe and Fight. This week's email comes to us from Luis V. regarding the postponement of the rematch between Jhonny Gonzalez and Abner Mares...

"Hey David, have a quick question for you. What do you think about Abner Mares postponing the Gonzalez fight and wanting to take a tune up fight instead. I heard he hired a psychologist after his loss. I think he felt Gonzalez power and is afraid to get K.O Again! Thank You, Luis"

I don't know if there is any truth to that. People start rumors all the time. I think the injury Mares suffered is legitimate. Gonzalez also wanted a payday, and he'll get it by defending his title in Mexico. I think the rematch will happen eventually. I just think this was a business decision on both ends. I highly doubt Mares is afraid.

That's all I've got for this week. Email any questions or comments to dkassel@fighthype.com and I will answer them throughout the week. Your email may be featured in the next "Observe and Fight." Follow me on Twitter @BoxingObserver, and be sure to "Like" The Boxing Observer on Facebook.
[ Follow David Kassel on Twitter @BoxingObserver ]