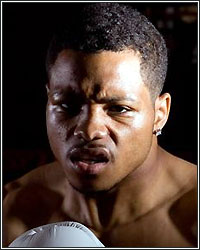 "I think he was arrested or whatever reason, so they still looking for an opponent for me. I'll fight whoever...I don't want to direct this to anybody in particular, but a chip is gonna stay on my shoulder until I retire. With that chip...I'm trying to get these chips and I'm trying to eat some chips (laughing), so with that being said, a chip gonna stay on my shoulder," stated undefeated jr. welterweight Karim Mayfield, who talked about his scheduled March 1 return to the ring, his future plans, and much more. Check it out!

PC: You are scheduled to fight on March 1st on the Chavez Jr./Vera rematch card. Is that still a go?

KM: Well, you know, right now, my opponent had pulled out for...I think he was arrested or whatever reason, so they still looking for an opponent for me. I'll fight whoever!

PC: In your mind, will you be fighting on March 1st or is it still in the air for you?

KM: It's really, honestly, to keep it 1000, it's in the air right now, man. They looking for an opponent. A few guys didn't want to take the fight, so they still searching. I think with the resources and the budget that Top Rank has, they should be able to find me an opponent for that date.

PC: Although you are a true pro who has dealt with similar situations throughout your career, is this frustrating for you to not know with that date a few weeks away?

KM: Certainly, but due to the strength that most of my career has pretty much been...if you wanna use the word plagued; I can't really use the word plagued because I've always come up victorious. But my career has pretty much been like that; two-week's notice or last minute. I'm pretty used to this, but the only thing that's frustrating is that I'm dealing with a major promotional company and we don't have a particular opponent and that's just kind of irritating in a sense of, first of all, not only having an opponent, but I feel like I should be fighting on network television right now anyway and my opponent should already be booked, so that's what that is.

PC: You expressed your displeasure with Danny Garcia fighting Mauricio Herrera on March 15th on your social networks. Of course you defeated Herrera back in 2012 unanimously.

KM: It's the politics of the game. If you go back to when I approached Danny Garcia at the Mayweather press conference, you hear Angel Garcia saying, "Earn your spot." Okay, you tell me to earn my spot, but then you go and fight someone who is not even ranked. At that point, I was #2 in the world with the WBO, which is a sanctioning body where I feel my spot was earned. I had fought 6 or 7 undefeated fighters before I was even 17-0. I feel like my spot was earned, and they gonna turn around and say I didn't earn my spot and then give it to somebody that I have officially defeated. Okay, are we earning spots for the mandatory spot to fight each other or is it a politic thing? Or should I say politrick?

PC: You said awhile back that you felt Adrien Broner could be and would be exposed to a certain style. Obviously Marcos Maidana was the better man that night. Do you see this as possibly a spiraling situation or do you think Broner could bounce back?

KM: I definitely think Adrien Broner can bounce back, but I just feel like it was a mesh of styles. When I was watching the fight, I'm not a hater at all and I feel let the best man win, but when I seen Maidana doing that to him, I was irritated because I knew exactly how to beat Adrien Broner and I knew that that style and that type of pressure and that bullying style would beat him, Adrien Broner. So I was just upset that I couldn't expose him to the world. But with that being said, I think that he can bounce back, but honestly, I think him trying to do a rematch with Maidana is a bad look because, first of all, once a pitbull figures out that he is the dominant dog, he doesn't get less dominant; he actually gets more dominant. And knowing that he can actually bully Broner, he is gonna be really bullying him now. But Broner's style has been like this his whole career. I don't see him adjusting it in a couple of months just to have the style to cope with the bullying style that Maidana comes with.

PC: You have been working with some world-class fighters in the gym. What's that been like for you?

KM: Yeah, we got world-class guys in the gym and when I'm in the Bay area, I may train in Vegas, but my coach, Ben Bautista, is gonna be in my corner regardless. But I been out here for the fact that I don't really have a fight set. Being around world-class fighters like Angulo, Andre Berto, and Amir Khan, and we got a guy in there, I can't remember his name, but we call him "The Wolf". He an undefeated Russian guy and a good pressure fighter. But I been around some world-class fighters and sparring with those names, you can't do nothing but get better. The things that you may get away with with other fighters or lesser fighters, these guys aren't gonna let you get away with it. So you gotta step your game up and tighten up your skills.

PC: For sure. If not March 1st, is the mentality just as soon as possible?

KM: The mentality is just basically staying ready because I see there is gonna be a lot of 140-pound fights coming along. I just feel like I might get one of those calls at the last minute. I haven't gotten a fair shake thus far, so I'm not looking to get one at this point of my career. I just gotta be ready for whatever. There are a lot of fight dates out there, but, you know, something's gotta give. You know, honestly, I feel like it will happen at the right time. Let these guys have their wars, beat each other up and expose each others' styles, and I will come in and capitalize and take all of them belts at the right time. But with that being said, I think everything will happen in due time. I just gotta be prepared. Success is when opportunity meets preparation and I will definitely always stay prepared. I'm just waiting on the opportunity.

PC: You always seem to bring your best when you have that chip on your shoulder, that me against the world mentality, and that seems to be where you are at. Do you feel that way as well?

KM: I do feel like that. I feel like boxing is a small community and fraternity and there is only a few guys that deal with each other, and I kind of feel like they all trying to keep me out. You think that you can fight your way up to the top, but once somebody is trying to hold you down, it's hard. I'm not the only one they are doing it to. It happens to a lot of champions and a lot of fighters, but I actually spoke to somebody yesterday; he was a fan and I didn't know who he was, but he came up to me. I was downtown shopping and he told me to keep doing what I needed to do and just be prepared for whenever they give me that call and just capitalize on whenever it comes. I don't want to direct this to anybody in particular, but a chip is gonna stay on my shoulder until I retire. With that chip...I'm trying to get these chips and I'm trying to eat some chips (laughing), so with that being said, a chip gonna stay on my shoulder. People ask is it personal or business? It's both business and personal. I'm fighting for me and my family and I'm also fighting for them belts, so it's business and personal.

PC: I appreciate the time. I hope you can keep that March 1st fight date and I wish you the best of luck my man. Is there anything else you want to add?

KM: I just want to tell all of the fans that support me, fans, folks, friends and familia, y'all keep holding me down and whenever they put me on, I'm gonna continue to put on, man. Until then, hit me up on IG @karimhardhittamayfield, I'm a cool dude to get at. Twitter @KarimMayfield1 and Facebook, Karim Mayfield. It's all good and it's all love and you will see me in 2014!
[ Follow Percy Crawford on Twitter @MrFighthype ]