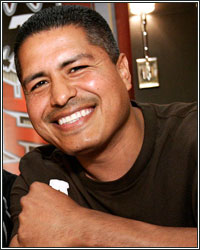 "You know what? I'm not going to start brand new. I do have a lot of things that we did against Broner that should also be effective against Mayweather," stated world-class trainer Robert Garcia, who talked about what he plans to focus on when he begins training his fighter, WBA welterweight champion Marcos Maidana, for the toughest fight of his career on May 3 when he faces undefeated pound-for-pound king Floyd "Money" Mayweather. Though Garcia admits that Mayweather is on a totally different level than other fighters, he does believe that Maidana can use similar tactics that they used to defeat the previously unbeaten Adrien Broner.

"They're not in the same league and I agree with that. Mayweather's just totally something else, but, going into the fight, it was that Broner could be the next Mayweather and kind of wants to fight the same way that Mayweather fights. You know, I'm not saying that we're going to go in against another Broner, definitely not, but there are some similarities, so we are going to take advantage of it," Garcia explained during a recent interview with FightHype.com "We are going to work extra harder for that, but you know, styles make fights. I said it before the Broner fight, nobody thought we had a chance. Everybody thought we were going to lose to Broner. Very few people gave Maidana a shot, but I always said, you know, we don't have to be better than him; we just have to come out with a good game plan and have the style to beat him. If we fight just the way we did, then we pull it off."

Garcia added, "I think if we go in with the mentality that we had against Broner, we just have to be in tremendous shape to be able to do that for 12 rounds. The way Maidana fights, you know, Maidana's not a boxer, but he's going to come in and take a shot to be able to land his and he does hit tremendously hard, so there's alway a chance. It's something that we're going to really, really train and focus on doing."
[ Follow Ben Thompson on Twitter @fighthype ]