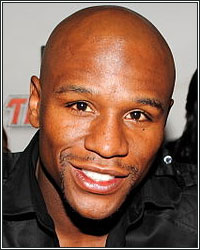 It's Monday. Welcome back for another edition of Observe and Fight, The Boxing Observer's compilation of observations and random thoughts from the week that was in boxing. Get caught up on some of the most recent events you may have missed out on, including the impending announcement of Floyd Mayweather's next opponent, the official contract signing of Sergio Martinez vs. Miguel Cotto, a recap of this past week's fights, a preview of this weekend's major fights, and much more. Without further ado, check out the latest observations from the Boxing Observer, David Kassel.

Happy Birthday, Floyd Mayweather! Who are you taking to the dance, May 3rd? Last week, I stated that I still thought Amir Khan was going to land the fight, but oh how times have changed. Khan has basically taken himself out of the running with his public comments on social media sites and in interviews. He flat out said he wasn't getting the fight by stating on Twitter, "Fight's not happening." Floyd Mayweather is generally very secretive about his opponent selection and doesn't like to discuss terms of contract negotiations until the fight is signed. If Khan wanted any chance of staying in the Mayweather Sweepstakes, he should have kept his mouth shut and pleaded privately to Mayweather, Leonard Ellerbe, and Al Haymon. If Mayweather doesn't make an announcement sometime Monday, the Nevada State Athletic Commission is holding a commission meeting this Thursday, so expect an announcement for the fight to come no later than then. Richard Schaefer even stated that it was only a matter of days now. Don't forget that Mayweather Promotions is staging its own fight card on ShoBox Friday night, which will no doubt be a celebration to announce the winner of the Mayweather Sweepstakes is none other than...Marcos Maidana. Or will it be, Khan? Now that Khan is supposedly out of the fight, is Maidana going to ask for more? So, it will be Khan. No wait...don't over-think this people (do you see why rumors and speculation are usually 99% B.S.?). Just make the announcement already so we can all get on with making our arrangements for May 3rd!

Lost in the Mayweather Sweepstakes was the official announcement of Sergio Martinez vs. Miguel Cotto on June 7th. These two guys are two of the biggest names in the sport of boxing. Madison Sqaure Garden is going to be rocking, and Martinez and Cotto are going to put it all on the line in front of a sold out crowd in New York City. This fight is very difficult to gauge because Cotto has never looked comfortable, or very strong, as a 154-lb fighter, so moving up to 160-lbs. is going to be a big disadvantage for him. On the flip side, Martinez is 39-years-old and is showing signs of breaking down, as evidenced by his knee surgery and broken hand after his last fight in April of 2013 (it will be 399 days by the time Martinez steps foot in the ring against Cotto). If Martinez is truly healthy, he should be able to bounce around the ring and cruise to a victory against Cotto, but I'm concerned he is going to get old overnight. I don't see this fight as being lopsided, but if one fighter is going to dominate the other, it will be Martinez dominating Cotto.

If Cotto beats Martinez, could we see a Mayweather vs. Cotto rematch for the middleweight title? Let the speculation begin...

This is the biggest fight weekend, thus far, in 2013! And it's only a preview of more to come over the next few months in boxing. The Boxcino Middleweight tournament gets underway Friday night after a successful quarterfinals in the lightweight division this past Friday night. Also, on Friday, expect ShoBox to be Mayweather Central with the announcement of Mayweather's next opponent sure to have been named by then. Showtime will be rolling out the red carpet for Floyd as that will be the perfect platform to begin promoting the fight May 3rd. The WBA interim flyweight title is at stake in Thailand between interim champion Yodmongkol Vor Saengthep and challenger Takuya Kogawa. Saturday is when the fireworks truly begin as 4 major titles are on the line. WBA strawweight champion South African Hekkie Budler should cruise to a unanimous decision victory over underdog Colombian Karluis Diaz in front of a raucous crowd in Johannesburg. From Glasgow, Scotland, WBO lightweight champion Ricky Burns faces his toughest test to date against undefeated American Terence Crawford in what many believe will be the beginning of a lengthy title run by Crawford. In Magdeburg, Germany, the rubbermatch will take place between WBO super middleweight champion Robert Steiglitz and challenger, former champion Arthur Abraham. This all-German showdown may not be aesthetically pleasing, but fight fans, especially in Germany, are very interested in the outcome of this one. Finally, from San Antonio, Texas, WBO featherweight champion Orlando Salido puts his title on the line against 2008 and 2012 Olympic gold medalist Vasyl Lomachenko in just the 2nd professional fight for Lomachenko. That all serves as the co-featured attractions (not all on the same fight card obviously) to the rematch of Julio Cesar Chavez Jr. vs. Bryan Vera in a battle of their controversial first fight in which Chavez Jr. was awarded the decision. It should be a great weekend of fights to kickoff what will be an epic next few months in boxing.

Could light heavyweight champion Adonis Stevenson's signing with Al Haymon bridge the gap between HBO and Showtime? I certainly hope this is the beginning of the end of boxing's Cold War.

Zou Shiming is still not ready for a world title shot, and he won't be before the end of this year. Shiming did not look comfortable standing toe-to-toe and doesn't seem as if he wants to engage in a slug-fest. I'm not saying he needs to slug to earn a world title shot, but that's what Bob Arum and company are seemingly pushing for. If I were Shiming (and I'm not), I would stick with what I know and not rush to a world title. Maybe waiting until 2015 wouldn't be such a bad idea. It doesn't seem that Chinese fight fans are fully sold on Shiming either because the arena in Macao wasn't packed to the max. There were a lot of empty seats.

Miguel Vazquez is good, but man is he boring. The IBF lightweight champion easily cruised to victory over Denis Shafikov Saturday in China. Vazquez stated he has no reason to change his style because it works for him and brought him a world title. He is absolutely correct. I would not change what I do best. However, he will never receive a major payday fighting his dull style. If Terence Crawford can defeat Ricky Burns this Satuday, don't be surprised to see a Crawford vs. Vazquez lightweight unification fight very soon.

"Hammerin" Hank Lundy deserves more recognition. He is 30-years-old, but Lundy is always competitive, and he is always willing to fight the best. His win over Angelo Santana Friday night (in what was horrible matchmaking by Don King) was nothing short of dominant. Santana is no slouch, but Lundy can stay competitive with anyone from 135-140lbs. I think Lundy is an entertaining guy and he deserves a big shot. Maybe a permanent move to lightweight is the way to go.

Marvin Sonsona scored a spectacular Knockout of the Year candidate over former champion Akifumi Shimoda Saturday night in China! A left uppercut from the southpaw, Sonsona, sent Shimoda's left knee buckling and he was out cold before he hit the canvas. It was sensational in every aspect of the word. It was actually quite scary considering how long Shimoda was on the canvas.

Amir Imam also put himself into contention for knockout victory of the year Friday night as well! He sent Jared Robinson through the ropes and out to the floor in the opening bout of ShoBox. Give Robinson much credit because, though wobbly and still extremely dazed, the previously unbeaten fighter walked himself back up the steps and into the ring under his own power within 12 seconds of being seemingly knocked completely out and to the floor. Imam has special power and it will be interesting to see if he stays with Don King as his promoter for the long haul.

Round 11 of Tommy Coyle vs. Daniel Brizuela was enough to warrant Round of the Year considerations. Unfortunately, I still have not had the chance to watch the fight in its entirety, but from everything I saw on Twitter, everything I read about the fight, and watching Round 11, it's the early candidate for the Fight of the Year. I'm going to make it a priority to watch the fight this week, and from everything I've heard, and seen, you should too.

The Boxcino lightweight tournmanet kicked off with a bang Friday night. Anytime the word "tournament" is thrown around, people are going to pay attention. Whenever athletes are put up in a winner-take-all, one-time event, people are going to watch. Look at the NCAA basketball tournament, the NFL playoffs, the World Cup knockout stage, Wimbledon, etc. A one-game/match elimination tournament brings out the best in athletes, and fans usually see the athlete who wants it more come out on top. 4 very deserving lightweights moved on to the semi-finals, and expect 4 middleweights to do the same this Friday night on ESPN Friday Night Fights.

Was it just my imagination or did ring announcer Joe Martinez have chewing tobacco in his mouth while announcing Monday Night Fights on Fox Sports 1? I think Martinez is one of the best in the business, and maybe my eyes were deceiving me, but if I'm on national television, where my mouth is the main focus of my viewers, I sure am not going to have a big ole chew in my mouth. That is, of course, unless I'm being sponsored by Skoal or Copenhagen.

Each week, I feature an email from a fan on Observe and Fight. This week's email comes to us from Kent Singletary regarding Gennady Golovkin's status as one of the top middleweights in the world...

"It's really starting to make me laugh how Team GGG is trying to make GGG this unstoppable epic hero here to save boxing ..willing to fight anyone. I remember when GGG came on the scene with his first fight on HBO thinking man this kid has good power and nice threads (footwork is sketchy but can close out the ring well)..but honestly he hasn't proved anything to fight fans other than he can beat up 2nd rate figthers. Team GGG went on the record stating they will fight ANYONE from 154-170. GGG goes on to fight Rosado..Ishida 154 guys...and his best wins are Stevens and Macklin..but when Andre Ward (fight not big enough) and Erislandy Lara (not a big enough name they say) call him out then there is backtracking. But they take a fight with a guy called Adama? Who is Adama? Then the team says.. We only want to fight at 160 right now..yet the team continues to call out Canelo and Mayweather at 154? Cmon man... I miss the old days where people just fight and stop making excuses..for the record I keep reading "part-time boxing fans" ( people that only follow the sport for big fights yet don't do any research) Mayweather needs to fight GGG..what foolishness is that? Mayweather cant make 154..dude is a natural at 140 and fights at 147-154 out of pure skill...but making him fight a natural 160 at 154 is ridiculous."

I will say that I have stated numerous time that I believe GGG is the best middleweight in the world right now. He has not accomplished as much, which is why he isn't rated over Sergio Martinez, but I think he would KO Martinez. I don't remember them saying anything at all about Lara except they hadn't thought about him as a potential opponent because of his ties with Al Haymon/Golden Boy Promotions/Showtime. GGG has been fighting 3-4 times per year (not because he has to, but because he wants to stay busy, which is something rarely seen nowadays from top level fighters), and it's difficult to get quality opponents every time out. That's why he fights a guy like Adama. However, he has been calling for big fights, but has had difficulty getting them because no one wants to take the risk. Therefore, he stays active. GGG's next fight should be against a quality opponent (rumored to be Andy Lee), and he should get the winner of Martinez vs. Cotto at the end of 2014.

That's all I've got for this week. Email any questions or comments to dkassel@fighthype.com and I will answer them throughout the week. Your email may be featured in the next "Observe and Fight." Follow me on Twitter @BoxingObserver, and be sure to "Like" The Boxing Observer on Facebook.
[ Follow David Kassel on Twitter @BoxingObserver ]