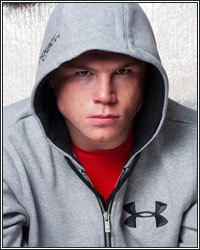 It's Monday. Welcome back for another edition of Observe and Fight, The Boxing Observer's compilation of observations and random thoughts from the week that was in boxing. Get caught up on some of the most recent events you may have missed out on, including a dominant return for Canelo Alvarez, an analysis of the potential Mayweather vs. Maidana undercard, a preview of this weekend's fights, and much more. Without further ado, check out the latest observations from the Boxing Observer, David Kassel.

After watching Canelo Alvarez dominate Alfredo Angulo Saturday night, I am convinced Canelo would beat Erislandy Lara fairly handily. Don't get me wrong, Lara and Angulo are two completely different fighters, but Lara has shown in the past that he is not a difficult target to hit. For someone with a wonderful amateur background and the slickness he possesses, Lara has been hit by Paul Williams, Vanes Martirosyan, Angulo, Carlos Molina, and others. I know that Lara is the flavor of the month (and I've been guilty of it as well), but after sitting back and watching Canelo destroy Angulo, there is no doubt that Canelo would handle Lara with ease. Yes, Canelo does take breaks during rounds from time to time, but so does Lara. I'm not sure Lara can withstand 12 rounds with Canelo. Canelo has every advantage over Lara, except for maybe stamina. Yes, I am giving the speed and defense advantage to Canelo. Also, does anyone really think that Lara can knock Canelo out? Canelo wasn't afraid of anything Angulo brought to the table. He would not be afraid to step right up to Lara and take a shot to land a better one. I know Lara is one of the most avoided men in boxing, but at this point, Canelo is far and away the best 154-lb fighter in the world not named Floyd Mayweather. If Golden Boy Promotions is ever looking for an opportunity to match Canelo up with Lara, now would be the time.

Speaking of Lara, what is he going to gain by fighting Ishe Smith on May 2nd? Yes, Smith is a former world champion, but why would Lara, a current interim titleholder, go from fighting on Showtime Championship Boxing and dominating another former champion, Austin Trout, to defending on a card televised by Fox Sports 1 on a Friday night, the night before Floyd Mayweather faces Marcos Maidana? I know the boxing world will be buzzing that weekend and there will be plenty of people in Las Vegas to see the fight, but how many people are honestly going to be watching Lara vs. Smith? I think Lara wins easily, but this fight is a lose-lose situation for him.

Everybody needs to get off of referee Tony Weeks' case because he made a great call by stopping the Canelo vs. Angulo fight when he did. I know people paid $60-70 to watch two Mexican warriors go "Toe-to-Toe", but how much punishment did you want to see? Anyone with more than one brain cell could see Angulo had absolutely zero chance of hurting Canelo or winning that fight. Before the 10th round, Angulo's trainer, Virgil Hunter, told Angulo he would stop the fight if this continued, so clearly he was thinking about how much unnecessary punishment Angulo was taking. Don't let the post-fight rant by Hunter fool you (saying he told Weeks he was going to stop the fight if he saw Canelo land another 2-3 punch combination cleanly). The uppercut that ended the fight and caused Weeks to step in was indicative of the entire 9 1/2 rounds. Canelo landed 197 power punches, and I'm willing to bet that at least 100 of those were not even partially blocked by Angulo's gloves. It wasn't the 197th power punch that forced Weeks to stop the fight. It was the previous 196 pulverizing shots that allowed him to clearly see Angulo shouldn't take any more punishment for risk of permanent health damage. I would rather see Angulo not take an extra 50 power shots instead of seeing him end up like Magomed Abdusalamov. Fighters are people too, and sometimes it takes an outside viewpoint to understand that long-term health is more important than pride (Angulo was just trying to survive at the time of the stoppage). Say what you will, and I know I'll probably get some hate mail for this, but anyone who thinks that stoppage was premature is asinine.

Everyone made a huge deal about Canelo not making the weight, but I thought Angulo was the one who suffered the most from draining himself. In case you missed the fighters' weights just before the fight, Canelo only rehydrated up to 170lbs. (which was actually 2 lbs. less than he did against Austin Trout). Angulo weighed in at 174lbs. on fight night. Looking back now at Angulo's performance, it's no wonder he looked as old and slow as he did. His body was probably shot from trying to make weight in the first place. Nobody gains 20 lbs. overnight without suffering in the ring. Just ask Julio Cesar Chavez Jr.

The Floyd Mayweather vs. Marcos Maidana undercard needs to be strong or it might struggle to crack 1 million pay-per-view buys. Floyd Mayweather is the star attraction, and there is no question about it; however, Mayweather vs. Guerrero barely hit 1 million buys, and I believe a big reason for that was the undercard was weak (the co-feature was Abner Mares vs. Daniel Ponce de Leon, which wasn't a bad fight, but it didn't have big-time names to attract more viewers). Mayweather vs. Canelo was going to be huge anyway, but I'm not sure it would have cracked the 2 million mark in PPV buys had it not been for the Danny Garcia vs. Lucas Matthysse co-feature (Mayweather vs. Canelo ended up doing somewhere in the neighborhood of 2.2 million PPV buys). Maidana is not Canelo, and as of right now, there are nothing but rumors floating around about the co-featured fight. In case you haven't noticed, we are just 54 days away from May 3rd. The official press conference to announce the fight just took place on Saturday, so there really hasn't been any publicity at all. If Amir Khan isn't on the undercard, I'm going out on a STRONG limb to predict that Mayweather vs. Maidana will not break the 1 million PPV buy mark. Not even Adrien Broner (who has been rumored to be fighting John Molina in the co-feature) would help break that barrier. That's just not a big fight. Last week, Fighthype's Ben Thompson reported that discussions were taking place for Amir Khan to face Guerrero as the co-feature. That fight may be the only thing to push this PPV over the 1 million buy mark. There are a ton of factors at play in making this prediction, but you also have to consider that some fans just spent money on the Canelo PPV. Other fans will be spending another $60-70 next month to watch the rematch between Bradley and Pacquiao (and a lot of the Filipino population who spends their money to watch a Mayweather PPV in the hopes they see Mayweather lose may not want to shell out that kind of money 2 months in a row). Also, on June 8th, Sergio Martinez faces Miguel Cotto on PPV. To be honest, I'm actually more interested in that fight than I am in Mayweather vs. Maidana. Don't get it twisted, I am going to watch all of these fights, however, some fans are going to be more economical about their spending and Mayweather vs. Maidana isn't going to be as competitive as Bradley vs. Pacquiao or Martinez vs. Cotto. 1 million PPV buys is huge, and I don't believe Pacquiao vs. Bradley 2, or Martinez vs. Cotto, will eclipse that mark (meaning that neither fight card will produce as many PPV buys as Mayweather vs. Maidana), but when it comes to Floyd Mayweather, the industry standard has been raised, and with his 6-fight, $200 million contract, you better believe the executives who signed off on that contract expect to see over 1 million PPV buys every time Mayweather fights. Without Amir Khan on the undercard (unless Golden Boy pulls something amazing out of its hat), the numbers for this fight will suffer.

I'm upset that Jermall Charlo didn't get his chance at a world title. IBF 154-lb. champion Carlos Molina is still being detained by immigration, and that is a huge shame. Even though the Ricardo Alvarez vs. Sergio Thompson fight, which was elevated to pay-per-view status, turned out to be the best fight of the night, a world title fight will almost always pique my interest more than a 10-round attraction. I am very high on the Charlo brothers, and it's only a matter of time before they are both world champions.

Leo Santa Cruz is amazing! How a guy can throw 112 punches in the 12th round is still amazing to me, especially against an opponent who was on his bicycle, as was the case with Cristian Mijares. Santa Cruz is a budding superstar, and I hope he cashes out with a 7-figure payday soon. I've expressed my concern about Santa Cruz's health in the past because I think he takes too much punishment in order to give the fans what they want. It might not be as big a factor at 122-lbs., but as he moves up in weight and faces bigger punchers, I'm not sure he can withstand that type of fighting style with success for a long period of time without suffering from long-term, permanent damage.

Jorge Linares looked spectacular against Nihito Arakawa! I'd be VERY interested to see how Linares does against Omar Figueroa. That would be a spectacular fight, and I hope it gets signed soon.

Sergio Thompson scored the biggest win of his career. It wasn't his most impressive victory in terms of an opponent, but a lot of people saw Thompson beat the brother of Canelo, and that should elevate Thompson into a big fight, either at 130 lbs. or 135 lbs. If Figueroa vs. Linares doesn't come together, I'm sure nobody would have any qualms about watching Figueroa defend his lightweight title against Thompson.

It was good to see Oscar De La Hoya back on camera. Even though De La Hoya didn't say anything to the cameras Saturday night, it was good to see him back in the crowd and in the ring during Canelo's post-fight interview. Oscar has battled with addiction recently, but he looked healthy (albeit uncomfortable) every time the camera showed his face.

I know Jorge Arce looked great on Saturday, but I have a hard time believing he will once again become a player. Arce, now campaigning at featherweight, looks like a shop-worn fighter, and he won't be able to take the punches from the top fighters in the featherweight division. If he is to continue fighting, I hope Arce stays in Mexico collecting paychecks against journeymen because stepping back into world title contention will not end well for him.

This is another big weekend of fights! The headliner of the weekend will be 140-lb. champion Danny "Swift" Garcia defending his unified titles against tough customer Mauricio Herrera in a fight that might be tougher for Garcia than most believe. The co-feature is going to be a dandy as heavyweight hopeful Deontay Wilder looks to make it 31-0, with 31 knockouts, against the slick Malik Scott, who will not be easy to hit. Wilder has a mean streak in him, but Scott is one of his closest friends. Will that play a factor in the fight? We shall see. Also on the card will be an all-action affair between Juan Manuel Lopez and Daniel Ponce de Leon. That fight is almost guaranteed not to make it to the judges scorecards. NBC Sports Network has a solid fight card as well featuring Tomasz Adamek taking on "Czar" Glazkov. The co-feature of Isaac Chilemba and Denis Grachev should be a good one. I'm not sure if the Ronald Cruz vs. Kermit Cintron fight will be televised, but I hope it is as well. Fernando Montiel returns Saturday night in Mexico to take on the challenging Cristobal Cruz. Also Saturday, from England, Tony Bellew and Kell Brook return to the ring in separate bouts. March is a huge month in boxing, and it's only the beginning of a special few months to come.

Last week I asked about the whereabouts of Peter Quillin and I almost immediately got my answer. Quillin will defend his middleweight title against Lukas Konecny as the co-feature to Bernard Hopkins vs. Beibut Shumenov, April 19th.

Each week, I feature an email from a fan on Observe and Fight. This week's email comes to us from first time emailer, Mark R. regarding the status of Adrien Broner and his next move...

Hey David, I read Fighthype all the time and wanted to know how come the coverage of Adrien Broner has pretty much gone away from most boxing websites, including Fighthype? I know he was always on the site before the lost of Maidana but now that he lost everyone has forgotten about him? He is still young and is going to be a world champion again. It's just amazing to me that everyone has just forgotten about him.

Thanks for the email, Mark, and I'm glad you decided to reach out. To be honest, I don't think Broner's name has gone anywhere. If you have been paying any attention to Amir Khan lately, Broner's name has been linked to Khan, especially since Floyd Mayweather is pushing for a Khan vs. Broner fight, at a catchweight, on his undercard vs. Maidana. Boxing, unlike most sports, is very fickle, and one loss can damage your career and image. However, the thing with Broner isn't that everyone has stopped covering him. A lot of what Broner did before the Maidana fight was recorded for the world to see on his own social media platforms (Twitter, Facebook, Instagram, etc.). He did conduct interviews, but he would allow the world to see him and receive information using his own social media. Most boxing websites were giving him so much publicity because of the out of the ring antics he was displaying. Hell, if TMZ is going to give it coverage, you know it's big. It's not that Broner isn't talented, because he is. I also believe he will certainly be a world champion again, sometime very soon, and I wouldn't be surprised to see it happen before the end of 2014. However, the reason Broner isn't getting as much coverage is because he lost [EDITOR'S NOTE: For the record, the ONLY reason Adrien Broner is not getting as much coverage on FightHype as he was before is simply because he has yet to respond to any of our attempts to contact him]. Had he beaten Maidana, we might have seen Broner headlining a pay-per-view this year (remember, that was the original plan for the Maidana fight). It still might be the eventual plan, but a loss, especially because it was such a bad loss to Maidana, has altered those plans. Broner will be back in a very big fight, probably within the next 2 months or so. I don't have any internal discussions with Broner's camp, but I'm sure he has been advised to scale back the antics and try to rebuild his image. Broner has a bright future ahead of him, and we'll be seeing plenty of him very soon.

That's all I've got for this week. Email any questions or comments to dkassel@fighthype.com and I will answer them throughout the week. Your email may be featured in the next "Observe and Fight." Follow me on Twitter @BoxingObserver, and be sure to "Like" The Boxing Observer on Facebook.
[ Follow David Kassel on Twitter @BoxingObserver ]