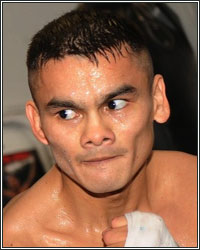 "I feel much better. My punches are connecting even stronger now because the punches are being thrown in better method of percision. I throw the jab a lot more and a lot better, so I fell much, much better now that I've been working with Robert Garcia," stated WBA welterweight champion Marcos Maidana, who talked about his upcoming May 3 clash with undefeated pound-for-pound king Floyd "Money" Mayweather. As far as Maidana is concerned, Mayweather is not that much different than Adrien Broner when it comes to their fighting style, making him confident that he can hand Floyd a similar type of beating that the previously undefeated Broner expereienced this past December.

"You know, Broner and Mayweather fight similar. Most of them have the same style, very similar style and defenses, but I already beat Broner the way I did and I think I can do the same with Mayweather," Maidana commented during a recent conference call to promote the fight. "With Broner, everybody thought I had to knock him out and I beat him like a fish. I am preparing myself to go 12 rounds if it's necessary. I am preparing to hurt him every time I throw punches and if the knockout comes, then great, but I am preparing myself to win up to 12 rounds."

Maidana added, "I am a champion and I am ready to fight for my title. Most important, I am preparing to beat Mayweather and the last thing I'm worried about is my title. I want to just train and beat Mayweather....I've always fought guys that hit hard and it's nothing new to me, so I'm not worried about his power."
[ Follow Ben Thompson on Twitter @fighthype ]