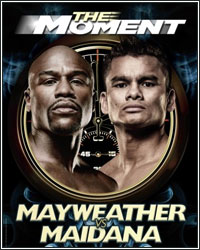 FightHype.com has been advised that the glove controversy that momentarily put today's title unification between undefeated WBC welterweight champion Floyd Mayweather and WBA welterweight champion Marcos Maidana in jeopardy has been resolved. "Yes, the glove issue has been resolved," confirmed Golden Boy Promotions CEO Richard Schaefer via email. Though he did not get into any specifics, Schaefer informed us that Maidana will indeed be wearing Everlast gloves while Mayweather will be wearing Grant gloves.

Not long after yesterday's weigh-in, it looked like the fight was in serious jeopardy after Team Mayweather objected to a light blue pair of Everlast MX gloves that Team Maidana attempted to get approved for the fight. The padding in those particular gloves were called into question after Mayweather Promotions CEO Leonard Ellerbe and Floyd Mayweather himself carefully inspected them when it came time for both camps to select their gloves for the fight. After hours of debating between both teams, the Nevada State Athletic Commission finally ruled that the light blue pair of Everlast MX gloves were indeed unusable, however, they did approve a similar pair of red Everlast MX gloves that were on hand as a backup.

Despite the Commission's ruling, the suspicions of Team Mayweather were already heightened and they questioned the legality of the entire Everlast MX brand. After a private meeting with Richard Schaefer, Ellerbe emerged from a room and declared, "No fight unless something gets changed." Schaefer was quick to inform members of the media that he was confident that "a fair solution" would be found between both camps. "I think, basically, the teams are just working out which ones...everything will be okay," he commented.

Sure enough, after a night's rest, it looks like cooler heads have prevailed and some type of agreement was indeed reached. It's unclear at this point if Maidana has agreed to use a different brand of Everlast gloves or if Team Mayweather has accepted the Commission's approval of the red Everlast MX gloves. Either way, the issue has indeed been resolved and all systems are go for tonight's showdown.
[ Follow Ben Thompson on Twitter @fighthype ]