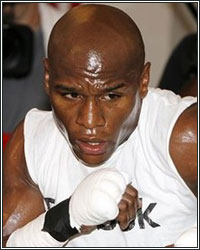 It's Monday. Welcome back for another edition of Observe and Fight, The Boxing Observer's compilation of observations and random thoughts from the week that was in boxing. Get caught up on some of the most recent events you may have missed out on, including a full recap of Mayweather vs. Maidana, "The Moment", the internal rift at Golden Boy Promotions, a preview of this weekend's heavyweight title fight between Bermane Stiverne and Chris Arreola, and much more. Without further ado, check out the latest observations from the Boxing Observer, David Kassel.

Floyd Mayweather doesn't need to look for his next opponent, in September, anymore. Marcos Maidana is at the top of everyone's list after his gutsy, excellent performance Saturday night. Whether or not you want to believe Mayweather's post-fight comments that he could have made this fight easy if he wanted to is irrelevant. Mayweather knew that the hype for this event was not up to his standards, and he needed to show that Maidana was certainly a worthy opponent. Do I think Mayweather underestimated Maidana? Yes. Do I think Mayweather intentionally stayed on the ropes and allowed Maidana to attack him? Yes. Do I believe the strategy Mayweather employed was genius? ABSOLUTELY! I'm not taking anything away from Maidana. He and Robert Garcia had a fantastic game plan and executed it to perfection. However, there were spots where Mayweather stood and traded punches, on the ropes, with Maidana where he could have countered and jumped back to the center of the ring. I thought Mayweather gave away a pivotal 12th round (a round in which 2 of the 3 judges scored for Maidana) which could have cost him the fight. I believe Mayweather fought Maidana's fight for the sole purpose of building hype for a rematch. The list of opponents for Mayweather in September is limited, and this may have been the only way to produce hype for September. Mayweather certainly couldn't bank on Amir Khan's track record to assure him a main event slot in September. Manny Pacquiao is out. Danny Garcia is out. Keith Thurman isn't a big enough name yet (although I think he would give Mayweather fits). Shawn Porter must fight Kell Brook next (nor do I think Porter is a big enough name). Who else is there? The point is, Mayweather fought the fight fans wanted and thousands caused an uproar to see a rematch because they feel Maidana won. The fight should be relatively easy to make, especially after all the pay-per-view numbers come in. Both men are managed by Al Haymon, and with fans believing Maidana can beat Mayweather, the September bout will produce well over 1.5 million pay-per-view buys. Then, we'll see Mayweather fight his fight, and we'll see if Maidana can adjust. I'm not saying Maidana can't do it, but I am saying it will be difficult. In my view, Mayweather beat Maidana at his own game, but in doing so, he created buzz, not seen present in the lead-up to the bout, for a future Mayweather clash. We're probably going to see Mayweather vs. Maidana II in September, and if Mayweather wins convincingly, it will prove his greatness that much more. The next time around, I don't believe Mayweather will take as many chances. What this also does is allow time for a new wave of fighters to "earn the right" into the Mayweather Sweepstakes come May of 2015. Do I need to see a rematch? Not really. Would I pay for it? Yes I will. My theory about why the fight was so close is nothing more than that, a theory. So, if I'm wrong, and Maidana happens to defeat Mayweather in September fighting Mayweather's fight, we have ourselves a good old fashioned trilogy fight on our hands!

For the record, I had the scored the bout 115-113 for Mayweather. I sent out a Tweet (@BoxingObserver) after the fight stating I could see it as much as 116-112 either way. There were a ton of close rounds, but boxing fans were up in arms about the decision. Looking at most scorecards from media members, I'd say most were in agreement that Mayweather won the fight. The margin is where people disagree. I saw it as much as 118-110 (which is way too wide if you ask me, as was the 117-11 score from judge Bert Clements), in favor of Mayweather on some scorecards. Very few people actually had Maidana winning the fight. The thing that most people need to remember is the fact that Maidana had success in several rounds of the fight, but each round is scored independently and separately from every other. In all honesty, neither fighter hurt the other with any significant punches. There were some excellent head and body shots thrown, but neither man slowed down a bit due to the punches. Mayweather's body work and total punches landed was the difference in the fight.

Marcos Maidana is now a household name. Hats off to Maidana because he truly showed Mayweather zero respect in the ring. Forget about the weight advantage he carried into the ring. The fact is that Mayweather didn't hurt Maidana (nor did Maidana hurt Mayweather). Maidana stuck to the game plan and displayed his will to win. It's nothing new to hardcore boxing fans, but Maidana just made a ton of new fans, most of which will say they saw the fight even if they didn't. That's what boxing is all about. Boxing is a business, and Marcos Maidana just earned himself a lot of money by taking the fight right to Floyd Mayweather. Of all the fights available to Mayweather, after Saturday night's performance, I want to see Maidana prove my theory above wrong. I don't think he can, but I sure want to see him try just in case.

The glove debacle and alleged abortion news during fight week was all a hype-job, in my opinion. The gloves is one thing. Yes, there was serious concern, but if Maidana wanted to get paid, he was going to wear the gloves Mayweather wanted him to wear. If Maidana had refused and didn't fight, I think either Mayweather would have eventually given in, or Maidana would have been blackballed from the sport of boxing. The alleged abortion, however, is another story. Mayweather had known about the abortion for a few months now. Why did he decide to let the cat out of the bag during fight week? It was all to drum up interest in the fight. Plain and simple. It was in poor taste, but it did the job because, all of the sudden, people were talking about Floyd Mayweather.

Oscar de La Hoya may be making a very big mistake. De La Hoya had lunch with Bob Arum, during fight week, hoping to reconcile and bury the hatchet between Golden Boy and Top Rank. While Oscar says his intentions aren't necessarily boxing related, he's not fooling anyone. De La Hoya is ready to come and run his company, but Richard Schaefer has been the one to take Golden Boy Promotions to new heights, a lot of it due to his working relationship with Al Haymon. De La Hoya claimed he was surprised by how many fighters, who weren't signed to Golden Boy Promotions, were fighting on Golden Boy Promotions cards. For someone looking to take back control, he certainly needs to pay a bit closer attention. Schaefer says he is finished trying to work with Bob Arum, and I believe, right now, he isn't lying. De La Hoya is going public about the rift and Schaefer doesn't like it. I see this as a power-play by Oscar in hopes of forcing Schaefer to make a decision. Either stay with Golden Boy and join forces with Oscar, who will eventually work with Bob Arum again, or leave and go elsewhere. I'm not sure how this thing is going to play out, but Oscar better be careful or he could end up getting burned by Schaefer, Haymon, and Arum.

Amir Khan has a big opportunity to redeem himself over the next year. Khan looked great against Luis Collazo, and the ticking time bomb on Khan's internal clock never went off, despite Collazo's efforts to bait Khan into a slug-fest. I thought Khan took what Collazo gave to him and took advantage of what referee Vic Drakulich was going to let him get away with. Collazo is an excellent fighter, and he was the correct opponent for Khan to make his debut at welterweight against. Khan passed the test with flying colors. Now, Khan is going to take a break until the 4th quarter of 2014. Khan has a lot of options out there, but he should take his time picking his opponent. A lot of fights still need to take place; Khan should pick and choose, very carefully, who his next opponent will be. Don't expect to hear Khan's name circulating again until at least August or September.

Adrien Broner looked good, but not spectacular, in his return against Carlos Molina. Broner was a huge favorite to defeat Molina, and with good reason. We all knew that if Maidana couldn't KO Broner, Molina wasn't going to. However, I'm starting to question whether Broner has the ability to use his legs for a full 12 rounds. It's the same question I have about Canelo Alvarez's conditioning. I question whether Canelo can sustain a rapid pace for a full fight without taking a round off. Same thing with Broner. Can Broner move around the ring for a full 12 rounds? If he can, he can beat anybody. A lot of people (including myself) said Broner fought the wrong fight against Maidana because he stood toe-to-toe with him instead of utilizing his movement and speed advantage. But what if Broner doesn't have the capability to do so? That would certainly answer a lot of questions. In the rounds Broner used his legs and threw combinations in the process, he looked unbeatable, but I'm getting the sense that Broner doesn't have the belief in himself that he is able to sustain that pace for 12 rounds. Of course, this isn't a knock on Broner because I don't know of many fighters (other than Floyd Mayweather) who can seemingly do it all, but if this is truly Broner's weakness, he's going to have to get it fixed before he heads back up to 147lbs and thinks about challenging the big boys who can not only take his best punches, but can dish out even more when they realize he doesn't pack a wallop as a welterweight.

I wonder what Danny Garcia was thinking while watching the Broner fight? Of course, Garcia was intently watching Broner's performance against Molina because he knows Broner could be a future opponent, but I would be hard-pressed to think that Garcia hasn't already thought about getting on the phone with Al Haymon and Richard Schaefer and asking them to try to make Garcia's final fight at 140lbs against Broner. There were a lot of things Molina was able to do against Broner that I'm sure Garcia saw and was licking his chops. Showtime obviously recognizes the possibility of that fight and began hyping it up during the Broner fight. That would be a spectacular co-feature for Mayweather vs. Maidana II and would once again break the record for the most expensive undercard of all time. I wouldn't even care if I had to watch Butterbean fight on that card. I would pay for it just for the final 2 fights.

J'Leon Love is fortunate to still be undefeated, but showed the heart of a champion. During Round 5, Marco Antonio Periban landed a series of huge blows in which Love did not respond by throwing back. Referee Jay Nady looked as though he was in the process of stepping in and stopping the fight but changed his mind. The onslaught continued, but Nady never stopped it. Most times in sports, athletes don't take advantage of 2nd chances like that, but, in this case, Love did. He dominated the rest of the fight and earned himself a clear-cut victory. I'm not sure what the future holds for Love, but a fight against Sakio Bika, win or lose for Love, is something I wouldn't mind seeing. Both men are also managed by Al Haymon, so it shouldn't be an issue to make that happen.

Are you starting to notice a theme? It seems to me that Jimmy Lennon Jr. did forget to mention that, not only was Saturday night's fight card brought to you by Golden Promotions and Showtime Sports Pay-Per-View, "The Moment" was also brought to you by Al Haymon. Of the 8 fighters to appear on the pay-per-view, 6 were managed by Al Haymon. The man's influence in boxing is unmatched, and say what you will about him, any one of us reading this would have him as our manager in a heartbeat. The man gets his fighters paid accordingly.

What is with these crazy people rioting in the lobby at MGM Grand after the fight? According to multiple reports, someone flashed a gun during a melee, causing at least 20 injuries as people were exiting the arena. Videos have surfaced of people seeking shelter in the media room to avoid being hurt, or possibly even killed. People, it's only a sporting event! I know some of us had a lot of money riding on the fight, but it's only sports.

Arthur Abraham successfully defended his WBO super middleweight crown on Saturday. The champion believed he broke his hand in round 7 or 8 against challenger, Nikola Sjekloca, but continued to fight on en route to a unanimous decision victory. Abraham has lots of options at 168, but I doubt he will leave Germany unless he's going to make some serious dough elsewhere.

Main Events Promotions may be reaching a bit too far. Main Events is suing, seemingly everyone in boxing (metaphorically speaking of course), because of Adonis Stevenson's decision to jump ship to Showtime and Al Haymon. I think Kathy Duva and company do great work, but this one is a bit of a stretch.

Don't forget to tune in to Saturday night's heavyweight title fight. Bermane Stiverne and Chris Arreola meet for the 2nd time, this time for the vacant WBC heavyweight title. The winner of the contest could wind up facing Wladimir Klitschko to unify the heavyweight division. Based on the 1st fight, I have to give Stiverne the edge, but Arreola does look to be in great shape, and he is fighting near his hometown in Los Angeles. It's going to be a great fight regardless as both men don't mind mixing it up.

Each week, I feature an email from a fan on Observe and Fight. This week's email comes to us from Shazzy J. regarding Amir Khan's inability to get out of his own way...

"Hey Dave, first time emailer. Why doesn't Amir Khan just go fight for a welterweight belt or beat someone respectable? Why does he think a Mayweather bout is going to fall into his lap? Now, he's trying to dictate terms by telling Mayweather he should fight in November. He's just an ordinary fighter at best."

Thanks for the email. Honestly, I think Khan has his priorities straightened out right now. That's not something I coudl have said 6 months ago. I honestly believe that all fighters need to fight their way to the top. Robert Guerrero earned his right to face Mayweather. Canelo, Cotto, Mosley, Marquez, etc., all did the same thing. Khan has readily admitted that he should have taken the fight against Devon Alexander in December. Had he done that, and won, he probably would have been in the main event (even if Maidana had beaten Broner) because he would have had a belt and been able to call himself a successful welterweight. Now that he has fought against a respected welterweight, in Luis Collazo, I think Khan has the opportunity to actually fight his way into the Mayweather Sweepstakes come May 2015. As far as him trying to dictate terms, I don't think he's dictating anything. Khan is stating a fact. Ramadan happens to conflict with a September return for Khan, and I commend him for sticking to his beliefs. Nobody should ever fault him for that. It would be like missing the birth of a child to go to work. It's a personal choice, and, in my opinion, there is no wrong decision. People are going to do what's best for their families. Khan is doing the same thing. In all honesty, this may be a blessing in disguise. For example, let's say Kell Brook (who is the mandatory for the IBF title) upsets Shawn Porter, then Khan could fight Brook for the belt in England in front of 60,000 fans. Then, if Khan beats Brook, he would definitely have much more drawing power and earning potential for a Mayweather bout next May. There's still a lot of possibilities out there, and Amir Khan is just one name of many for Floyd Mayweather.

That's all I've got for this week. Email any questions or comments to dkassel@fighthype.com and I will answer them throughout the week. Your email may be featured in the next "Observe and Fight." Follow me on Twitter @BoxingObserver, and be sure to "Like" The Boxing Observer on Facebook.
[ Follow David Kassel on Twitter @BoxingObserver ]