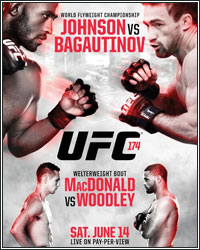 FightHype.com recently caught up with UFC commentator Kenny Florian to get his take on this weekend's UFC 174 event at Rogers Arena in Vancouver, Canada. Check out what he had to say about some of the big fights headlining the card, including the main event between UFC flyweight champion Demetrious Johnson and challenger Ali Bagautinov as well as the intirguing matchups between Ryan Bader and Rafael Cavalcante, Brendan Schaub and Andrei Arlovski, plus Rory MacDonald and Tyron Woodley.

RYAN BADER VS. RAFAEL "FEIJAO" CAVALCANTE

Breakdown: That is a tough fight and an important fight at 205 pounds. It's two guys who have been a little bit inconsistent in their career. I think they have found a nice groove now being in the UFC and they are finally comfortable competing in the UFC. If we see them at their best, man, that is going to be a war. When Feijao is on, he is awesome. He has excellent standup, he could counter wrestle and he's got good defensive wrestling skills, and he's obviously a Black Belt in Brazilian Jiu Jitsu. But he's going against Ryan Bader, who I think is putting things together with his entries into his takedowns, mix up with ground and pound, and also has a good submission game. I hope both of those guys show up at their best, and if they do, I think we will see an awesome fight. Those guys will move up the rankings again and they will remind everyone at 205 that they are legit and they are coming. I'm real interested in that fight.

BRENDAN SCHAUB VS. ANDREI ARLOVSKI

Breakdown: It's a tough spot for Arlovski. Arlovski is a guy who has been around the game for a long time and some people say he's got a lot of miles on him, but the reality is he's still a dangerous dude. He's a very big, fast, and athletic heavyweight who can throw down and knock guys out. Now Brendan Schaub, who is obviously much younger and has a lot of talent, they've trained together before, they know each other pretty well, but it's just a tough fight for Arlovski. It's interesting because people have kind of written him off, but if you're smart, and hopefully Brendan Schaub is smart about this, he can't sleep on him. You can't sleep on a guy like Andrei Arlovski. He's been around for awhile; he's very well trained. He's training out there at Greg Jackson's with Jackson and Mike Winkeljohn and those guys, so he realizes how important this fight is. Arlovski is a big name and I don't think this is one of those situations where if he loses, they are gonna kick him out of the UFC or anything like that. I think he deserves to be there and I think the heavyweight division needs guys with a name and talented dudes like Arlovski. That's gonna be an interesting fight, man, and it would be huge for Arlovski to get that win. We haven't seen Schaub in the Octagon for a little while, so I know he's very motivated to get back in there. He wants a run at the title, so I think this is gonna be a fun fight for the fans for sure.

RORY MACDONALD VS. TYRON WOODLEY

Breakdown: Prior to Lawler's last fight against Ellenberger, I would have said Woodley and Macdonald is the fight for the #1 contender, but Dana is giving it to the winner of Matt Brown and Lawler. That's what he has said, but this fight has to be the backup. If that other one doesn't pan out, the winner of MacDonald and Woodley has to get the shot.

Woodley, when he is on, is one of the most dangerous dudes in the UFC, period. He's just a guy that can really get after it, explosive as hell, and obviously he brings unbelievable wrestling to the table. The strides that he has made with his striking is unbelievable. He is very quick and explosive and you gotta watch out for him early on. We have seen Woodley kind of gas a little bit in the past, so I think he needs to be careful with that. He just has to pace himself.

I think MacDonald has to be aware of the wrestling and be sure to keep Woodley on the outside, but that's a tough fight. I know that Rory, prior to the Lawler fight, wasn't really motivated to train. He wasn't enjoying the grind in the gym. He was overtraining a lot, he was doing a lot of conditioning, and his body was broken down. And after the Lawler fight, he said that he switched some things around and he's excited to be in the gym and he loves being back in the Octagon. He said against Demian Maia, even when he was in the tough positions, he wanted to be in there. He was ready to battle back. Against Lawler, he was just going through the motions. So I think we are seeing Woodley and MacDonald at their best and if they are at their best, we are gonna see a classic fight. I hope both of those guys bring it and I can easily see either of these guys fighting for the belt in the near future. Even the loser in that fight I can easily see them working their way back up to the top once again, so I'm really excited for this one, man.

Dana has been putting a lot of pressure on Rory MacDonald, telling him how he needs to bring it and I hope that doesn't play too much into his head. I think that he has taken on a little bit of a conservative approach and I think part of that is a little bit changed in his mentality and his style. But talking to Rory, he says he wants to bring the same mentality he had in the BJ Penn fight and his earlier fights and balancing that with a good gameplan. He's gonna need that against Woodley. But Woodley is a guy you gotta be careful with because if you open up too much against him, you'll open yourself up to a knockout. That's another interesting angle to this fight is what Rory MacDonald are we gonna see out there? If he goes for it, he's more dangerous, but if he goes for it, it opens him up to get knocked out. This is a tough, tough fight for both guys and in this welterweight division, it says a lot. The division has become more interesting now that GSP is gone. And he's my buddy and I hate to say that, but now it's kind of an open playing field and on any given day, same at 155, any of those guys on a bad day or a good day can win and be a champion in that division.

DEMETRIOUS JOHNSON VS. ALI BAGAUTINOV

Breakdown: Honestly, I don't see Ali being a threat to Demetrious Johnson; fast feet and good footwork beats a flat-footed fighter all day, man. Unless he just does something stupid and Demetrious just isn't that guy, so I just don't see it happening. I don't see him losing for a long time. His footwork is at a different level and once he puts everything together, he's a special fighter. He is an intelligent fighter and I don't see him losing the belt at 125. Ali is a dangerous guy, but he just doesn't have the style to beat Demetrious Johnson.
[ Follow Percy Crawford on Twitter @MrFighthype ]