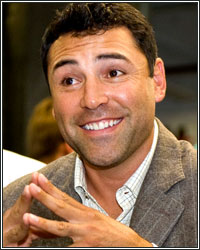 It's Monday. Welcome back for another edition of Observe and Fight, The Boxing Observer's compilation of observations and random thoughts from the previous two weeks that were in boxing. Get caught up on some of the most recent events you may have missed out on, including Richard Schaefer's departure from Golden Boy and boxing's new Cold War, Miguel Cotto winning the middleweight crown, Chris Algieri shocking the world, and much more. Without further ado, check out the latest observations from the Boxing Observer, David Kassel.

Richard Schaefer's departure from Golden Boy is going to create a new Cold War in boxing. We all knew that Schaefer and Oscar De La Hoya were not seeing eye-to-eye on a lot of issues, mainly whether or not Golden Boy should work with Top Rank in the future. Feelings had been hurt, and Oscar thought he was going to be the one to solve all the problems since Golden Boy is his company. However, De La Hoya seems to have forgotten that one cannot walk back into a company which he/she left to take care of personal issues (De La Hoya went back to rehab the week of the Mayweather vs. Canelo fight) and expect to take back over with no resistance. Like it or not, the fact remains that Golden Boy Promotions did not become the biggest promotional company in the world because of Oscar De La Hoya. It became the biggest promotional company in the world because of Richard Schaefer. If De La Hoya is adamant about working with Bob Arum and Top Rank to make the best fights, Oscar is going to realize that it will be difficult to get fighters who are signed with both Golden Boy and Al Haymon to fight on these co-promoted cards because of the animosity existing between Haymon and Arum. I'm almost positive that we will see great fights, including co-promoted shows, in the 4th quarter of 2014 and into 2015, but once contracts for Haymon fighters who are also signed with Golden Boy expire, they will not re-sign with Oscar because Haymon is the one who gets the fights and has the negotiating power. Oscar doesn't have that type of pull right now.

The new Cold War has already begun. On a conference call, last week, to promote the upcoming Gary Russell Jr. (Al Haymon fighter) and Vasyl Lomachenko (Top Rank fighter) fight, Head of Showtime Sports, Stephen Espinoza, refused to allow Bob Arum on the call (even though Carl Moretti, Vice President of Top Rank, was allowed to participate). For those who believe that Showtime is willing to work with Top Rank, think again. The purse bid for Russell Jr. vs. Lomachenko was won by Golden Boy, allowing GB to promote the fight. Top Rank has no involvement in the promotion. I believe if Oscar wants to continue to work with Showtime and Stephen Espinoza (the two are friends from the days Espinoza was legal counsel for Golden Boy Promotions), Espinoza will only allow it if Arum is not in the picture, meaning Golden Boy will either have to work with another promoter (Lou DiBella, Gary Shaw, Eddie Hearn, Dan Goossen, etc.) or try to put together a card using just Golden Boy fighters. Therein lies the problem. While that may not be as difficult to do at present time, when Golden Boy fighters contracts expire, will they re-sign with Oscar? Al Haymon has already proven he has the ability to get fighters paid, and he doesn't take a huge percentage of the purse (rumor has it that he only takes 10%). Most of Golden Boy's talent roster (with the exception of Canelo Alvarez) have built their name and relationship with Richard Schaefer, not Oscar De La Hoya. If Schaefer and Haymon team up, I find it hard to believe that these fighters aren't going to follow along. It's all about taking care of number one, and at present time, the money-making machine is in the hands of Haymon and Schaefer, not Oscar. Oscar can put on a happy face and keep repeating that "Everything is great," but until we start seeing the results of that, nobody is going to believe it. Clearly Golden Boy COO Bruce Binkow didn't think everything is great because he resigned late last week. That's two of Golden Boy's biggest players gone in two weeks. Bernard Hopkins may be on his way out of Golden Boy as well. I do hope Golden Boy stays afloat, for the sake of De La Hoya and boxing, but all signs right now are pointing south.

There is one man who might be able to put an end to all of this nonsense. It's not De La Hoya, Mayweather, Schaefer, Espinoza, Haymon, Pacquiao, or Ken Hershman (head of HBO Sports). The man who might be able to solve boxing's biggest problem is Todd DuBoef. The President at Top Rank Boxing, and son-in-law to Arum, DuBoef seems to be the heir apparent to inherent the company so well built by Arum. DuBoef has an excellent relationship with Mayweather, which could be the key to this entire puzzle. Mayweather and Pacquiao started this whole mess, but Mayweather has stated he is willing to work with DuBoef, just not Arum. At age 82, Arum can't possibly be working at the highest level anymore, and at some point, he is going to have to retire. When that day comes, if it is sooner rather than later, DuBoef could be the man to repair all these relationships and bring an end to this childish soap opera.

Miguel Cotto is the new middleweight king and nobody should downgrade his achievement. While many people are only giving Cotto credit for defeating Sergio Martinez because of Martinez's injuries, Cotto took that fight not knowing whether Martinez was healthy or not. Cotto went right after Martinez when conventional wisdom would have been for Cotto to allow Martinez to come after him. Cotto had the power, speed, and stamina advantage, which most (including myself) thought Martinez would have had going into the fight. Cotto had a wonderful game plan, and even if Martinez had been 100% healthy, I don't see any way he would have defeated Cotto that night. Cotto has so many options on the table right now that it's difficult to envision who he might fight next. One thing I can almost guarantee won't happen is Cotto fighting Gennady Golovkin. While Cotto may be the new middleweight champion, his entire team should dissuade him from stepping into the ring with the most powerful, and technically sound, middleweight in the world. Not only that, but Golovkin has one of the best chins in boxing. GGG can be hurt, especially if a fighter goes to his body, but nobody has been able to do so in a fight yet, and Golovkin's hands seem to be the equivalent of bricks. Cotto is going to get a major fight, and I believe it will be on HBO Sports PPV against the winner of the Canelo Alvarez vs. Erislandy Lara bout July 12th.

Congratulations to the new kid on the block, newly crowned WBO light welterweight champion Chris Algieri! Algieri defeated Ruslan Provodnikov via split decision Saturday night in a fight many fans were unhappy about. However, for as many people who thought Algieri lost the fight (mostly due to his face looking like it was run through a meat grinder), just as many people thought he won the fight. After re-watching the fight Sunday morning, I scored the bout a draw, 113-113. I have absolutely no problem with the decision going to Algieri. The fact is, Provodnikov fell in love with trying to go for the knockout and completely forgot to throw punches while setting up his shots. Provodnikov stalked, but didn't let his hands go. During that time, Algieri threw and landed punches. They may not have hurt Provodnikov, but Algieri was scoring. For those who expect Algieri to be around boxing for a long time, think again. In an interview I conducted with Algieri in January of 2012, he stated he didn't want to be around boxing past 31 or 32 years old. Make no mistake about it, Algieri's goal was to win a world title. He has now done that, and now I expect him to cash out by making the biggest fight(s) possible instead of building his name and trying to turn himself into a star. Algieri doesn't need to box to make a living. His ultimate goal is to go back to school and become a doctor. He wanted to see this boxing thing through, and it has worked out well. Algieri will make a career high payday in his next fight, and he could fight on either network, against any fighter, because he is not affiliated with Top Rank or Golden Boy Promotions. Manny Pacquiao is out there. Juan Manuel Marquez is out there. Danny Garcia is out there. Viktor Postol is out there. Lucas Matthysse is out there. Adrien Broner is out there. The sky is the limit for Algieri and lots of fighters are going to be lining up to face him. Algieri will only remain in boxing for the next year or so because he has achieved his latest goal (becoming a world champion) and is already looking toward his next goal of becoming a doctor. With the path Algieri has taken, something tells me you shouldn't bet against him in reaching any goal he sets.

Demetrius Andrade has the world at his fingertips. The WBO light middleweight champion, and the man known as "Boo-Boo", is one of the brightest, young, American boxing stars today. Now at 21-0, after his TKO victory over Brian Rose Saturday night, he has lots of options available for his next fight. He needs to step up and take on a big fight, but, like Algieri, he is not signed to Golden Boy or Top Rank, meaning his promoter, Banner Promotions, can shop him around for the next best option. James Kirkland's name has been thrown out there. Alfredo Angulo is a possiblity. Canelo or Cotto could face Andrade down the line. One of the Charlo brothers could earn a shot as well. Keith Thurman could come back up to 154 lbs. Don't forget about a guy named Mayweather either. This division is loaded with talent and having a title belt can get you paid.

Floyd Mayweather continues to rake in the dough. Last week, Forbes announced that Mayweather has earned the top spot as the highest paid athlete in the world. This is the 2nd time in 3 years that Mayweather has earned this achievement. In two fights, over a 12-month period, Mayweather made $105 million. That's amazing considering Mayweather has no large endorsements. That means Mayweather made $1,458,333.33 per minute of action in the ring. That's $24,305.55 per second in the ring (if my math is correct). That's not bad for 2 days at the office.

How in the world is Manny Pacquiao (#11 on the Forbes list) going to coach a pro basketball team? As if politics, religion, and boxing aren't enough already.

Could we be moving closer to finally having one champion in each weight class? The Presidents from the WBC, WBA, and IBF will be meeting in Mexico on June 22nd and 23rd (WBO President Francisco Valcarcel is unable to attend due to a prior commitment). The nature of the meeting is unknown, but one can only hope that the sanctioning bodies are coming up with a way to help form one true world champion in every division. Either that or the stress of their jobs forces them to get away for a couple days.

Showtime has a very interesting triple-header Saturday night. Robert Guerrero makes his return to the ring after a 13-month layoff, following his loss to Floyd Mayweather, to face Japanese knockout artist Yoshihiro Kamegai. Kamegai has only fought outside of Japan three times, going 1-1-1, but this will be no cake walk for Guerrero. I expect Guerrero to put a lot of rounds in the bank en route to a unanimous decision victory. The co-feature should be Gary Russell Jr.'s coming out party as he takes on Vasyl Lomachenko for the vacant WBO featherweight title. This is also a very interesting fight, but don't count Lomachenko out. In just his 3rd professional fight, he has already faced better competition (Jose Ramirez and Orlando Salido) than Gary Russell Jr. Russell has the speed advantage, but Lomachenko will test his chin and will to win. I think this could be one of the best fights of 2014. In the opener, former welterweight titleholder Devon Alexander and former world title challenger Jesus Soto Karass square off in a classic boxer vs. puncher match-up. Both men are coming off of losses and both can make a huge statement toward earning another title shot by defeating the other. Overall, this could be a very interesting night of boxing.

Each week, I feature an email from a fan on Observe and Fight. This week's email comes to us from Levar M. regarding the relationship between Oscar de La Hoya and Bob Arum...

"Hey David, let me start by saying i can see your prediction totally coming through in the near future. In one of your fight and observe posts from i believe last month you said De la Hoya better watch out trying to make amends with Arum because Schafer and Haymon and potentially ARum could all turn on him. Even though it is good on a personal level it is evidently not good for his business. Schafer is now gone, Mayweather gone, Hopkins most likely gone. No telling how many fighters are just signed with Haymon exclusively and not Goldenboy but have been appearing on their cards.I believe this is a bad business move by De la Hoya. Like i told you before Haymon is not the one to mess with. Him and Schafer will start up their own company or build up mayweather promotions. I just dont see Goldenboy surviving and the few fighters that he does have now i can see Haymon signing them up when their contracts run up. They now only have one legit star ther: Canelo. What do you think?"

I think it's still way too early to tell, however, Schaefer leaving is a huge loss. The biggest selling point for fighters will be Schaefer and Haymon telling guys, "Why would you want to be promoted by a guy who can't stay out of rehab and hasn't been fully invested in his company for years now? Plus, he is teaming up with a guy (Bob Arum) who takes 27% of his fighters purses. Meanwhile, we (Schaefer and Haymon) have been getting our fighters the best deals and biggest money on top of getting them lots of TV dates." I think De La Hoya's lack of knowledge of exactly how many fighters are under contract with Golden Boy is a very telling sign of how this thing will play out. If I had to look well into the future, eventually, I see Schaefer and Haymon forming a promotional entity and Golden Boy and Top Rank coming together to form a promotional outfit (mostly run by Top Rank). This thing is going to continue to be really ugly for quite some time. The best news from this whole thing is that we might actually get to see some of the fights between GB and TR fighters that we have been clamoring for! The other factor here is Mayweather. While Floyd will make his money for the remainder of his contract, the talent pool of potential candidates for his fights just got really thin. I think this could end up working out poorly for Mayweather. The X-factor in this whole thing is Haymon, but nobody knows what he is thinking because he never speaks to the media. I'm sure, though, that this has been in the works for quite some time because Schaefer wouldn't have been so willing to put Al Haymon fighters (who may or may not be signed with Golden Boy) on Golden Boy cards because there is no incentive to help build these fighters if they can work with any promoter or network.

That's all I've got for this week. Email any questions or comments to dkassel@fighthype.com, and I will answer them throughout the week. Your email may be featured in the next "Observe and Fight." Follow me on Twitter @BoxingObserver, and be sure to "Like" The Boxing Observer on Facebook.
[ Follow David Kassel on Twitter @BoxingObserver ]