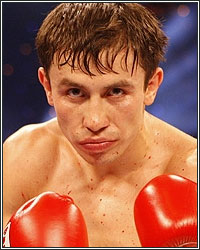 It's Monday. Welcome back for another edition of Observe and Fight, The Boxing Observer's compilation of observations and random thoughts from the week that was in boxing. Get caught up on some of the most recent events you may have missed out on, including Gennady Golovkin's fight Saturday night, a look back at the controversial knockout for Guillermo Rigondeaux over the weekend, the announcement of Manny Pacquiao vs. Chris Algieri, the possibility of "GloveGate" Part 2 between Floyd Mayweather and Marcos Maidana, and much more. Without further ado, check out the latest observations from the Boxing Observer, David Kassel.

I am buying the Gennady Golovkin hype. Most people will tell me I'm crazy because he hasn't fought anybody, but the facts and numbers aren't lying with this guy. He won an Olympic silver medal fighting with what most would consider a professional style. He isn't afraid of getting hit by a middleweight and has yet to be hurt during his pro career. He has taken the best shots from hard hitters, much like he did against Curtis Stevens, and walked right through them. A fighter I once talked to, who sparred with Golovkin (and who shall remain nameless), said getting hit by GGG was like being hit with a brick. And that was with 16 oz. gloves. Imagine getting hit by Golovkin with 10 oz. regulation gloves. Did I mention this fighter is a light heavyweight who walks around near the cruiserweight limit? Golovkin is the real deal, and I'm interested to see not if he will beat Daniel "Real Deal" Geale Saturday night, but if he can extend his knockout streak to 17.

What kind of a shot does Daniel Geale truly have? If the pundits are correct about Golovkin, Geale has a great shot. Geale is one of the most under-appreciated fighters in the world and has faced, and beaten, the best in the middleweight division. He isn't afraid to fight on someone's home turf and won't back down from GGG. Geale's biggest downfall in this fight may be he is not a huge puncher. If he cannot get GGG to respect his power, it will be all she wrote. If he can hurt Golovkin somehow, maybe with a sustained body attack, then he may have a chance. Otherwise, Golovkin will cut the ring off and make it a very long night for the Aussie.

I didn't see anything controversial about Guillermo Rigondeaux's knockout of Sod Kokietgym. Yes, there was a nasty head clash, but the referee called time in and the two fighters touched gloves when the fight resumed. Kokietgym had his hands up and saw the punches coming. Just because it came after they touched gloves is no excuse. Those who are comparing Rigondeaux's knockout to Floyd Mayweather's knockout of Victor Ortiz are just plain wrong. Ortiz's hands were down and he was going in for a hug. Rigondeaux's knockout was definitely legal and Kokietgym has nobody to blame except himself.

Since Rigondeaux is a free agent, could we see him fight on Mayweather's undercard? Rigo didn't break a sweat during his fight Saturday, and his mistreatment by his promoter, Top Rank, along with HBO's unwillingness to put him on the network make his jump to Showtime an easy transition. When I asked Rigo's manager, Gary Hyde, whether he would consider re-signing with Top Rank, he responded by stating, "We'll go with whoever gives us the best deal." I can't imagine Top Rank is going to make a heavy offer for Rigondeaux's services, and Al Haymon has been snatching up fighters left and right. Leo Santa Cruz is rumored to be a lock for a fight on the Mayweather undercard, he is a Haymon fighter, and a 122-lb unification fight as the co-feature could be sweet enough to push this pay-per-view over 1 million buys. Forget that people say they don't want to pay to see Rigondeaux. People want to see Santa Cruz fight, and they'll be even more interested to see him face the best fighter at super bantamweight. I personally think this fight is going to get made, and I hope for everyone's sake that I am correct.

I don't understand why people are so down on Manny Pacquiao vs. Chris Algieri. So what you don't know who Algieri is. You didn't know him before he beat Ruslan Provodnikov, but he beat the guy who was feared by everyone. Provodnikov was in line for the Pacquiao shot before he lost, and nobody would have complained about that fight. Is it because you want Manny to produce over 1 million pay-per-view buys? Guess what, it's not happening anymore, especially if he's fighting in China. Unless he fights Mayweather, Marquez, or Cotto, the chances of Manny breaking 1 million buys is slim. Believe it or not, Algieri may give Pacquiao a bit of trouble. Algieri can move and his height and reach advantage could pose a serious problem for the Filipino icon. There aren't too many other options on the table, so I personally think this could be a competitive affair.

How in the world is the glove issue not resolved for Mayweather vs. Maidana II? This is completely ridiculous to me. After all the B.S. that took place during the glove selection before the first fight, this issue should have been the first thing to be decided after the venue, date, and money was sorted out. Absolutely idiotic!

Zou Shiming is not ready for the big time. His win over Luis De La Rosa on Saturday proved one thing to me: Shiming can go 10 rounds. However, De La Rosa has never beaten anyone of relevance and was defeated when he stepped up in competition, twice by knockout. Shiming still has a LONG WAY to go before he should contend for a flyweight title belt.

The heavyweight co-feature Saturday night, on HBO, between Bryant Jennings and Mike Perez heavily intrigues me. Two undefeated heavyweights, at the beginning of their primes, with title opportunities on the line, is all you can ask for when discussing the heavyweight division. Jennings is one of the American heavyweight hopefuls while Perez is best known for the beating he put on Magomed Abdulsalamov. This one could be a great fight, and don't be surprised if it ends by knockout.

Did anyone see that fighter, Taishan, on Golden Boy Live Friday night? The 7-foot heavyweight from China, making his pro debut, knocked out a former MMA fighter in the opening bout on the card. While Taishan is far from being ready for the big time, he is clearly dedicated to his craft and is in great shape, which is something you can't say about all heavyweights these days.

Roy Jones and James Toney are fighting this weekend? Oy vey. At least we'll get a decent scrap between Tyson Fury and Dereck Chisora Saturday. That is the fight that will be worth watching.

Each week, I feature an email from a fan on Observe and Fight. This week's email comes to us from Matt Jones regarding the futures of young prospects Erickson Lubin and Errol Spence Jr...

"This fight is premature obviously but erickson lubin vs Errol Spence jr, I know Errol will be a future champ and Lubin, if he doesn't step all the way up too early since he only has 5 or 6 fights, I don't remember. He will prob get there too being only 18. Btw when observe and fight misses a Monday, it ruins my day."

LOL. I appreciate it. I don't miss often, but when I do, it's for good reason. As for Lubin, I think it's still too early to tell, but I thought he was very impressive, for only being 18, against a tough Mexican who has fought some of the better names in boxing. Lubin never panicked and didn't blow his load early on going for the KO. That's very mature for a young fighter. I'm not completely sold on Spence. I have to see more, but I don't think he will ever be more than a fringe contender. Nothing really stands out about him to me. Just my opinion, and I hope he proves me wrong.

That's all I've got for this week. Email any questions or comments to dkassel@fighthype.com and I will answer them throughout the week. Your email may be featured in the next "Observe and Fight." Follow me on Twitter @BoxingObserver, and be sure to "Like" The Boxing Observer on Facebook.
[ Follow David Kassel on Twitter @BoxingObserver ]