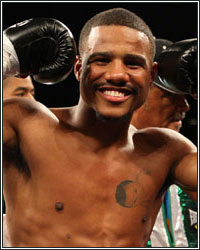 "It was hell," stated super middleweight contender Andre Dirrell, who recently revealed that he has parted ways with his former promoter, 50 Cent. In fact, Dirrell is scheduled to make his return to the ring one week from now at the Little Creek Casino Resort in Shelton, Washington on ESPN's Friday Night Fights card headlined by Thomas Williams Jr. vs. Gabriel Campillo. It will be only the second time in nearly 3 years that Dirrell has fought.

"We didn't end on bad terms. I always kept a respectful tone with him, but the main thing is that my situation was a little too unique with 50 Cent, especially the way he worked his way into the game he made it pretty much hard on himself," Dirrell explained to Eric Woodyard of MLive.com, "I believe he was pretty much being blackballed and the problems that 50 Cent is having trying to get in the game, I pretty much didn't have time for it...I'm trying to get back on my feet as well, so I decided to part ways that way and I did it in a way to stay on good terms."

Dirrell added, "I'm ready to get back in the groove of things real fast and get back in the top rankings...What this did was helped me realize how much this sport means to me and also to respect the sport, so I've become a better fighter mentally outside of the ring and I have a better understanding for the sport since I've been out." Although Dirrell also suggested that he would again be working with Al Haymon, FightHype.com has yet to confirm that he has indeed signed with the influential advisor.
[ Follow Ben Thompson on Twitter @fighthype ]