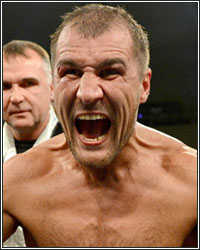 It's Monday. Welcome back for another edition of Observe and Fight, The Boxing Observer's compilation of observations and random thoughts from the week that was in boxing. Get caught up on some of the most recent events you may have missed out on, including Sergey Kovalev's win, clearing the way for a fight with Bernard Hopkins, the controversy surrounding Brandon Rios' win over Diego Chaves, a preview of this weekend's Showtime tripleheader, and much more. Without further ado, check out the latest observations from the Boxing Observer, David Kassel.

Sergey Kovalev will be Bernard Hopkins' biggest challenge to date. When word came down late Thursday/early Friday that Kovalev had already signed the contract to face Hopkins, pending a Kovalev victory against Blake Caparello on Saturday, a lot of fans and media members thought this would create a huge distraction for Kovalev and possibly gave Caparello a sliver of hope that he could knock off the WBO light heavyweight champion. Though Caparello experienced slight success in the first round, including a flash knockdown of Kovalev, who was off balance, he proved to be no match for the champion, who kept his eye on the prize. Kovalev came out and dominated Caparello, knocking him down 3 times in the 2nd round before the referee stopped the fight. In my opinion, Kovalev has some serious wrinkles in his game that will cause Hopkins some problems. My initial thoughts were that Hopkins was going to make it ugly and smother Kovalev's attack, but I'm not so sure he is going to be able to do that. Kovalev has a great trainer, John David Jackson, who should help develop a solid game plan to allow Kovalev to land some devastating body shots early in the fight, which could wear Hopkins down in the middle rounds. One thing is for sure though. The later this fight goes, the more it will favor Hopkins.

I don't understand how referees are evaluated to earn big time fights. Maybe there just aren't enough referees to go around, and yes, everyone is willing to have an off night, but Vic Drakulich's performance in the Brandon Rios vs. Diego Chaves match on Saturday night was inexcusable. The best referee jobs are done when the fans forget the referee is in the ring. While that was going to be a tough challenge for Drakulich based on the nature of the fight, Drakulich lost control of that fight early on and never regained control of either guy. I have always equated refereeing to teaching young children. If you continue to warn, but never follow through with consequences, nothing is going to change. Drakulich warned Chaves once about holding, and then took a point away on a questionable clench in the 3rd round. He warned Rios numerous times about using his head, but never took a point away. He only took a point away from Rios when he hit after Drakulich called for a break. That happened multiple times throughout the fight, but only once was called for a point deduction. Drakulich pulled both fighters together later in the fight and told them to stop, but never told them what they were doing wrong. If you don't tell someone what they are doing wrong, how the hell are they supposed to fix it? Then, in the 9th round, on seemingly nothing more than a clench, Drakulich waved off the fight for holding and disqualified Chaves. There was not one replay that showed why Chaves was disqualifed and a deeper investigation needs to be conducted by the Nevada State Athletic Commission. Both fighters used dirty tactics, but neither is at fault for the result. Drakulich needs to be investigated because Rios may have suffered serious injuries, which could have been prevented had the referee done his job correctly [Note: According to Rios, while placing him in a headlock, Chaves attempted gouge his eyes with his gloves. Rios visited the hospital after the fight and reportedly suffered a scratched cornea].

I don't think it's fair to judge Rios based on this fight. I saw a lot of comments on social media discrediting Rios' performance, but in a fight like that, it's almost impossible to judge because of how dirty it was. We all know that Rios fights better on the inside. That's not a secret to anyone. Rios can be out-boxed. I want to see if Rios can actually hurt and wear down a true welterweight as he was able to do at lightweight. My hope is that we see Rios take on Ruslan Provodnikov next in a fight that should be fought at the welterweight limit of 147lbs. That is a Fight of the Year candidate for sure!

Hopkins had some very interesting things to say about Al Haymon recently. Sunday morning, I read an article written by Rick Reeno of Boxingscene in which Hopkins basically stated that Adonis Stevenson's people, namely Al Haymon and Yvon Michel, sat on their hands while Hopkins tried to make a unification fight with them. He wondered if they were hoping Hopkins would vacate one of his belts, which Hopkins has stated he is not willing to do. It's a very interesting article and sheds light on why Hopkins decided to fight Kovalev instead of Stevenson.

I have totally jumped off the Jessie Vargas train. No offense, but nothing impresses me about the WBA 140lb champion. His win over Anton Novikov on Saturday was extremely unimpressive, yet, the judges seemed to have filled out their scorecards before the fight had started. That fight should have been no wider than 7 rounds to 5, and I'm okay with Vargas getting the win, however, when the judges give 9 or 10 rounds to Vargas in that fight, you have to wonder when boxing is going to get some sort of union to investigate these matters. Those scores were once again disgraceful.

Did anyone have Thomas Williams Jr. losing to Gabriel Campillo Friday night? I sure didn't. I still believe that Williams Jr. has what it takes to be a force in the light heavyweight division eventually, but he, nor his corner, responded well when he was cut, and then everyone seemed to panic. While I don't believe Campillo has what it takes to win another world title, Williams Jr. is still young and can learn from this loss. If he can recover mentally, he shouldn't need to take a step backwards in his development by fighting an over-matched opponent. However, nobody, including the fighter, really knows how he will respond after a loss.

Speaking of comebacks, Andre Dirrell looked spectacular if you ask me. For only fighting 3 times in the last 4 years, Dirrell looked like he found his groove after the 2nd round before stopping Vladine Biosse. This may be a bold statement, but I believe that Dirrell would be able to beat Carl Froch, the lone loss of his career and the man he called out after his win. Froch is getting up there in age, and Dirrell doesn't have the wear and tear on his body. Dirrell already lost a controversial decision, in England, to Froch. I think he could beat the #2 ranked super middleweight tomorrow if you asked him to.

This weekend's Showtime tripleheader is a disgrace, in my opinion, to a wonderful week of boxing. Yes, titles are on the line, but the fights are complete mismatches and if any of the 3 A-sides lose (Danny Garcia, Lamont Peterson, Daniel Jacobs), it may serve them right because all three fights should end by knockout. However, the week kicks off Thursday with a great main event between Jerry Belmotes and Abner Cotto. Friday night brings us 3 more live televised cards, and Saturday night has a very strong lineup as well. While most (including myself) will watch the Showtime card, it's hard for me not to be disappointed.

Shannon Briggs, get the **** outta here! In case you missed it, Briggs landed himself in the hospital after stepping on broken glass that he caused to break. Briggs has been stalking Wladimir Klitschko (and I mean crazy ex-girlfriend/boyfriend stalking) in hopes of landing a heavyweight title fight with the champion. Everyone with a brain knows that Briggs is doing nothing but hoping to land a payday. He has as good a chance of beating Klitschko as I do. If you saw Briggs' last fight in Oklahoma, a 12-round, ugly unanimous decision win over Raphael Love, you would know what I'm talking about. If Briggs continues to push the issue, he may not be able to get within 500 feet of Klitschko because Wladimir would be well within his rights to file a restraining order. At this point, I wouldn't blame him.

Each week, I feature an email from a fan on Observe and Fight. This week's email comes to us from Courtney B. regarding Floyd Mayweather's chances of fighting in the U.K...

"Hi Dave. Big fan of your weekly blogs. As a UK fight fan I am bemused why promoters or fighters from the UK and USA do not fight each other more often. The US fighters we get over here tend to be low profile (although some highly skilled and known to hardcore fight fans e.g. Terence Crawford). American fighters always say that the British are the greatest boxing fans but yet never fight on these shores (Mayweather, Ward, Broner). I have no doubt that Mayweather would sell out Wembley quicker than Froch and Groves did. I would struggle to believe the money is a major factor because the appeal would be there and there would be other revenue streams that could be tapped into in the European market. Which leads me on to question whether UK fighters are good enough. With Joe Calzaghe being the exception in recent times it is hard to gage the level of these fighters e.g. Kell Brook, Frankie Gavin, Tyson Fury, Ricky Burns (his promoters did a fantastic job keeping him as a champion for so long). Even Ricky Hatton's first 30 fights were against poor opposition! From a promoter point of view they need to keep the records padded to try and get the big fights, but in the long run if they were to be scrapping it out with the upcoming Americans they would be more appealing on both sides of the pond. I'm not sure too many people in America know who Kell Brook even is and he is about to fight for a world title!"

That's a great question, Courtney, and I appreciate the kind words. I think the biggest thing for these guys is the sheer number of people living in the U.S. is far greater than the number of people living in the U.K. The U.S. population is over 300 million while the UK is just over 50 million. When it comes to guys like Mayweather, a fight staged in England, on pay-per-view, would have to start at 4pm in the United States (9 or 10 pm UK time), or it would have to start at 3am in the UK to have a normal 9pm east coast start here in the US.

Mayweather would definitely sell out Wembley, but the ticket sales for that would only amont to between $20-30 million (maybe $40 million depending how expensive all the seats might cost). Compare that to the number of ppv buys he would do in the United States. A Mayweather fight, in the US, costs approximately $70 on ppv. Multiply that, on the low end, for 850,000 ppv buys (which is around what the Maidana fight produced) and you get $59.5 million. If a Mayweather fight started at 4pm on a Saturday, and was on ppv, that number would drop significantly because most people are out and about doing things on a Saturday afternoon. Not to mention all the other sports on television at that time of day (remember American football gets HUGE ratings in the United States, both college on Saturdays and professional on Sundays). A lot of those fans would pass on the Mayweather fight to watch their favorite college football team play instead.

On to your next point. I think the UK produces some outstanding fighters, some of which are deserving world champions. However, I think you have to once again look at the size of the UK. Promoters are going to do whatever they have to do to build a fighter's fan base because that is what is going to make to the most money. At the end of the day, boxing is business first, best fights second.

There are several fighters in the UK with great potential, but it's just hard to tell how good they will be. I think a lot of the problem is that it's difficult to get battle-tested veterans (maybe a Mexican fighter with a record of 20-5, for example, who has been in the ring with some world champions) to come all the way over to the UK for the type of payday being offered by the promoter. It all has to make sense and if it's easier to get an opponent with a similar record, who is always in the UK and the promoter doesn't have to pay all the travel expenses, that makes the decision easy for the promoter.

Tyson Fury is a name in America, but not a big name yet. He rubbed some people the wrong way in America when he made his American main event debut against Steve Cunningham.

Kell Brook is the same, although, to be perfectly honest, I personally believe Shawn Porter is going to knock him out because Porter is so aggressive. Remember, Carson Jones almost took Brook out. Porter is an animal compared to Jones.

However, a guy like Carl Froch is a big name in America and would sell out an arena in the right fight (such as a fight against Chavez Jr.). Amir Khan is a very big name in the U.S. as well.

James Degale is another fighter I'm a big fan of, and I thought his win over Brandon Gonzales was extremely impressive. George Groves is another fighter who can make some noise in the states. I think he just got careless against Froch.

Carl Frampton is another one to look out for, and he's got a shot at a world title against Kiko Martinez, whom he has already KO'd once before. It's going to be tougher for Frampton though because he fights at a much smaller weight class (122 lbs).

There are a few young fighters I really like but it's still too soon to tell. Anthony Joshua and Anthony Ogogo are names I'm really watching out for.

There are definitely some fighters from the UK to watch out for. I think if they are moved along correctly, and get great sparring, that can make all the difference in the world. Remember, you don't want to move a guy along too quickly or else you end up with what happened to David Price.

That's all I've got for this week. Email any questions or comments to dkassel@fighthype.com and I will answer them throughout the week. Your email may be featured in the next "Observe and Fight." Follow me on Twitter @BoxingObserver, and be sure to "Like" The Boxing Observer on Facebook.
[ Follow David Kassel on Twitter @BoxingObserver ]