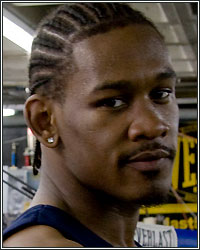 With just days to go until their respective bouts, fighters on the "Danny Garcia vs. Rod Salka" fight card hosted a final press conference Thursday at Barclays Center before they fight this Saturday, August 9.

Main event fighters Danny "Swift" Garcia and "Lightning" Rod Salka were joined by fellow SHOWTIME CHAMPIONSHIP BOXING® participants Lamont Peterson, Edgar "El Camacho" Santana, Daniel "Miracle Man" Jacobs and Jarrod "Left Jab" Fletcher on the stage at Barclays Center to discuss their upcoming fights.

Joining them were Sadam "World Kid" Ali, Anthony Peterson and Zachary "Zungry" Ochoa, who will fight on SHOWTIME EXTREME® prior to the SHOWTIME telecast and Prichard Colon, who fights in a non-televised bout.

Here is what the undercard fighters and participants had to say Thursday:

LAMONT PETERSON, IBF Junior Lightweight Contender

"It's fight week. We all know what time it is and I just want to say I'm ready."

EDGAR SANTANA, Junior Lightweight Contender

"I had a great camp. I didn't only train to win the fight, I trained to endure whatever Lamont has to bring. Expect a good fight from me.

"I'm a man of few words but I'm going to be ready on Saturday."

DANIEL JACOBS, Middleweight Contender

"God is good. It's a pleasure to be back. This is my home. I fought here twice before and the love I get here in this building is tremendous

"My late trainer Victor Roundtree passed away and can't be with us for this special moment so this fight is dedicated to his memory.

"I just want to thank Jarrod Fletcher for giving me this opportunity and to come over here and fight half way across the world - actually all the way across the world. He's a gentleman and I have a lot of respect for him.

"It's been very special to get my story to reach the masses and inspire millions across the world. And if I do win, I will be the first cancer survivor to be world champion."

JARROD FLETCHER, Middleweight Contender

"This has been a dream of mine since I was a little kid and it's been 20 years in the making. I'm fighting Danny Jacobs who is quite the man -- and has got a great story about him.

"It's been a long road but I can't wait for Saturday night. This is my chance and I'm going to take it."

SADAM ALI, Undefeated Welterweight & 2008 U.S. Olympian

"I've been working hard and I'm ready to perform on Saturday night.

"I'm not only excited about performing myself, but I'm excited about watching everyone else on the card perform.

"Thank you for all the support and I'll see you Saturday night."

ANTHONY PETERSON, Lightweight Contender

"Everyone on the card knows it's going to be a great event on Saturday night. Lamont (Peterson), you know what we do, we are going to go in there and handle our business and be done with it."

ZACHARY OCHOA, Undefeated Super Lightweight Prospect

"I'm excited to be here at Barclays Center today and especially on Saturday. I'm ready to fight and I've been training hard.

"For the past month Golden Boy Promotions has been doing a hell of a job. It's an honor for me to be fighting on this card with all of these fighters. I can't wait."

ERIC GOMEZ, Vice President of Golden Boy Promotions

"We're very happy to be here once again in Brooklyn at Barclays Center. I think we have a terrific card for everyone

"Barclays Center is quickly becoming the capital for championship boxing here on the East Coast.

"Danny Garcia is one of the most exciting fighters in the sport. He comes to win. He comes to knock you out. He has been fighting his whole life. Danny has proven himself every time he gets in the ring. He was supposed to lose to Erik Morales, he knocked him out, he was supposed to lose to Amir Khan, he knocked him out. He was supposed to lose to Zab Judah and he beat him.

"These are the toughest fights. Not only to be a world champion but you have to be able to prove you belong. That is all Danny does. Proves he belongs every single fight.

"People have had their own opinions about the main event. This will be an exciting fight. I've never seen Danny Garcia in a boring fight and this is Rod Salka's time to fight. Ever since we've worked with Rod Salka, he's always wanted to fight the best. He is going to take full advantage. He's been working very hard for this fight. It's do or die for him. When you have those elements it makes for a great fight."

BRETT YORMARK, CEO of Barclays Center

"We're thrilled to host another great night of boxing Saturday night; Oscar and his team have assembled a great fight card.

"I'm excited to see Danny Garcia back at Barclays Center; this is definitely his home away from home.

"I want to recognize Daniel Jacobs. I'm thrilled about what he's going to do in front of his home crowd in Brooklyn on Saturday night. It was just a few years ago when Daniel was in the hospital and his promising boxing career was put on hold. He persevered and in many respects I believe Barclays Center served as an inspiration for him and on Saturday night, Brooklyn's 'Miracle Man' fights here for a world title.

"Daniel Jacobs, you epitomize everything that Brooklyn is about and I thank you for calling Barclays Center home.

"This is our eighth boxing event with Golden Boy and we thank them for their commitment to bringing great fights to Barclays Center. I'd also like to think SHOWTIME for their continued dedication to showcasing Brooklyn boxing.''

STEPHEN ESPINOZA, EVP & General Manager of SHOWTIME Sports

"People have said and written that they know how these fights are going to end. But boxing matches are fought in the ring. We must remember that these young men have been training for hours and weeks and months for this opportunity. They will be performing on the biggest stage for boxing in New York City and perhaps one of the biggest stages for boxing in the entire world.

"No other venue has made the commitment to boxing that Brett Yormark and Barclays Center have. All of us at SHOWTIME commend Brett and his team for that.

"Rod Salka is a very entertaining fighter and I'm not going to be surprised at all when it is a very competitive fight. That is not a knock on Danny Garcia. This is the opportunity of Rod Salka's lifetime and he is taking it very seriously.

"It doesn't matter what people say or what people write. There is a lot at stake this Saturday. No one at this stage is taking anything for granted."

GREG COHEN, Jarrod Fletcher's Promoter

"I've been working with Jarrod Fletcher for the past couple of years. I've been in this game a long time and he might be my most favorite fighter that I've ever worked with.

"Jarrod is a rare guy that's a true professional who is always prepared and does everything right. He is what is good about this sport.

"A lot of people don't know who Jarrod is. He's a two-time Olympian and he has all of the pedigree that you could ever dream of to become a world champion and there is no doubt in my mind that on Saturday night Jarrod Fletchers hand will be raised in victory as the new WBA champion of the world."

DAVID BERLIN, Executive Director New York State Athletic Commission

"Even with a non-title fight as its headliner, for fans that know the sport it's not about the titles, it's always about the fight. Danny Garcia vs. Rod Salka promises to be a fight that pleases the fans. I credit Golden Boy for putting a non-title fight at the top of their card.

"Rod Salka is a fighter that comes to fight and we have the great Pennsylvania rivalry of Philadelphia against Pittsburgh.

"I'm a strong supporter of New York fighters and I'm thrilled that Edgar Santana and Daniel Jacobs have shots at world titles here in Brooklyn."

# # #

"GARCIA VS. SALKA," a 10-round welterweight bout on Saturday, August 9, is promoted by Golden Boy Promotions and sponsored by Corona and AT&T. In the co-main event, promoted by Golden Boy Promotions in association with Dibella Entertainment, IBF Junior Welterweight World Champion Lamont Peterson puts his title on the line against Edgar Santana in a 12-round championship bout. Opening the telecast, promoted by Golden Boy Promotions in association with Greg Cohen Promotions, Brooklyn's own Daniel Jacobs takes on Jarrod Fletcher for the vacant WBA Middleweight World Title. The event will take place at Barclays Center in Brooklyn, N.Y., will air live on SHOWTIME (9 p.m. ET/PT) and will be available in Spanish via secondary audio programming (SAP).

Live preliminary fights on SHOWTIME EXTREME begin at 7 p.m. ET/PT (delayed on the West Coast) and feature Sadam Ali defending his WBO NABO Intercontinental Welterweight Championship against Jeremy Bryan. Also featured will be a 10-round lightweight bout between Anthony Peterson and against Edgar Riovalle plus undefeated super lightweight Zachary Ochoa taking on Luis Cervantes in a swing bout.

Tickets priced at $250, $125, $75, $50 and $25, plus applicable taxes and service charges are on sale now at www.barclayscenter.com, www.ticketmaster.com, all Ticketmaster locations, by calling 800-745-3000 and at the American Express Box Office. For group tickets, please call 800-GROUP-BK.