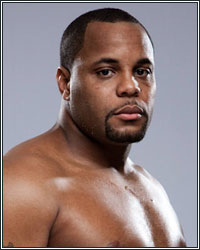 "I'm not gonna give an inch to this guy. I'm not gonna let him dominate me or bully me in any way, shape or form. I'm gonna stand up for myself and that's exactly what I did... September 27th is going to be a long night for him because he does not have the stuff to keep me off of him... It's big though, P. Excitement is building and not just within the mixed martial arts community, but sports in general," stated undefeated UFC light heavyweight contender Daniel Cormier, who talked about his highly-anticipated September 27 showdown with UFC light heavyweight champion Jon Jones at UFC 178. Check out what else he had to say about Jones, the altercation they had while promoting the fight, and much more.

PC: What a week it has been for you my man. What has all of this been like for you?

DC: It's been crazy, P. Man, it's been a lot of media, a lot of attention, and just a lot of everything. When you are fighting for the UFC championship, everything is magnified by 5 to 10 times what it is for just a fight.

PC: I have talked to you off record for a long time and I know the level of animosity you have towards Jon Jones. It has to bother you when you see people saying this stuff between you guys is staged.

DC: I don't know why people think things like that would be staged. I mean, these staredowns and this game all together, the sport of fighting is all so emotional and testosterone charged that sometimes you kind of can't control your actions once you get it rolling. By no shape or form was that staged or planned. We just had two guys that aren't willing to take a step back and you saw what happened.

PC: Jones' has always kind of gave that little nudge with his head to his opponents. I don't know if it's because he's so much taller, a fear tactic, or what, but as soon as he did it, you immediately reacted. Were you prepared for him to do that or were you shocked when he did it?

DC: I was actually shocked, man because my thing is this, I really can't understand how people are missing that nudge that he gave me. It seems pretty clear to me. I know I felt it. There is a difference between what Conor McGregor and Dustin Poirier did and what we did and some of these other staredowns. There was no momentum change. It's not like we stopped and then started moving closer towards each other. We were both walking and there was no stopping and he dropped his head into me and he nudged me, and I'm not standing for that, man. I'm not gonna give an inch to this guy. I'm not gonna let him dominate me or bully me in any way, shape or form. I'm gonna stand up for myself and that's exactly what I did.

PC: He's now starting to question your wrestling credentials. He asked you where did you place in the NCAA and he's also questioning your credentials as an Olympian. Is this all fuel for the fire or is it starting to get to you a little bit?

DC: You know what, P? When you fighting a guy like Jones, you don't need more motivation. But I'm glad he's doing that because, P, that's how he approached me the very first day we met and he can't understand why I would take offense to that. That's exactly where the origins of this whole thing started. So to see that condescending way he was asking me that stuff the other day, I was almost unsure how to answer because I didn't know if he meant what he was saying or if he was kind of playing me. I didn't know how to really answer it because I didn't want to sit there and list my accomplishments for a guy that may actually know them and he's trying to make me look stupid. But that's exactly the manner in which he introduced himself to me on the very first day that me and Jon Jones ever met and he's surprised that I would take offense to that.

PC: You had a hard time not laughing at him during the ESPN interview. Why was that?

DC: Some of the things he was saying, I was just like, "What the hell?" I really couldn't believe the shit I was hearing when he was talking. He said staredowns can be intimate and passionate and he had said the word "foughten" on a number of occasions, and "foughten" is not a word in the English dictionary. You say, "I fought Mauricio 'Shogun' Rua. I fought Quinton 'Rampage' Jackson." It's not, "I've foughten these guys." And he said it a number of times and I tried to ignore it, but at a point, you have to tell him, "Jon, that's not a word." And he said, "I don't care if it's not a word," and I told him, "You can't just bring words into existence. That's not how the English language works." What really bugged me though, Percy, is we were doing all of these satellite interviews and emotions were very high because it was right afterward, and they opened up two lines of communication between Jon and I so we could talk to each other, and the things that we said to each other before we went on air was not good on my part; I'm not proud of it because I said some crazy shit to him and he said some crazy shit to me, and we follow each other on Twitter, so we went back and forth with each other and I promise you dude, it was not more than 45 seconds to a minute we were going on ESPN and we were still cussing at each other. They said, "You're live in 5 seconds, and all of a sudden, he turned it off. The reason I was so emotional and laughing and saying, "Oh my God, he's so fake," is because I am who I am. That's what you get. I was so charged from the conversation him and I was having that I couldn't just turn it off the moment the camera came on. So if I came off a little childish, it's because I was so invested in what we were saying; how is it even possible what I'm hearing and seeing right now.

PC: You respect him as a fighter and you respect his accomplishments, but on September 27th, you're trying to take what he has. Tell us a little bit about the fight itself and what it means?

DC: Well P, that's the thing, I said that, some people that think it was staged, it's like, guys, you have two undefeated guys through 36 fights and we've pretty much dominated every person we've been in the cage with. Two guys who have fought 37 times and we've dominated every person in the cage. Jon arguably lost a round to Machida. I don't think he lost that round; he just got hit. In his fight against Rashad Evans, he got kicked in the head and they gave Rashad that round; he didn't lose that round. He lost a couple of rounds to Gustafsson. In his career, he's legitimately lost two rounds and I have lost none, so in 37 fights, Jon and I have lost 2 rounds combined essentially. That is a fight in itself that sells. We didn't need to go out there and fight a little at the MGM Grand. I respect him a ton for what he does in the cage. He's a great athlete, unbelievable champion in regards to heart, physical ability, drive, and determination, and I believe when it's all said and done and when the story is written, Jon might go down as the greatest mixed martial artist of all time because of what he's done to this point and what he will do after I retire. I just think that there will be one guy in the division that can actually beat him and that's me.

PC: He was saying how easy it was to take you down during the brawl. He was saying he hit you with some shots during the brawl. Someone on Twitter said you were actually pulled off of the stage and no shots were landed. What is your take on what went down?

DC: (Laughing) Percy, that was what really charged off the whole argument on the thing. He said, "I beat your ass." I was like, "You really think we got into a fight today?" In his mind, he actually thinks we got into a fight. That drove me up the wall. He said he hit me a few times. I don't recall him hitting me. I was honestly under this guy named Joe, who works for the UFC. He was between Jon and I. Eventually, Jon got his head out from like this guillotine I had him in and he started to posture up and tried to hit me, and I don't think he hit me, but Joe said he got hit twice and he got elbowed a couple of times. So maybe he was hitting Joe and he thought he was hitting me because I don't remember getting hit, but if he did hit me, then September 27th is going to be a long night for him because he does not have the stuff to keep me off of him.

PC: I'm sure in your tenure as a wrestler, you've been in some hostile territories and crazy situations, and against Pat Cummins, we saw you get a little riled up, but not to this level. How do you control your emotions and fight with strategy instead of emotions?

DC: See that's what I'm gonna do, P. I gotta draw back on all my experience; all of the experience I gained from competing at the highest level for the longest time. The moment that cage door closes, I'm in there to compete and compete the way my coaches tell me and compete for my family, and I'm in there to compete for everyone that invested and put time into me. If I go in there and fight all emotional and not the way that I'm supposed to, that would be unfair to them and unfair to the time and energy that they put in helping me to get to where I am today. I will go out there and honor my coaches, honor my teammates, and honor my family and compete the way that I always do, P, as professional, as hard and as committed to the goal as I've been every single time I've stepped into the Octagon. Emotion will never carry me in a fight. That's what having 35 years on this earth has done for me. It's taught me to control myself in that type of setting. Am I proud of what happened during the media tour? No! I don't think that we should ever carry ourselves in that way. Jon and I both have families and we have children that, at some point, we will have to talk to about this. Do you think the guys in boxing that have had similar situations enjoy having conversations with their kids when they get older and understand that their father acted the way that we did? It's not a good thing to teach my son, but I'm also going to teach my son to never let another man to dominate him in any way, shape, or form. It's kind of a fine line in terms of how this situation gets looked at down the line. Again, the verdict is not out on this sport. It's such a new sport that if we behave like people kind of expect cage fighters to behave, this sport will never garner the attention or respect that it deserves. So we gotta put our best foot forward every time we are in the public like that, especially when it's a big event like Jon and I have. So going forward, we gotta sell this fight as one of the biggest fights of the year, which it probably will be one of the biggest fights of the year after everything, but do it with honor and do it with respect for ourselves and our families and the sport and for the UFC. It's big though, P. Excitement is building and not just within the mixed martial arts community, but sports in general.

PC: It's been a long, well-deserved road for you and now you are a little over a month away from what we have been talking about since I first interviewed you before your Strikeforce debut on their Challenger's Series. Congrats on everything and is there anything else you wanna say?

DC: I wanna thank all of my sponsors, man. Cage Fighter, Oak Grove and Ultra Lube. I gotta thank my management team like I always do and I wanna thank you guys again, P, at FightHype. When I was wrestling, I was following the site you and Ben was a part of at that time and I actually ordered their gear because I wanted to be able to wear their T-Shirt as I stood on the edge of the mat because I love boxing, I love the sport, and I love the way you guys cover it. I never thought that I would meet you guys and get covered by the biggest website in boxing, FightHype, and to have the support of your website and company. I appreciate you guys. It's been 14 fights, P, from Strikeforce Challenger's to the undercard on Strikeforce through the Heavyweight Grand Prix to fighting for the biggest prize in the sport in the UFC. So I wanna thank you guys and everyone that reads FightHype for their continued support.
[ Follow Percy Crawford on Twitter @MrFighthype ]