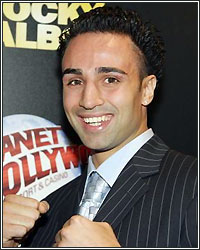 I think the way people have to fight Floyd Mayweather, I think enough people have gone into the fight trying to take his head off. I don't think that works. You see, everybody comes to the fight trying to take his head off and that's not going to work, dude. That's not going to happen. You're not going to go in there taking Floyd Mayweather's head off because he's too good defensively," stated two-division world champion and Showtime commentator Paulie Malignaggi, who shared his thoughts on undefeated pound-for-pound king Floyd Mayweather and what it will take for an opponent to beat him. According to Malignaggi, Maidana may want to alter his strategy when he steps into the ring with him again for their rematch at the MGM Grand Garden Arena in Las Vegas, Nevada on September 13. Check out what else Malignaggi had to say.

PAULIE MALIGNAGGI ON HOW TO FIGHT FLOYD MAYWEATHER:

He's too sharp, he'll counter-punch you, he'll make you pay, he'll fucking make you look stupid doing it; it's not going to happen. Enough people have tried that already. You gotta have a guy with the ability to win rounds. That's how you fight Floyd Mayweather. You have to have the ability to win rounds, okay, and then if you can catch him and take his head off, lovely. You don't go in there with the mentality to take his head off because it's not going to happen. If you go in there with that mentality, you're never going to catch him, but the guys that have gone in there trying to win rounds early on, those are the guys that have had some success. Oscar De La Hoya. Zab Judah early on, you know what I mean; let his hands go, combination punching. And then if you land something big, you know, in any fight, anything can happen and you land something big and you hurt somebody, yeah, that's great, but you can't go in there with that mentality. You can't go in with the mentality, "I'm going to knock Floyd Mayweather out." What, are you crazy? Are you out of your mind? What, you think it happens that easily? You have to have the ability to win rounds.

Then people are going to say, "Well, how do you win rounds against the best boxer in the world?" You have to have several game plans and implement them because he's gonna adjust. The guy adjusts, no doubt about it. You're going to go in there with one game plan and he's gonna adjust to it; you better have plan B, C, and D. You better have something ready for him, you know what I'm saying. It's the same situation, to a lesser degree, when I fought Adrien Broner. All everybody was talking about was, "How's he going to take on a guy who he can't outbox and the guy hits so much harder than him?" Well, number one, Adrien Broner's power was way overrated; he couldn't punch for shit, number one. And number two, we found out he couldn't box for shit either. So what ended up happening? We ended up in a very controversial fight. We have a saying in Sicilian: Don't get wet before it rains. In English, I think it's don't push the cart in front of the horses or whatnot; something like that. You can't rush to conclusions. Don't assume what you don't know because boxing is a thinking man's sport. We improvise daily in the gym; we become better in the gym. We become better though our experiences, and game planning is part of everything. Believe me, there's a way to beat everybody. To me, Floyd Mayweather is not only the best fighter in this era, he's the best figher ever. The shame of it is that if he ever gets beat, people will always look to take credit from him, but I think the guy matches up against anybody easily and wins.
[ Follow Ben Thompson on Twitter @fighthype ]