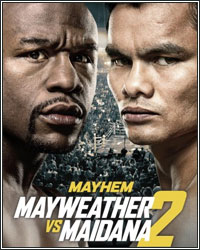 It's Monday. Welcome back for another edition of Observe and Fight, The Boxing Observer's compilation of observations and random thoughts from the week that was in boxing. Get caught up on some of the most recent events you may have missed out on, including a preview of the final 4 months of boxing in 2014, the return to the ring of 2 former world champions and 1 former title challenger, another Knockout of the Year candidate, and much more. Without further ado, check out the latest observations from the Boxing Observer, David Kassel.

Boxing has an opportunity to shine, or flop, for the remainder of the year. There are 3 scheduled pay-per-views remaining in 2014, which seems excessive considering their has already been 5 this year. Floyd Mayweather takes on Marcos Maidana in a rematch from their May clash. Manny Pacquiao takes on Chris Algieri in November. Miguel Cotto has a scheduled PPV date in December against an opponent to be determined. Don't forget, Golden Boy has plans for Saul "Canelo" Alvarez to return on a PPV as well before year's end. That's a lot of money to be shelling out for fans, so the undercards better make it all worthwhile. The Mayweather undercard already has a lot of fans steaming at the match-ups because most don't think they are very strong. Pacquiao's undercard will certainly be difficult to get an American crowd excited for since it is taking place in China. Cotto doesn't seem to have a lot of pull when it comes to putting together a strong undercard for a PPV. Canelo's first 2 PPV's in 2014 have been a bit underwhelming to say the least. He may fall victim to the curse of the closed wallets if fans have to dish out any more money, however, talks of his opponent possibly being James Kirkland make that the most exciting potential match-up of all the pay-per-views left this year.

Who will take control to become the 2014 Fighter of the Year? As it stands, there is no clear frontrunner for the award. Should Marcos Maidana upset Floyd Mayweather next month, he would be a shoe-in for the award. Other contenders include Chris Algieri should he defeat Pacquiao in November, the winner of the Bernard Hopkins vs. Sergey Kovalev light heavyweight unification fight, also in November, Miguel Cotto, who already has an upset victory over Sergio Martinez, and Gennady Golovkin, who faces Marco Antonio Rubio in October. The winner of the Akira Yaegashi vs. Roman Gonzalez fight in September deserves some recognition also. Canelo Alvarez has faced stiff competition this year and a win over the likes of Kirkland would certainly land him serious consideration for Fighter of the Year. Kell Brook is another fighter who threw his name in the mix after defeating Shawn Porter. Another win could land him some votes. Matt Korobov could earn some consderation by defeating Peter Quillin in November. There is still plenty of time to win this award, and I cannot remember a year when so many names still had a chance to prove their worth this late in the year.

Is Roc Nation Sports really going to become a major player in the boxing game? The organization shocked everyone recently by bidding over $1.9 million for the rights to the Peter Quillin vs. Matt Korobov WBO middleweight title fight. The fight, likely to take place in New York City or Washington D.C. (NYC would be the ideal spot since Quillin is the hometown guy) announces the arrival of Jay-Z into the Sweet Science. The company already represents Kevin Durant, Robinson Cano, and Victor Cruz, among others. Now, they are announcing themselves as a player who will spend money to get the best fights. Does that mean they are going to try and sign fighters? As long as the company doesn't take the 50 Cent/SMS blueprint, it may be very successful very quickly.

Is the Cold War in boxing any closer to coming to an end? Now that Oscar De La Hoya is back in control at Golden Boy, we have all heard how the company is willing to negotiate with Top Rank Promotions to make the best fights. Yet, nothing of the sort has happened, nor has anything even been remotely discussed. Forget about the fact that Al Haymon is seemingly on the verge of his boxing takeover. If Golden Boy and Top Rank want to survive the oncoming storm, they better learn to work together.

What is the deal with Haymon Sports? Everything has been awfully mum on the Al Haymon front, but things are beginning to come together, behind the scenes, to show Haymon take over with the best fighters in the game. Currently, Haymon advises over 100 fighters, and it looks as if CBS Sports may begin airing a boxing series, similar to Golden Boy Live on Fox Sports 1, beginning in 2015. Couple that with the fact that Haymon gets the best dates and paydays for his fighters and you have the makings of a very quick, hostile takeover.

Will Andre Ward get to fight before year's end? Ward, the #2 pound-for-pound fighter in boxing, is currently locked in a legal battle with his promoter, Dan Goossen, and it is not going well for Ward. All indications are that Ward may have to fight out the remainder of his contract in order to eventually break free. It's a shame that his talents have been on the bench this year.

Are we any closer to unifying the championship belts? The WBC, IBF, and WBA presidents met earlier this year in Cancun, Mexico, but the details of what was discussed are sketchy. Maybe the 3 presidents were sipping Dos Equis the entire time, but my hope is they were coming up with a solution to the growing problem of too many champions. Hey, a man can dream, can't he?

Two former world champions and a former title challenger made their returns this past weekend, and only 2 survived. Austin Trout and Antonio Demarco both suffered knockdowns in their comeback fights, but came out on top. Former welterweight title challenger Mike Jones was not so lucky. Jones suffered a 7th-round knockout loss in his first fight in over 2 years. This may be the end for Mr. Jones.

Did anyone see the opening fight on Friday Night Fights? If you blinked, you probably missed it. That's because Ahmed Elbiali knocked Dwayne Williams silly in the first round. A right cross sent Williams falling flat on his face, reminiscent of Sergio Martinez's knockout win over Paul Williams. This one was definitely worthy of Knockout of the Year consideration.

Each week, I feature an email from a fan on Observe and Fight. This week's email comes to us from Matt J. regarding a potential Kell Brook vs. Amir Khan showdown...

"As I'm watching Kell Brook handle himself just fine with Shawn Porter, the only thing I could think of was, if Kell and Amir Khan are to fight how much holding and clinching will occur? I remember back to Amir 's fights with Collazo and Peterson and I don't know, I might not enjoy the British super fight as much as I originally thought. Your thoughts? Plus, I think a Tim Bradley vs Shawn Porter might be fun or look like two rams colliding."

That's a very good point, however, I don't think Brook would do as much holding against Khan because he doesn't believe Khan has the same power as Porter. Brook's strategy was to hold because Porter is the stronger fighter. Khan, on the other hand, would use his speed and quickness to stay on the outside and throw combinations. Brook would be the aggressor in that fight. I don't like a Bradley vs. Porter fight. That would be an ugly fight to me with a ton of headbutts.

That's all I've got for this week. Email any questions or comments to dkassel@fighthype.com and I will answer them throughout the week. Your email may be featured in the next "Observe and Fight." Follow me on Twitter @BoxingObserver, and be sure to "Like" The Boxing Observer on Facebook.
[ Follow David Kassel on Twitter @BoxingObserver ]