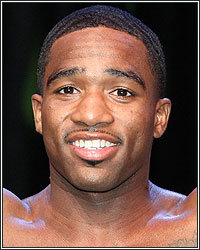 It's Monday. Welcome back for another edition of Observe and Fight, The Boxing Observer's compilation of observations and random thoughts from the week that was in boxing. Get caught up on some of the most recent events you may have missed out on, including a preview of Adrien "The Problem" Broner's fight on Saturday night, a look back at Mayweather vs. Maidana II: All Access Episode I, Canelo Alvarez's potential jump to HBO, an Upset of the Year candidate, and much more. Without further ado, check out the latest observations from the Boxing Observer, David Kassel.

Is Adrien Broner boxing's "Problem" or boxing's solution? Nobody is quite sure how Broner will rebound after his career was derailed at the hands of Marcos Maidana last December. Yes, he easily defeated Carlos Molina in May, but that was against a lightweight fighter who was coming off the bench after a long layoff. Broner is full of confidence, and his post-fight interview after the Molina win was no exception as he upset the entire nation of Mexico (even though Broner's comments didn't seem that big of a deal to me). However, Broner has been relatively quiet (except for the clothes he wears) since that Maidana loss. He immediately requested a Maidana rematch but was probably talked into slowing things down and taking an easier comeback fight against Molina. Broner has never wavered in saying he wants the Maidana rematch, but his fight this weekend at 140 pounds is a sign that he may be slowing things down a bit and taking a smarter approach to his career rather than jumping back up to welterweight. "The Problem" is a big personality. Some people love him. More people hate him. However, all fight fans want to watch him fight. Sound familiar? That's what people used to say, and still say, about Floyd Mayweather. Broner's talent is unquestioned. His chin is very strong. His power is strong as well. Broner is only 25 years old. He has plenty of time to rebuild his legacy. He doesn't need to stop being fresh, fly, and flashy. He just needs to know when to do it and when to tone it down. Right now, it seems Broner is doing the smart thing and taking things a bit more slowly during the rebuilding process. He isn't saying much, and that could spell bad news for Emmanuel Taylor on Saturday night. Broner can take his career in many directions, but one thing is for sure; he has the appeal to be the boxing's future problem or boxing's future solution.

Emmanuel Taylor is going to be no walk in the park for Broner. Don't let Taylor's 18-2 record fool you. He lost a split decision to Pernice Brewer, and he lost a unanimous decision to WBO light welterweight champion Chris Algieri, the man who faces Manny Pacquiao in November. He holds wins over Karim Mayfield, Victor Cayo, and Raymond Serrano. This guy can fight. I expect Broner to win, but Broner will need to be more active than normal because Taylor is coming to win. Broner isn't getting a cupcake fight, even though most people don't know Taylor's name. Don't expect a knockout from Broner because Taylor is tough. If Broner can knock Taylor out, I would be extremely impressed. This is a strong homecoming fight for Broner because this fight will be very entertaining to watch.

Lucas Matthysse vs. Roberto Ortiz as a co-feature could be another Fight of the Year candidate! Matthysse has already been involved in one Fight of the Year candidate this year against John Molina, and this fight shouldn't go the distance based on each fighter's propensity to go for the knockout. This fight should get the fans nice and riled up for the Broner main event.

I'm also interested to see how Andre Berto looks in his return. Berto faces Steven Upsher Chambers, brother of former heavyweight title challenger Eddie Chambers. Chambers is quick, but not quicker than Berto. Chambers has no power, so Berto doesn't need to worry about that. Expect Berto to start slow, but pick things up and go for the knockout in the middle rounds against Chambers, who has only fought twice in the last two years.

Mayweather vs. Maidana 2 may look more similar to the first fight than I originally thought. Mayweather is so versatile, and I don't think he'll allow himself to be caught on the ropes as much as he was in the first fight. Maidana is very vanilla, but he is good at making a rough fight. Maidana doesn't seem to be fazed by anything and has somehow stayed down to earth since the first fight in May. Maidana is a cool customer, and while I still don't think he'll have enough to beat Mayweather, it might be a more interesting fight than I originally thought the rematch would be.

It's awfully quiet from The Money Team and Camp Mayweather. Other than All Access, I haven't heard much from anyone associated with Floyd Mayweather's camp. That's interesting to me and tells me Mayweather may be taking this fight a bit more personal than the first fight in May. Only time will tell.

Could Canelo Alvarez be jumping ship back to HBO? It's definitely a possibility. Canelo will not be fighting on pay-per-view as originally intended, and it looks as if Joshua Clottey may get the assignment. That fight would be big, especially in Texas, California, or Las Vegas. It looks as if Golden Boy Promotions is taking the first step in mending fences with HBO and Top Rank. Bernard Hopkins started it when he signed to face Sergey Kovalev in November on HBO. Now, Canelo could be following suit. That would set up a potential HBO pay-per-view showdown with Miguel Cotto in the first half of 2015.

Marco Huck retained his WBO cruiserweight title, for the 13th time, on Saturday. Huck defeated Mirko Larghetti. Huck has been at the top of his game for a long time. It's too bad the cruiserweights don't receive more recognition. Not this time, but often, the cruiserweights put on some of the most entertaining fights.

Jermain Taylor, what the hell were you thinking? Some people just can't seem to get it right. Days after news came out that Taylor would inexplicably get one more shot at a middleweight title, October 8th, against IBF champion Sam Soliman, Taylor was involved in an altercation at his home, with his cousin and another man. Details about what happened are unclear, but we do know that the two men who came to Taylor's home were unarmed. At some point, Taylor grabbed his handgun and fired several shots, striking his cousin, who is in serious condition, multiple times. As of now, the fight is still on. However, ESPN has made a statement claiming it is reviewing the situation. I'm sure if the fight goes on as planned, ESPN will carry it because it is a low cost fight. But that is a big "IF."

J'Leon Love's career has hit a major roadblock. His 3rd-round knockout loss to Rogelio Medina on Saturday night was the opposite of what most expected. Love was very close to receiving an opportunity to fight for a world title, and now, he is going to try and put the pieces back together. Other than Floyd Mayweather, things have not gone well lately for TMT Promotions fighters. Mickey Bey has a shot at a lightweight title on the undercard of Mayweather vs. Maidana 2, but he is a heavy underdog against Miguel Vazquez. Luis Arias is a fighter with lots of potential. There are a few others, but the TMT Promotions stable of fighters is not as strong as Floyd Mayweather wants you to believe it is.

Another great fight takes place Friday in Tokyo. Akira Yaegashi defends his WBC flyweight title against Roman Gonzalez. The fight is not being televised in the United States, but I'm going to have to find a way to watch it live. You should as well. Also, on Saturday, Kiko Martinez defends his IBF junior featherweight title in a rematch against Carl Frampton. That fight is being televised on AWE in the United States. Also, on Box Azteca and BeInSport, Juan Francisco Estrada defends his WBO/WBA flyweight title against Giovani Segura. It's a big weekend in boxing on the heels of Mayweather vs. Maidana 2.

Each week, I feature an email from a fan on Observe and Fight. This week's email comes to us from Waqas Ali regarding a potential Kell Brook vs. Keith Thurman title fight...

"I would like to ask u on what your thoughts are on a Kell Brook and Keith Thurman possible bout?"

I personally don't see that fight happening anytime soon. Thurman is supposed to return in October and Brook already has a date set for 12/6 in Sheffield. I doubt it will be Thurman vs. Brook. I think Brook will likely fight Amir Khan after his 12/6 title defense.

That's all I've got for this week. Email any questions or comments to dkassel@fighthype.com and I will answer them throughout the week. Your email may be featured in the next "Observe and Fight." Follow me on Twitter @BoxingObserver, and be sure to "Like" The Boxing Observer on Facebook.
[ Follow David Kassel on Twitter @BoxingObserver ]