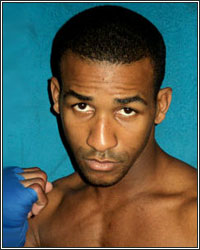 "I'm going to win any way possible. We're ready to go the whole 12 rounds. We're just going to take it round by round.," stated jr. lightweight champion Rances Barthelemy, who had some final words following the weigh-in for his upcoming clash tonight with his opponent, Fernando Saucedo. Both fighters tipped the scale at the limit of 130 pounds during the official weigh-in for their world title showdown, tomorrow/Saturday, LIVE on SHOWTIME at 9 p.m. ET/PT, delayed on the West Coast. Check out what else he had to say!

RANCES BARTHELEMY

"I'm excited. This is a huge fight for me, fighting on national television, fighting on SHOWTIME. I'm excited and anxious to get in there and give the crowd and the fans a great fight.

"You're going to see a solid, smart fighter that knows how to keep his distance and knows how to control the pace. And you'll see a lot of my jab, my biggest weapon.

"He has over 60 fights so we have to respect him. But we're going to let him know we're the bigger man."