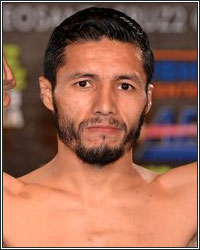 Jhonny Gonzalez (57-8, 48KOs) made the second successful defense of his WBC Featherweight title after he stopped Jorge Arce (64-8, 49KOs) in his hometown of Los Mochis, Sinloa, Mexico at 2:43 of the 11th round of their contest. Gonzalez proved to be the stronger and better fighter as Arce simply couldn't mount any offense to threaten the reigning champion.

An action-filled fight was promised, but things started off slow as both fighters didn't do much in the first two rounds and uncharacteristically felt each other out. Things quickly heated up in the 3rd stanza as Arce began to attack, but suffered a cut over his left eye and was dropped by a big Gonzalez left hook. Arce was visibly hurt, but luckily for him, the round came to an end before Gonzalez could follow up.

Both fighters began to open up and in the 5th round, Arce was put down for a second time during an exchange when Gonzalez landed a hard combination. Arce was in bad shape, but he was again saved by the bell when the round ended, allowing him to recover in his corner.

The always aggressive and come-forward Arce that we are used to seeing disappeared in the fight; instead he moved and backed up, with his punch volume going way down. Gonzalez continued to stalk as he jabbed and looked to work Arce with body shots and hooks from the outside.

In the 9th round, Arce would hit the deck for the third time when Gonzalez landed a sneaky left hook while on the inside. Arce would get up and taunt Gonzalez, inviting him to exchange, but he didn't fire anything in return. It was Arce who looked like he wanted to simply survive, but seldom threw anything with conviction.

In the 11th round, Arce was visibly spent and the referee decided to stop the fight after Gonzalez landed a right hand.

This appears to be end for Arce, who has had a long, illustrious career, but at 35 years old and countless wars on his resume, he simply isn't the same fighter he once was. He would tell Gonzalez that he was happy he could end his career fighting a fighter of his quality.

Gonzalez looked great as he dominated the fight and now looks ahead to try and land another big name fight.

You can follow Luis Sandoval on Twitter & Instagram @Truewest007.
[ Follow Luis Sandoval on Twitter @Truewest007 ]