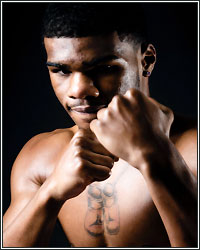 There is always a large sea of prospects in boxing, but there are those that stand out and separate themselves from the pack. Lightweight Ryan Martin (10-0, 6Kos) has been doing just that. The Chattanooga, TN native has been making noise in his 16 months as a professional and has been looking very impressive. Martin is currently signed to rapper and businessman 50 Cent's SMS Promotions. Although 2014 saw many fighters sitting on the sidelines waiting for a fight date, Martin was in the ring 8 times in 12 months. He fought on ESPN and major network undercards, including HBO and Showtime. Keeping busy and continuing to learn is top priority for Martin and his manager, Tim VanNewhouse.

"I'm just focused on improving. I want to be among the great stars in the sport and I know that's not an easy task," Martin said. "I've dedicated my entire life to boxing, I will continue to stay busy, working harder than most and fulfill the many expectations of my team, family and fans."

Like most can't miss prospects, Martin seems to have the full package so far as a young professional. He's very talented, athletic, has fast hands, a precession-like jab and puts his punches together well. Ryan also has a decorated amateur career, which includes over 200 amateur wins and numerous National Championships and international experience.

Martin has looked comfortable in the ring so far and has fought opponents with a combined winning record of 51 wins, 31 losses, and 4 draws. He has also already overcome a little adversity when he had to come off the canvas for the first time before knocking his opponent down three times to earn a TKO victory in his last outing this past December.

"That was a big learning experience, not only for Ryan, but for our entire team," said VanNewhouse. "I have to let him mature and make sure he's in the right fights in order to truly develop. He's only 21 years old. Sometimes you can lose sight of that, especially when you have fighters as talented as Ryan is."

Look for Martin to have another good year in 2015, and his manager and promoter anticipate him hopefully earning a minor title along the way. Unfortunately, Martin may have some problems with being showcased on television as his promoter, Curtis "50 Cent" Jackson, is doing very few shows. That isn't deterring the young prospect as Martin is scheduled to return to the ring February 7th in Hildalgo, TX.
[ Follow Luis Sandoval on Twitter @Truewest007 ]