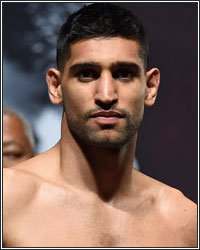 "The last time I checked, his trainer said he wanted him to stay at 140. I think that might be best for him; grow into 147 so you don't bite off more than you can chew again," stated former world champion Amir Khan, who recently contacted FightHype.com to send a message to multi-division former world champion Adrien Broner. Over the past couple of weeks, Broner has repeatedly stated his desire to fight Khan in his next bout, even going so far as to say next to Mayweather vs. Pacquiao, it's the biggest fight that can be made in boxing. According to Khan, however, he has yet to hear any serious discussions about the fight from any of Broner's representatives, including their shared advisor, Al Haymon.

"Look, Amir Khan will fight anybody, but at the end of the day, no one on his team has called me, and we've got the same advisor, Al Haymon. It seems to me that he's just blowing out of his mouth because he doesn't really want to fight me," Khan explained. "He's just doing it to show that he wants big fight, but he has no interest in fighting me. If he would, the only way it's going to happen is if he fights me at my weight. I ain't fighting at 140. He needs to come up to 147 because he ain't getting me to come down."

Khan is currently in California training with world-class trainer Virgil Hunter for his eventual return. Although he's still waiting on an opponent, he hopes to be back in the ring no later than May 30. As for who he'll face, though it's highly unlikely that Broner will be one of his options, Khan expects to hear something from Haymon as early as this weekend. "I've got a meeting with Al Haymon. I'll find out something soon, so let's see what happens," he added.
[ Follow Ben Thompson on Twitter @fighthype ]