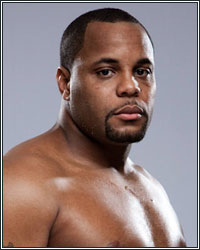 "There are reasons to be confident against Alexander and there are reasons to be worried about Alexander. He presents a lot of problems for any fighter, but in this match-up, I see a lot of paths to victory…I believe that I have more opportunities and more chances to win this fight than he does. It's not as simple as I just have to wrestle and take him down to win. I can win the standup fight. I could grind him up against the cage and beat him. I can take him down and beat him. There are a lot of ways for me to beat him, and for Alex, I think his ways are pretty limited," stated UFC light heavyweight champion Daniel Cormier, who talked about his upcoming October 3 title defense against Alexander Gustafsson.

PC: It's been awhile since we spoke on record, so I have to go back to your first professional loss. How difficult was that for you to deal with, the Jon Jones loss, and then finding out you were getting another crack at the title right away?

DC: You know what, man? it was just training and trying to be the best that I could be to go to New Orleans and face Ryan Bader. I was all excited to get the fight at home. We went and did the media tour, my family was very excited; my fiance and my kids. We were all excited to be going home and getting to fight in Louisiana. They had billboards of me down in New Orleans by the Superdome and I sent the pictures to Selena [fiance] and I was like, "How crazy is this?" And she was like, "Did you ever think in your entire life that you would be riding around in New Orleans and that you would see yourself on a billboard?" There is a billboard that flashes different things and it's huge, and I caught a picture of me and Bader on there and it just hit me. So I was just training, man, the best that I could to go and fight at home and do as well as I could and finish Ryan Bader. Still, to this day, this guy does not understand that he was being sent to New Orleans to lose to me. He still thinks that he was going there to fight. He don't want to accept that he was going in there as an opponent to get beat. I was training, so when the opportunity arose, I was kind of sitting back, P, because you don't wanna jump up too fast and look like an idiot. You can make yourself look stupid. And I obviously didn't want to feel as though I was hoping that something bad would happen to Jon for my own gain. It was more trying to gather facts, figure out if this leg was okay, and once we got the word on that and I saw that Bader was like, "Hey, I hear a whole bunch of things and if there is going to be a title shot, put me in." So I'm like, wait, if guys are starting to line up and put themselves in position for this deal, then why shouldn't I do the same thing? So I called the bosses, man. I called directly to the top. Dana was on vacation, so he didn't answer. Normally you would call Dana and he would answer or he would text you back real fast, but for some reason, Lorenzo answered that time. So I was like, "Okay, at least I got somebody," and he was like, "DC, we're gathering facts. I will let you know something as soon as we hear what's going on because we don't know what's going on." It was crazy, man. That was a crazy, crazy time, especially when stuff started to come out. It was like a movie. It just kept getting bigger and bigger and bigger.

PC: It had to be somewhat bitter sweet because you never fought in New Orleans, but at the same time, when a title shot calls, you answer.

DC: I was excited to move on, P. I was excited to be able to fight at home. I love the idea of being able to fight at home in front of my family and friends, and with it being so close to Lafayette. But there is no opportunity like fighting for the championship, especially in the UFC. So as much as I wanted to do that, I felt like the title would mean so much more to my family and to my career than fighting at home, and then maybe I will get another opportunity if it does well and they'll go back. Everything that I saw on TV and from what I hear, it did pretty good. The crowd was really into it and they were very loud. It was one of the better crowds of the Fight Nights that have been on TV, so it did good and we will see it back there I would guess.

PC: To defeat Anthony Johnson and be called a world champion and have that title wrapped around your waist, what did that mean to you and what was that moment like for you?

DC: You know what, P? Man, it was good, man. It was good because just in January, I had sat there and heard, "And still..." when I lost. So in 5 months, the emotion was completely different. It was overwhelming joy and happiness and completion. It just felt so unbelievable to actually accomplish something like that. Due to circumstances, people will question it because I lost to Jon. As I said time and time again P, I did not do anything to disqualify Jon from competition. He did. He disqualified himself from the competition and I fought the next best guy; the guy that a lot of people felt would beat Jon. I went out there and I won the fight. It was overwhelming joy because it was completion. Regardless of what happens going forward, I had my moment. I was in the middle of the Octagon with Bruce Buffer saying, "And the new UFC light heavyweight champion." I got the belt wrapped around me and then, make no mistake about it, I'm not saying that I plan on giving it back to anyone, I'm just saying that I got to experience something that not many guys ever get to experience and they have 50, 60, 70 fights. I did it in 15 fights twice.

PC: Most guys that win a title say they don't feel like a champion until they defend it for the first time. You are right back in there on October 3rd with another tough guy in Alexander Gustafsson. Between the fans doubting you and the fact that it's your first defense and you are in tough, I'm sure you are plenty motivated for your first defense.

DC: You know what, man? Everything is motivation. People that doubt me is definitely motivation for me. When I walk to the Octagon, even against Rumble, the betting lines started and I was the favorite. People believed in him so much that they bet me down all the way to the underdog. I was the underdog going into that fight because people thought that I would lose to Rumble. So that's why when I walked out, the beginning of my song was L.L. Cool J. "Don't call it a comeback! I've been here for years," because I've been hanging around this whole time. Don't treat me like I'm this young guy that's trying to beat this unbeatable monster in Rumble Johnson. This is a guy that if we would have fought before, you guys probably would have overwhelmingly picked me to win, but because I had just lost to Jon, guys were thinking this guy is going to roll over DC after what he had just did to Gustafsson. So all that is motivation. The idea of being the champion and the idea of getting back to the fight with Jones again and making it bigger than even the first one was, the idea and chance and opportunity to beat Gustafsson worse than he did is all motivation. There are a lot of things I use as motivation going into this fight. I do believe that you need to defend that championship. It's one of the oldest things in combat sports. You're the champion, yes, but when you go back into the record books, you're looked at as the champion, but once you get that defense in, with that comes respect and with that comes acknowledgment of what you've done. I would have beaten the top two guys in the division outside of myself and Jones. I have always said this is a two-man race in this division and this is my opportunity to prove it.

PC: Are you more comfortable going into the Gustafsson fight being that you have seen that height already against Jones and that reach and range already against Jones?

DC: You know what, man? I am. I've seen the fight and I've seen the range and Jones does a good job of fighting long, just like Gustafsson does, and I closed the distance pretty good in that fight. I felt it. So it gives me a little bit of confidence. There are reasons to be confident against Alexander and there are reasons to be worried about Alexander. He presents a lot of problems for any fighter, but in this match-up, I see a lot of paths to victory. Does Alexander have his ways of winning this fight? Sure, yes, but I believe that I have more opportunities and more chances to win this fight than he does. It's not as simple as I just have to wrestle and take him down to win. I can win the standup fight. I could grind him up against the cage and beat him. I can take him down and beat him. There are a lot of ways for me to beat him, and for Alex, I think his ways are pretty limited.

PC: Does it frustrate you to get that tag of, if he can wrestle, then he's good and if not, he's in trouble? It seems you have evolved into more than that, but you still seem to get that label a little bit.

DC: I'm more than just a wrestler nowadays, but I like the fact that people underestimate all of the other aspects of my game because when we fight, it's a big surprise to them. I'm more than just wrestling. P, any fighter in the world will tell you that there are easier ways to win fights. And the easiest way for me to win fights is to implement my game plan: in-fighting, taking guys down, making them grapple, making them carry me, and making them work so hard that their arms start to blow up and they start to get tired. That's my game. I like fighting that way. I like a dirty, ugly fight. And I actually try to put that type of fight on the guys I compete against. But make no mistake about it, if I have to stand up and fight, I will stand up and fight and I think I have proven that in multiple fights. I did it in the Barnett fight, I did it in the Mir fight, and I did it in the Roy Nelson fight. I stood the whole time with him and I stood the whole time with Jones. "Big Foot" Silva, I stood the whole time. Were some of the fights easier? Yes. Jeff Monson, stood the whole time. There were times I have had to stand 15 minutes or 25 minutes at times and I'm okay with it. I like to fight.

PC: Houston is actually still somewhat of a home game for you. Lafayette is not too far away. What type of crowd are you expecting?

DC: This is about as good as it gets in terms of distance outside of going to New Orleans. It was a shock because New Orleans was 2011 and 2015, so it was 4 years since they went there. In Houston, it was in 2013 when I beat Roy Nelson. I fought there in Strikeforce in 2011 and now I'm getting to go back for the third time to fight in the Toyota Center. It's a home game, man. It's 4 hours from Lafayette. People are going to be packing I10 heading West going to watch me fight and watch me compete. All of my family is going to be there. We usually get about 50 to 60 people in Vegas. Imagine how many of them are going to be there in Houston. It's right up the street. I have great support from the state of Louisiana and great support from the state of Texas and just big support down in the south. It's an unbelievable opportunity for me to fight so close to home and every time I get the opportunity to go to Houston and fight, I jump right on it. I was telling a guy, we grew up in Louisiana, that down in Louisiana, a lot of times, you don't grow up with the most, so you don't have an elaborate family vacation. Our vacation was Astro World in Houston. And the guy goes, "Man, you really do know Houston." I went every summer as a kid. We stayed in a Motel 6 and we would drive to Astro World for 2 days and he goes, "Astro World is just a pasture right now. But we know that you know your Houston because you know the old Astro World." I spent my time there as a kid. I loved the Houston Rockets. It's just like being at home.

PC: You've been involved in a couple of back and forth war of words on Twitter with Ryan Bader, Chris Weidman, and recently I think you had a misunderstanding on the air with Rashad Evans about a tweet sent out. Is that sportsmanship or serious beef?

DC: A lot of it is sportsmanship. Chris Weidman is one of my better friends. He's great. I love the guy. He's like me now; all he does is mess with people. We like actually twisting guys up in their words and then using it against them. It's so funny because these guys can't really keep up with us. Rashad and I, that's one of my boys. Rashad and I were on that set on FOX, we were just having a good time. We literally were not mad at all. Right after we were done with that, we left and went to dinner. We never were upset. But Ryan Bader just keeps talking and I don't quite understand why. To Ryan Bader's credit, no one ever ever talked about Ryan Bader, and now every interview people are asking me about Ryan Bader. So to his credit, he has made himself relevant, and you know what, man, in this day and age, you have to be able to do it. When I'm on UFC Tonight, my weekly TV show that I do on FOX Sports every Wednesday night at 5 pm (laughing)...

PC: I like the plug (laughing)

DC: They asked me, "What is Stipe Miocic's path to the title? Who is his next fight," and I go, "A microphone." The more he is able to talk and gain our general interest in him, he will be fighting for a championship. You've seen it time and time again. Conor McGregor, Chael Sonnen and myself. Guys that know how to talk and promote a fight, they get what they ask for. Bader does not understand for the life of him why I got chosen over him to fight Rumble Johnson. Well, you know, once I get a fight, I'm going to start selling the fight to try and make it as big as possible. They know that they can trust me to do that. And part of that process is your ability to try and sell a fight.

PC: Congratulations on winning that world title. It's been a long time coming for you and best of luck in October in defending it. One day we have to tell the story of how we met in high school and didn't even know it until earlier this year. Is there anything else you want to add in this one before I let you go?

DC: Ah man, that is the greatest story of all time, you sending me that scouting report. We definitely gotta tell that story. As I always say P, thanks to FightHype for always being there since fight number one. You were doing articles and interviews when people were saying, "Who the hell is this dude?" You guys always put me up on the page and supported me. Again, I want to thank all of my sponsors, thank my management team and teammates at AKA. Listen man, we have 3 title fights coming up. I'm not talking about 3 guys that moved into our gym, but 3 guys that was built inside of the walls of AKA and by the middle of next year, we should have 3 champions. That's an unbelievable accomplishment. Congratulations to my coaches, Javier Mendez, Bob Cook, Rudy Cruz, Leandro Vieira, Rosendo Sanchez and everyone else that helps at the gym. Great job guys and hopefully we can get it done!
[ Follow Percy Crawford on Twitter @MrLouis1ana ]