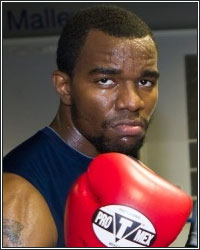 How did super middleweight Jesse Hart go from fighting Feb. 27 at the Theatre in Madison Square Garden on an HBO championship card to a March 18 non-televised show from the 2300 Arena in South Philadelphia?

The answer says a lot about the direction boxing has traveled in recent memory.

"I don't want to fight on someone else's undercard," Hart said recently, removing himself from his off-TV fight underneath Terence Crawford's WBO junior welterweight title defense against Hank Lundy, another Philadelphian, in New York City.

"I wanted to be the main event in Philadelphia where my dad (Eugene "Cyclone" Hart) was a star years ago," Hart added. "I called up my promoter, Bob Arum, and explained this to him and he gave me the green light."

Hart's NABA and USBA championship belts will be at stake against Dashon Johnson, of Escondido, CA, who is riding a four-bout winning streak.

"I applaud Jesse for his foresight," said J Russell Peltz, whose company will stage the March 18 card along with Top Rank, BAM Boxing and Joe Hand Promotions. "I don't understand why more fighters don't think like Jesse."

Hart, who has scored 16 knockouts on his 19-0 record, is pounding the pavement for the March 18 card, acting as part of the promotional team.

"It's not even about the money," Hart said, "because I'm taking a pay cut to fight in Philly. It was about bringing something back to my city. I'm not knocking other towns, but Philadelphia is the Mecca of Boxing. It's been that way for a long time, even before my dad was fighting. We have good fighters in Philly but they are not fighting here so I have to show the way by doing this and coming home. Fighting in Philly is meaningful to me. It means a lot to me to uphold my city."

Hart's attitude is music to Peltz' ears.

"You've got other outstanding Philadelphia fighters who never fight here; guys like (WBC welterweight champ) Danny Garcia and (junior middleweight contender) Julian Williams are the most obvious," Peltz said. "It's been a long time since we drew crowds of 7,000 to 10,000 to watch fights in this town and I'm not saying we can do that overnight, but you have to start somewhere.

"It's a pleasure to watch Crawford defend his title in Omaha, NE, and draw 10,000 people in his backyard even though now he is testing the New York market. There's a junior welterweight in Fresno, CA (Jose Carlos Ramirez) who is drawing crowds in excess of 10,000. That is sensational but why don't we see more of it?

"One reason is that fighters don't want to fight in the other guy's backyard. Before casinos began popping up everywhere in the 1990s, everyone fought in someone else's backyard.

"Joey Giardello didn't complain in 1960 when he had to fight Gene Fullmer in Bozeman, MT," Peltz said. "I never heard Bennie Briscoe moan about fighting Jean Mateo in 1977 Paris. That's the way the business was and if you're going to tell me that things change then I'm going to tell you that change in not always for the better. Tell me this: Is boxing in better shape today then it was back in those days? Do people care as much about boxing today as they did in those years?

"Another reason fighters don't fight at home is that a lot of promoters have become lazy and don't want to work that hard so they run to a casino to host the fight and the casino pays the promoter a fee and charges no rent, provides rooms, meals, marketing, setup, everything form soup to nuts. If casinos went out of business, so would a lot of promoters.

"You look around today and you see fighters from Florida fighting fighters from Boston and the match takes place in some casino in Tacoma, WA. How can you possibly build attractions that way?"

In the 1970s, which Peltz labels the Last Golden Age of Boxing in Philadelphia, "Cyclone" Hart was a major attraction, blowing 160-pounders out of the water with a devastating left hook. The older Hart's fights with Briscoe, Willie "The Worm" Monroe, Stanley "Kitten" Hayward, Don Fullmer, Nate Collins and Denny Moyer drew large crowds to the Arena and Spectrum.

He was a bona fide Top 10 contender at a time when it really meant something-an era that also included Carlos Monzon, Emile Griffith, Rodrigo Valdes and Billy "Dynamite" Douglas.

Hart would like to match, then pass his dad's accomplishments in boxing and he would like to do it in his backyard.

ABOUT MARCH 18

The Jesse Hart-Dashon Johnson Homecoming Fight headlines a seven-bout card at the 2300 Arena, located at 2300 South Swanson Street in South Philadelphia (between Ritner & Porter, Front and 2d Streets). The March 18 fight is being sponsored by Parx Casino. Doors open at 6 pm; first fight at 7pm. Tickets are $40, $50 and $75 and can be purchased by calling Peltz Boxing (215-765-0922) and Wanamaker's Tickets (215-568-2400). Tickets also can be purchased online at www.wanatix.com and www.peltzboxing.com. The March 18 card is promoted by Top Rank, Peltz Boxing, Joe Hand Promotions and BAM Boxing.