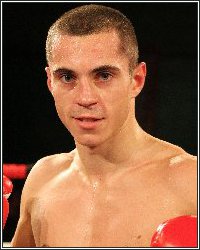 "I've always wanted the chance to prove I'm the best. And now the fight's been made, I'm one million percent confident. I wanna go out there, and I'm gonna win in spectacular fashion," stated undefeated WBA super bantamweight champion Scott Quigg, who spoke during a conference call about his upcoming title unification with IBF super bantamweight champion Carl Frampton. Check out what else he had to say!

SCOTT QUIGG CONFERENCE CALL TRANSRIPT

Scott Quigg: Hi, everybody. First of all, I just wanna say I'm delighted to be on SHOWTIME and that it's to be shown in America on one of the main networks. So, thank you for picking this fight up. It's a fight I've wanted for a long time. It's a fight that's been brewing for a long time. And seeing that dotted line was signed on (this was) everything I've worked towards, you know, becoming and wanting to becoming the best. This fight's been talked of for numerous years now and it was getting built bigger and bigger, and people were picking him to be the better fighter. I've always wanted the chance to prove I'm the best. And now the fight's been made, I'm one million percent confident. I wanna go out there, and I'm gonna win in spectacular fashion.

Question: What do you think it indicates about Carl that he was knocked down in the first round by a fighter like Alejandro "Cobrita" Gonzalez? He did come back and win the decision.

Quigg: I mean, he got off to a shaky start. He got put down a couple of times, but that's not the reason why I take any confidence from, you know, what happened in that fight. He got off to a shaky start. I've always said he doesn't fight well over [the course of a long] fight. He has quite a bit of -- in my opinion, he likes his comfort blanket, which is fighting in his hometown. And he showed vulnerabilities in that fight (against Gonzalez). But he came back. He got the win but he showed these little weaknesses in his armor, that I'd already seen. And it shows that the things I've been seeing and the chinks in his armor they are the … I'm expecting him to go back to the drawing board and iron the mistakes out, but there's a lot more mistakes that I will pick up on.

Question: Will you be going for an early knockout; will there be pressure on you to try to end this early?

Quigg: My fights have finished early because I've done and stuck to what I've gone out to do. And I've (ended) them early. I'm gonna pick the right shots at the right time. If the knockout comes early, it comes early. If I've got to box for six, seven rounds, I'm smart in my boxing, and then the shots [will connect) to take him out. That's what will happen. People are going now because I've been knocking guys out quite early. I've been going out for the stoppages. I've been going out and I've been boxing. If you go looking for the knockout it doesn't come. You go out, stick to your boxing. You set the shots up. (I land) clean on any super bantamweight or featherweight in the world, I will knock them out. So, it's about just making sure I pick the right time and I open the gaps. And when the gaps are there then I'll take them.

Question: The majority of the fans are gonna be for you in the arena in Manchester. How much does that affect a fighter having the crowd on his side?

Quigg: In my opinion it doesn't. I don't take note whether I've got the crowd behind me or whether it was behind him. You know, when you're in that ring there's only you two and the ref. You can do all the preparation with your team leading up to the fight, but when that bell goes everybody steps down, and then there's only you and him in the ring. So, whether there's 25 in there for me or there is 25 in there for him that's irrelevant to me. I know what I've got to do. Well, I know for a fact that he takes comfort from having a lot of support. Especially when he boxes in Ireland, it's like a bit of a comfort blanket for him. And when he's taken away from that, he seems a bit -- he shows vulnerabilities. And I think that will affect him on the night.

Question: In America we're trying to get a sense of what the rivalry is like between Ireland and England when it comes to athletics. I know it's not the 1970s anymore at the height of the IRA. But, what does this rivalry still mean to you and your fans?

Quigg: I think the rivalry is very big because, you know, the English fans they're passionate about the sport in general. The Irish are passionate about the sport. And to be honest with you boxing really is one of the bigger sports that the Irish get behind. So, it does -- the rivalry is very passionate there. They get behind their man. The support that they give all the Irish fighters that they do follow is -- you know, they create a great atmosphere. But the rivalry between the English and the Irish now with this building is gonna be -- set an atmosphere off even more because we're both at the top of our game. There's a lot riding on this, and there's a lot of pride at stake. And I think the atmosphere in the arena is gonna be absolutely electric.

Question: The boxing scene generally right now in the UK and Ireland is as strong as it's probably been in 20 years. Do you feel like you're a part of something special going on right now?

Quigg: Yeah, I think the boxing at the moment in Ireland and England is the best it's been. There's a lot of UK British world champions at the minute. You know, we've been going over to America and performing well, winning world titles. And it's showing that everybody's improving. You know, as we've all seen in England, Ireland, the UK, it's really thriving now. And to be part of this (is exciting). When you've got all these world champions now coming from, you know, the UK, you seem to bounce and thrive off each other (and I think it shows) we are as good as, you know, the fighters in the U.S. and Mexico, which people used to question, a few years back. Are we as good? I've always believed we're as good, and it's proving it that now. Everybody's learning. Everybody's improving. And the fighters are doing what they are doing and going over and winning world titles abroad as well.

Question: This fight is going be seen by the American fans on SHOWTIME. Do you look at this as the first step for you to maybe follow in the footsteps of someone like Ricky Hatton and come to Las Vegas, come to America and become a global fighter? Is that the idea for you? Is that where you wanna be in five years or less?

Quigg: Yeah, 100 percent. That's why I'm in boxing. I come here to become world champion. And once I achieve that goal I didn't stop there. I set new goals and new heights because I wanna challenge myself everyday. You know, to be going to achieve and accomplish what, for instance, Ricky Hatton did getting that crossover into the U.S. market world. He ended up taking 40,000 Brits to Las Vegas and being a global star. That's the next goal that I've set, you know, and it's about just keeping the hard work going, a lot of dedication, staying focused and keep doing what I'm doing every day, because what I've been doing so far has been working, and it's all about improving every day and becoming a crossover (star) in the U.S. market. Getting this chance now and SHOWTIME (taking this fight from) over here for the U.S. to pick up and show on one of the mainstreams in the U.S. that's the first step. We'll go out here and do a job on Carl Frampton and win in a spectacular fashion that's surely gonna give me a real boost to get that crossover into the U.S. and maybe potential fights down the line with Leo Santa Cruz you know, some of the other great fighters in the division.

Question: Scott, can you give us the timeline between you and Frampton? You have been on each other's radar from a distance or up close for a long time, haven't you?

Quigg: It's nearly four and a half years this has been brewing -- just before I become British champion and he picked up the Commonwealth title. From that point on, there's been real talk of us always fighting from that point on. Even as we were coming through with both -- when we were both prospects, there was comparing who's the better the fighter, but there was never really any real talk of it. But, when I become British champion that's when it really started getting interesting. So, you're looking at four and a half years this has been building. And I think – well, not think -- I know this is the perfect time now for this to happen. You know, we're both world champions. We're both undefeated. And now it shows that this is the perfect time for the fight. And I believe this is the perfect time for me to go out there and do a job of it.

Question: People look at this fight like it's a 50/50 fight. Do you look at it as 50/50 fight, or is this gonna be your toughest fight, do you see flaws you can take advantage of? What are your thoughts on that?

Quigg: Well, the way I look at things is, and this is why I never take anything for granted, I'm never complacent in anything I do. I train, and I do what I do everyday because it only takes one punch. You know, you've got to be switched on, and every fight's your toughest fight. You know my previous fight with Kiko Martinez; that was my toughest fight. The training that I did for that, the preparation, the work, everything that went into that training camp and everything I did on the night. Yeah, it might have ended in two rounds, but that was still my toughest fight to date. It ended like it did because I followed the instructions, and I performed to the best of my abilities, which I know I will do on the night against Frampton. So, you don't know. I can go in there, and I might knock him out in the second round. That still would have been my toughest fight because it's about the preparation. The preparation makes the fight. You know, the fight's the easy bit. Everything that you do to prepare is what's hard. You've got to put your body through, get your body in great shape. You know, really just live everyday, day in, day out, boxing 24/7. And the fight comes and you go out there and you enjoy it. You know, you make no mistakes. You know, you've got to be switched on. But, every fight's your toughest fight.

Question: The winner of this fight will likely have to give up one of his titles to face his mandatory challenger. How do you feel about that? Do you feel like that's unfair in this type of situation to be in?

Quigg: At the end of the day it's what (boxing's) government body is doing. It's their rules and regulations. So, I can't really judge on that. At the end of the day my focus is on beating Carl Frampton. I'll beat Carl Frampton. And then, we'll look at fighting the best in there, and obviously you've got one winner. And I've always said, 'I'm out to fight the best and beat the best.' So, I'm obviously going to fight Rigondeaux. You know, I'm not scared of fighting him. I'm not shying away from challenges. As I've just stated, it's about what I do. I challenge myself and that's what I thrive on. And obviously fighting Rigondeaux, who's rightly so ranked number one in the division because of what he's achieved and what he's done so far, I honestly believe that if the time comes and me and him fight, I believe I can beat him.

Question: You mentioned trying to follow in the footsteps of Ricky Hatton in terms of increasing your profile. Is that part of your strategy just to endear yourself to fans?

Quigg: You've got to fight the best and beating Carl Frampton that would then be, you know, (getting) him out of the way. Then obviously the focus is on me at this moment. But a fighter wants to give the fans what they want. You know, I'm not scared of anybody. It's just about going out there and getting this job done and then we'll see from there.

Closing Comments

Quigg: I'd like to say, I'm just very grateful for SHOWTIME picking this fight up. The training's going very well. I'm in great shape already. I'm looking forward to the night. And I'm hoping everybody in the U.S. enjoys the fight and enjoys a spectacular performance from myself and defeating Carl Frampton.