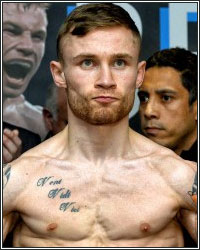 "I've been chasing Scott Quigg for a long time. I've been chasing him for at least four years when he was British champion, and it's only now that they want the fight...Everything that he does is programmed. He's been taught how to fight. I know how to fight," stated undefeated IBF super bantamweight champion Carl Frampton, who spoke during a conference call about his upcoming title unification with WBA super bantamweight champion Scott Quigg. Check out what else he had to say!

CARL FRAMPTON CONFERENCE CALL TRANSCRIPT

Question: Carl, there's been a lot of discussion about your last fight, of course, with Gonzalez, what it signified. A lot of people saw the fight. You went down in the first round, came back and dominated the rest of the fight. What can we draw about that early and unexpected knockdown in that fight?

Frampton: Well, I think that last fight was probably -- I'm going to call it a blessing in disguise, because if I had went in and blew Alejandro Gonzalez away in one or two rounds then you guys wouldn't be on the phone talking to me about Scott Quigg. Because, I (went down) in the first round is the only reason that (we're fighting). I've been chasing Scott Quigg for a long time. I've been chasing him for at least four years when he was British champion, and it's only now that they want the fight. So, again, a blessing in disguise, but it wasn't my best performance. But, if you (take the knockdown) out of the equation then it wasn't a bad performance (and I did what I) had to do to win. But, I'll need to be at my best to beat Quigg. And so far in the gym everything's looking like you're gonna see the best ever Carl Frampton.

Question: He's coming off a fight where in the first round he had a little difficulty, but he came back, and he got a big knockout in the second round. He's gotten a lot of knockouts early in recent fights. What do you think your advantages are over him?

Frampton: Natural talent is the main thing. When people talk about high dedication and high heart Scott Quigg (is a hard worker). But if they think that I don't train equally as hard as him then they're wrong. But, the difference is natural talent. Everything that he does is programmed. He's been taught how to fight. I know how to fight. I've been boxing since I was seven. It's all I know really and that's gonna be the big difference. You know, he has hard work, but I have hard work and natural talent and that's gonna be the big difference.

Question: Do you think it makes much difference the location of this fight? Manchester is almost a road fight for you. The majority of the fans may be rooting for him. Is that gonna make any difference to you?

Frampton: Actually, the majority of the fans will be rooting for me. I know I'm fighting away from home. I know it's in Scott Quigg's hometown, but that doesn't really sell tickets. Because of the magnitude of his faith, he'll obviously sell a few more tickets. But I'll have at least 70 percent of the support in the arena. I have no doubt about that. So, it may feel a bit more [like a home game) for Scott. But when he's standing on the ramp and he gets a worse reception than me let's see how he deals with that.

Question: We're trying to get a sense of the rivalry between Ireland and England when it comes to boxing. And I know Belfast has kind of been at the heart of this storm when it comes to struggles between England and Ireland. Do you have a special perspective about what that rivalry means. And does it still mean a lot to you and your fans?

Frampton: Well, there's a rivalry. You know, Ireland versus England is a big rivalry and not just in boxing but in all sports. But, I think that's what Eddie Hearn and Quigg are trying to make out here that this is Ireland versus England. It's not. I have fans from all over the UK, all over Ireland. This is really the UK and Ireland and my support versus Scott Quigg's support of Manchester. So, it's not an Ireland thing here. It's my support against his, and I have a lot more than him.

Question: The boxing scene generally in the UK and Ireland is so strong right now. It's been a very exciting time. Do you feel like you're participating in something pretty special in this fight?

Frampton: Yeah, it's a good time for British boxing. Obviously there's a lot of world champions. I think there's 12 at the minute. There's gonna be one less by the time me and Quigg fight, but I know it's not gonna be me. We're getting a lot of support from the fans. I think that, you know, there's 20,000 coming to watch me and Scott Quigg. If it had of been the right time of the year, we could have done it outdoors and maybe sold 30,000-40,000 tickets. So, boxing is in a great place at the minute, and we're all playing a wee part in it.

Question: Last year, you came to America for the first time. This fight is gonna be broadcast on SHOWTIME. Is this part of a strategy for you to eventually come fight over here in some major fights?

Frampton: Yeah, I want to fight in the states as much as possible. I've always said that. I would love to fight on the east coast especially. I think there's a lot of -- you know, there's potential for a big fan base there for me with the Irish American. So, that's the objective, because I can fight in America more often, but, again, it's one fight at a time here. I need to beat Scott Quigg first and participate in Manchester on this date. So, once I beat him we'll look at our options, but, you know, I really wanna take this the state by storm. And obviously appearing on CBS and now this fight now on SHOWTIME, we're going the right way about it.

Question: Did you watch the MMA fighter Connor McGregor and see anything that you can take from his game on the promotional side to make your name a little bit bigger over here? Obviously, he's had huge success. Have you been tracking him and seeing what he does?

Frampton: Well, I've talked to him, and I never really paid much attention to UFC or MMA until Connor McGregor got involved. I wanna see him fighting. So, it shows you the type of (ability) that he has, but I'm not the same person as Connor McGregor. I'm not -- you know, I go over and I work quietly and subtly. I just get offered things. I do my business in the ring. But, McGregor is very clever. He's getting a lot of -- you know, you either love him or you hate him. I really like him. I think McGregor is brilliant. He's a huge star, has fans, but equally as big in the states, and he's playing the game, but I don't really take anything from that. I'm not gonna change my personality just because of McGregor's success.

Question: The winner of this fight will likely have to give up a belt to face his mandatory in the WBA. Do you have any preference (who you fight next)?

Frampton: Well, Rigondeaux is the man you have to face if you wanna call yourself the main man. So, whatever happens, happens, but I'm happy to face Reagal. Whatever my team see as the most sensible option that's what I'm gonna do. I feel a little bit sorry for the position that Rigondeaux has been through. I feel that Scott Quigg should be a little bit embarrassed in how he's actually -- you know, if we can say win world titles. I don't know if he's actually won them. He's been handed them a lot of time, and he's been given (them). So, I feel a bit a sorry for Rigondeaux, but I'm happy to fight anyone. That's why I don't fear anyone. I believe I'm the best super bantamweight in the world, but if you wanna prove that then you need to beat Rigondeaux. I'm prepared to do that.

Question: When you say that you feel sorry for Rigondeaux, what do you mean by that?

Frampton: Well, just because of the situation that he (is in). He's someone I admire. Obviously, the TV (networks), they don't appreciate his style of boxing. They wanna see blood and guts. (And) he's, technically there's no one better on him in the world. But, it's just the way he's been treated with the boxing government body. I think he's been unfairly treated. They've given Scott Quigg his title. I just think that's a bit unfair. So, you know, you have to feel a little bit sorry for him.

Question: This is now the big fight for you, certainly your biggest fight in this weight class. Are you of the opinion that whatever happens on Feb. 27, in particular if you're winner of the fight, that, you know, you've made your statement at 122 and it's time to go up to the featherweight division?

Frampton: There's a good chance, you know? We'll sit there. And after the fight then we'll make a decision then. But, you know, it's not easy for me to make 122 pounds. It's never been easy, but I've always done it. And we made a conscious effort for, you know, coming into this training camp. We sat there as a team and the plan behind it, and it came from Shane really getting my weight down as soon as possible and hold it at a weight that I think that I fight best at. So, my weight is pretty good at the minute. You know, we're three and a half weeks away from the weigh-in, and my weight's probably better than it normally is. So, we've made an effort to do that because but I'm not growing anymore. I'm not getting any bigger. I'm 29 the week before the fight. Obviously I want to move up at some point but that'll be something that only me and my team will table about after the fight.

Question: So you want to stick and just keep being the dominant force at 122, or would you like to maybe win a featherweight title, maybe win a junior lightweight title?

Frampton: Yeah, I would. Genuinely I would like that. You know if you wanna talk about legacy it's about winning as many titles as possible in as many weight divisions for me. And to create a legacy it's gonna be important for me to win world titles in more than one weight division. So, I wanna move up. You know, I'm not the tallest guy in the world. I don't really have the frame [to fight in) too many weight divisions, but I'm strong. I'm stronger than most super bantamweights. I'm stronger than most featherweights, other super bantamweights, and I'd be happy to move up to featherweight and probably finish my career at super featherweight. You know, it'll probably be hard for me to go any further than that, but I'd be -- you know, if I win a world title in another weight division I'll be very happy, but I've got the capability to win world titles in three weight divisions no doubt.

McGuigan – Carl answered (the question) quite eloquently. I mean, the bottom line is he's a career 122-pounder. We've done it for, how many, four years, five years. So, I don't think if we stick at the weight it wouldn't be a problem. It's not easy to make it because he's a big fella for the division, but 95 percent of guys that are in boxing struggle with weight. The problem out in Texas was he was just drinking too much liquid after the last couple of days after the weigh-in --or after he trained, and, therefore, he was going up again and holding the water. It's just -- it's interesting how the different temperatures (can affect you). Now, of course, things are much better. We're in a temperature we're used to. We're used to making the weight. We can do it. But we're only focused at the moment on Feb. 27. It's my job to look ahead. (But there are many possibilities for him at featherweight) so he can easily shift to 126 and still be a monster at 126.

Question: Carl, do you get the sense that this fight is actually happening at the right time or that it's just kind of been delayed until maybe the other side wanted it to happen?

Frampton: Well, I think it's probably happening at the right time. But, you know, if you had asked me that two years ago when I was looking to fight and they wouldn't fight me, I would have said something different, but things have just happened, and it seemed like it's happened for a reason, and obviously now is the right time. We're both bigger (and have) world titles on the line. So, the fight is much bigger now than it would have been for a British title when I originally wanted to fight Scott. So, given, you know, a chance for both of us to make a lot of money, obviously, because it's a bigger fight, but to make our names much bigger. This is a fight, especially in the UK, that's gonna be really (massive). Scott and I are gonna go big on it starting very, very soon. Obviously, you're getting a lot of coverage in America from you guys as well. So, it's given both fighters an opportunity to make their stock raise, but I know for a fact there's only gonna be one winner. I know that. I've known it for the last four or five years that I can face this guy. And I think it tells you enough that he never wanted to fight me until now. He never wanted to fight me for a British title when he would have been making less money. So, I think you can look into that how you want, but I've always wanted this fight.

Question: Do you feel like there's been a certain evolution between both of you fighters? Like, do you think he's gotten significantly better since he was first on your radar?

Frampton: He's probably gotten better, but I've got better as well. I think that just happens with development. And, you know, we're good professional fighters. We're very dedicated to the sport. So, I think both of us have got better, but I think I'm head and shoulders above this guy. I don't wanna take Scott Quigg lightly. I don't wanna (people to think) I'm looking passive. I'm not. I'm training very, very hard for this fight. But, me on my best -- if I put in 100 percent performance, if I put in the best performance I can, and Scott Quigg puts in the best performance he can, then I win the fight and it's not even close. So, it's about me and how I perform, because I know if I perform my best and there's only one winner.