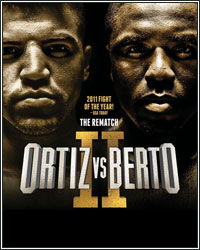 According to multiple sources, a long-awaited rematch between former world champions Victor Ortiz and Andre Berto is currently in the works for April 30. In their first encounter, which won Fight of the Year honors back in 2011, Ortiz was awarded the unanimous decision victory after 12 action-packed rounds that saw both fighters trade multiple knockdowns, four total, over the course of the fight.

Although the victory landed Ortiz a lucrative payday against undefeated former pound-for-pound king Floyd Mayweather, he was knocked out after four rounds of a foul-fillled contest. Following the defeat, Berto was able to bounce back with a victory against Jan Zaveck. At that time, a rematch between the two fighters was on the horizon, but it ended up being scrapped when Berto tested positive for nandrolone.

The careers of both fighters have been on a roller coaster ride since their grueling showdown. In the bouts that followed, Ortiz suffered a broken jaw after lasting another hard 9 rounds with Josesito Lopez and he was knocked out by veteran former champion Luis Collazo in the 2nd round. Since then, Ortiz has put together 2-fight winning streak, but the victories have come against relative unknowns in Manuel Perez and Gilberto Leon.

Berto would suffer two back-to-back losses against Robert Guerrero and veteran Jesus Soto Karass. Both of those defeats saw the game Berto take a beating from both opponents, but it was the loss to Soto Karass that did the most damage, tearing a tendon in his right shoulder. After having surgery and undergoing rehab, Berto was able to notch victories over Steve Chambers and Josesito Lopez, which led to his own lucrative payday against undefeated former pound-for-pound king Floyd Mayweather, although he too came out on the losing end of the fight.

Nearly five years later, it looks the paths of both fighters are set to cross again. Although clearly not at the same stage as they were when they first met, it's fair to say that both fighters are still on even terms after the roller coaster ride their careers have been on. It's a pick 'em fight that either one could win, so fans can expect another Fight of the Year type of performance.
[ Follow Ben Thompson on Twitter @fighthype ]