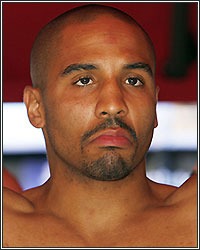 On Tuesday, March 22, Two-Time World Champion and top-rated pound-for-pound fighter Andre Ward (28-0, 15 KOs) and number one rated IBF light heavyweight contender Sullivan Barrera (17-0, 12 KOs) participated in a media workout at King's Gym in Oakland, California in advance of their March 26 fight at Oracle Arena in Oakland. Ward and Barrera will meet in 12-round IBF number one position and mandatory position eliminator bout televised live on HBO World Championship Boxing® beginning at 9:45 p.m. ET/PT. NABF Featherweight Champion Joseph "Jojo" Diaz Jr. (19-0, 11 KOs) and top-rated featherweight contender Jayson "Star" Velez (23-1-1, 16 KOs) were also in attendance during the workout ahead of their 10-round NABF Featherweight title fight which will open up the HBO telecast.

After shadowboxing in the ring and a few rounds on the punching bags, all four fighters participated in interviews with media members in attendance. Super Bowl Champion and Oakland native Marshawn Lynch, an avid Andre Ward supporter, made a special appearance during the workout in support of Ward.

Below is what the fighters had to say during the final media workout:

ANDRE WARD, Two-Time World Champion and top-rated pound-for-pound fighter:

"I feel good and I am ready to go. I'm peaking at the right time. I'm just excited to get it on Saturday night.

"I used to drive by Oracle Arena on 880 as a kid on my way to King's Gym and wonder if I could make it there one day and [trainer] Virgil [Hunter] used to say with confidence, 'You're going to headline there.' As I got older, I used to go to some of the cards put on in the arena. I was still an amateur and I would just dream. Next thing you know, in 2009, I was in a sink or swim fight against Edison Miranda. If I won, there was probably a good chance that I would get a title shot and the rest is history. Here we are again, it's my 7th time at Oracle and it's still a blessing.

"It was the right time to move to light heavyweight. It was a combination of not having the right guys to fight or guys that didn't want to fight me. I want to be great. These are the types of moves you have to make. I'm a student of the sport and when I study the sport, this is what greats have always done. They move up. The great ones find a way to get it done and I want to be in that conversation.

"Barrera is a big body. He's confident. Seems to be a good puncher. We did not pick him because he's a soft touch. We picked him because he was going to get me ready and show me what this weight class is all about. If you look at my career, there's a place for tune-ups which I haven't had a lot of. You want to fight the best and if you aren't fighting the best, you want to fight the number one contender. That's what we're doing.

"I think I am evolving into an efficient fighter. I'm moving when I have to move. I think that's the beauty of any athlete who doesn't abuse his body and really takes his craft seriously. I've seen some articles claiming I missed my prime. It's crazy to me. I feel that I am as good as I have ever been. I've been in a boxing gym without much of a break for the past 20 years. My brain thanked me for the last two years. My body thanked me. It might give me another two years in my career.

"I have to just be me. Who I am is enough. I don't have to show up for Kovalev in the crowd on Saturday night. We just have to implement the game plan. I think that's going to send the message it's supposed to send and if it doesn't, then he'll [Kovalev] get the message when we fight.

"If I don't win this fight, there's nothing down the road. If I don't win this fight, I don't deserve to fight for the title. That's the reality of my situation.

"Barrera has never fought a guy like me before, so they can talk a good game. They can dominate the headlines leading up to the fight. They can say all the slick stuff they want to say. We just want to dominate the headlines Sunday morning after the fight is over. That's what I'm focused on."

SULLIVAN BARRERA, Number one rated IBF light heavyweight contender:

"I'm stronger than Ward. I have the Cuban background and I learned a lot of skills there. More than anything, the determination to overcome anything in front of me will help me defeat Ward on March 26.

"Once I am in the ring, it's my house.

"Whatever Ward has, I will adjust to it and overcome it.

"I have two hands. He has two hands. I have a job to do on March 26.

"I know Ward and Kovalev are very highly respected and they create a lot of money and a lot of interest, but they don't know what Sullivan Barrera is capable of doing. I will prove that on Saturday.

"I'm not really a guy that has to look for a knockout. My boxing skills speak for themselves. I am fighting Andre Ward and fighting here in Oakland, so I don't think a decision will be rendered in my favor.

"To all the fans, especially the Cuban fans that have supported me please know that come Saturday, I am going to do everything I have to do to come out victorious."

JOSEPH DIAZ JR., NABF Featherweight Champion:

"I can't expect what Jayson did to Ronny Rios during this fight. I've got to go in there, test him out and adjust when I am in the ring.

"If the opportunity presents itself where he's hurt and I see that my punches are overwhelming him, then of course I'm going to get in there, be aggressive and make sure I take him out as early as possible.

"I know getting on the inside, cutting off the ring and taking it to the body right away will break him down. That's going to make him not move as much and later on in rounds I can land vicious blows to the head. I'm going to take it to the body right away.

"Mentally I am 100% ready. This is a big stage in my career, so I'm mentally focused. I'm well prepared. I feel like this is the moment I have been waiting for my whole entire life. I feel like I'm ready for this and I can't wait for March 26. I trained very hard for this fight and I'm well prepared for it.

"I really want to make a statement this fight. I want to show the world that Joseph Diaz could be the next big thing in boxing, so I trained very hard to put on a great fight for the fight fans, be very aggressive and make it a war in there. I hope that Jayson Velez is 110% ready because I want him to be at his best.

"If I win this fight and make a statement, I think I can move to contender status and hopefully get a world title shot by the end of this year. I want to fight tough opponents this year because I want to show the world who I am.

"I feel like a beast when I step into the ring and I can see it in sparring. Whenever I'm landing effective blows, I can tell that I am hurting my opponent."

JAYSON VELEZ, Top-rated featherweight contender:

"At my level, every guy is a top contender. I have to train harder and improve my defense. I've been working on that.

"If you see my last three or four fights, you will see that I have been dominating in the first couple of rounds and then I run out of gas, I have been working on my stamina so that won't happen on March 26.

"I have seen Diaz's fights. We've sparred a couple of times. He's got speed. He's got a hunger. It's his HBO debut, so he's definitely motivated, but so am I. It's going to be a great fight.

"I want to be champion of the word. I know he wants it too. On Saturday, we will know who wants it more. We both want to win and we are both training for a win. A fight between power and speed is a great match-up. Not to mention he's Mexican and I'm Puerto Rican. You can expect a great fight and it's not one you want to miss."

Ward vs. Barrera, a 12-round IBF number one position and mandatory position eliminator which is presented by Roc Nation Sports in association with Main Events, takes place Saturday, March 26, 2016 at Oracle Arena in Oakland, California. The event is sponsored by Corona Extra, Ticketmaster, Corporate Travel Management Solutions (ctms), Glad, Lyft, Zappos, BodyArmor, SAN Nutrition, Shoe Palace, The Waterfront Hotel and Visit Oakland. The event will be televised live on HBO World Championship Boxing beginning at 9:45 p.m. ET/PT. Opening the HBO telecast will be Joseph Diaz Jr. vs. Jayson Velez in a 10-round fight for the NABF Featherweight title presented by Golden Boy Promotions in association with Miguel Cotto Promotions.

Tickets priced at $300, $150, $100, $50 and $25, not including applicable service charges and taxes are available at all Ticketmaster locations, online at Ticketmaster.com (bit.ly/WardBarreraTix) and charge by phone at (800) 745-3000.

Follow the conversation on Twitter by using #WardBarrera.

For more information, please visit www.rocnation.com, www.mainevents.com, www.goldenboypromotions.com, www.promocionesmiguelcotto.com, www.hbo.com/boxing, follow us on Twitter and Instagram @rocnation, @main_events, @goldenboyboxing, @cottopromotions and @HBOBoxing and become a fan on Facebook at www.facebook.com/RocNation, www.facebook.com/MainEventsBoxing, www.facebook.com/GoldenBoyBoxing and www.facebook.com/HBOBoxing.