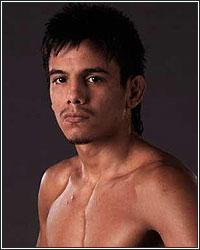 "They still have a couple of guys out there…there are some guys out there…I have guys in front of me waiting. I think in a couple of years, I'll move up in weight, but right now I'll stay at 35 and try to take care of business," stated WEC bantamweight champion Miguel Torres as he talked about his future plans after his impressive win over Yoshiro Maeda. You don't want to miss what he had to say as he breaks down his performance and much more in this must read interview. Check it out!

PC: Congrats on your win over Maeda!

MT: Thank you man. Thank you very much!

PC: This was by far no gimmie fight for you. How did you feel coming into this fight?

MT: I knew Maeda was going to be a tough dude man. I knew going in there he was going to be prepared. I know from now on, whoever I fight is going to know about my Jiu Jitsu. What they weren't aware of though is that I can go out there and bang with somebody. That's what I wanted to show in this fight, that I could fight and still do good. Maeda is a warrior man. He took everything I had bro and I had to hurry up and stop him. I love fights like that.

PC: It seems like you zoomed in on his eye in that 3rd round. Did you know if you kept that jab on it, eventually they would have to stop it?

MT: That was my gameplan from the first round was to use my jab, move around, watch his big left kick and just jab and move. I don't know what he hit me with in that first round. I haven't had a chance to watch the fight again, but he cut me; in the first 10-15 seconds, he cut me. He busted me open with something and once I see my own blood, I go crazy man. I thought it was all just anger and emotion after that because in my mind, I was thinking I didn't want the fight to get stopped on a cut. I didn't want to lose like that so I went out there and took it to him. It ended up working in my favor.

PC: You've become one of FightHype.com's favorite fighters man. My partner's wife said you're her new favorite fighter after that fight.

MT: I appreciate it man. I appreciate that a lot.

PC: When both of you guys had toe holds locked in, were you ever in trouble?

MT: I wasn't in trouble. I've been in that situation like 2 times in 2 other fights. If that happens in a grappling tournament or in class, I'll tap to an ankle lock, but when it comes to a fight like that, I'll never tap to a knee bar or ankle lock or nothing like that. I've had knee surgery before; my ankle has popped plenty of times so I know how it feels. I know I can still fight with it popped. I'm going to take the pain and either give it back or do what I did to him as far as hitting him in the body with my heels. That took a lot of energy out of him. I was surprised he didn't tap too because that one I had in was pretty good too and he didn't tap to that either.

PC: You're one of the rare fighters that uses every part of your body to strike with and use during the fight. Is that something you work on in training?

MT: I've fought like that my whole career. When I fight like that, it's just instinct man. I have to fight like that because I'm not a naturally strong person. I can generate power, but my whole thing is to hit you and hurt you wherever we're at. The more I hurt you, the more I'm going to hit you and wear you down, the easier my day is going to be and with Maeda, that's what I had to do. I knew in the clinch my knees were going to hurt him. I knew if we were on the ground, heel kicks were going to hurt him, elbows and punches were going to hurt him and standing up, my jab was going to pick him apart.

PC: You definitely haven't grown accustomed to losing. It seems like when a fighter gets so high, he always has that letdown. How do you avoid falling into that trap?

MT: I take each fight individually. I never underestimate my opponent and I take each fight as they come. I've been doing that since I started and my dad taught me to never underestimate anybody, especially now because it was different when I was the champion of small organizations, but now I'm a world champion and everybody that I fight is going to be going to try and come out there and take it from me so I gotta prepare harder than when I was fighting for the belt. It's hard to say that everyone can do that, but in my mind, I have to think that way.

PC: Who would you like to fight? Do you feel like you're running out of opponents?

MT: They still have a couple of guys out there. They have Tapia, Brian Bowles, but he's still kind of new. I hope they give him a couple of fights before they put him in there with me, but he's a pretty tough guy; the guy from Greg Jackson's camp, I think his name is Damacio Page. They have Dominick Cruz, he's fighting at 135 now, so there are some guys out there. They have some more Japanese guys. I have guys in front of me waiting. I think in a couple of years, I'll move up in weight, but right now I'll stay at 35 and try to take care of business.

PC: Your length for that weight class is crazy…

MT: It is man. It's very crazy man. I knew I was going to go take a toll on him in the clinch with those knees and I knew he wasn't knocked out, but every time I hit him with them, I heard it take the breath out of him; they were hurting him. I can tell he didn't want no parts of that whatsoever.

PC: I know you want to add on to the gym. How is everything going with that?

MT: It's looking good man. I just have one problem. I've been so busy with this fight, I ignored a little bit of my lease information. I went over it with a lawyer the other day and they were telling me that the property tax is like 30% of what the owner pays, which they tried to sneak that in there at the last minute, so I'm trying to get that taken care of. Other than that, everything is looking good man. We're looking to move out of here by the end of this month. I gotta start getting some guys in here to help me teach because this gym is about to start blowing up and I don't want to be the only one in there training.

PC: When would you like to fight again?

MT: I told them I would like to go as soon as December. I want to fight at least by December. I want to get at least one more this year. I like to stay active. I don't like to stay out of the game too long. I want to be in there and take care of business.

PC: Miguel, they have to start putting your name on some of these pound-4-pound lists.

MT: After this last fight, it's going to have to start getting put on there. I think a lot of guys are going to realize that I have a pretty good stand-up game too and not just the ground. Maeda was known for his striking and after the fight, he told me he was very impressed with my striking.

PC: After the fight, you guys showed great sportsmanship. What happened at the weigh –in?

MT: Everyone got that story wrong. They thought I was angry at him. It wasn't that, but whenever I fight somebody, I always stare at them in the eyes to see what they're about. Like when I fought Bedard in my first WEC fight, I looked him in his eyes and knew he had nothing for me. I already knew I had him. When I fought Bebe, he wouldn't look at me in the eyes. He kept looking down and he would smile so I knew his confidence wasn't there. Then with Maeda, we did this little staredown in the pre-fight stuff and we looked at each other like centimeters from each others faces and he didn't blink not one time and he didn't back away and neither did I. We went to the weigh-in and did the same thing. I went right up to Maeda's face man and got in his grill and he didn't back away not one time bro. I could just tell in his face he was prepared and he wasn't going to shy away from this fight. Come fight day, we're in the cage and I'm mugging him then because that's where I get all of my energy and he was mugging me straight back; we did not break our stare not one time.

PC: You knew right there what kind of fight you had on your hands then?

MT: I knew right there it was going to be a special night. I knew I was going to have to go out there and take it to him. I knew it was going to be one of those fights.

PC: Congrats my man. I always enjoy watching you fight. Is there anything you want to say in closing?

MT: I want to thank all of my sponsors: Tapout, Stagr, Zappos, Vegas.com, MMA Warehouse and Cage Fighter and for sure man I want to thank God. He was with me through that whole ordeal. I wan to thank my family because I train real hard and my family is always there for me. I'm a real dick when I start training man and they're always there for me.
[ Follow Percy Crawford on Twitter @MrLouis1ana ]