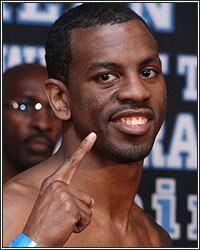 "A lot of people don't know, but I used to be that real arrogant and cocky dude. I was still a kid and I was beating everybody from my neck of the woods. I'll never forget, it was a New York Junior Olympics Finals and basically the winner was going to advance to the National Team; Junior Olympics. That's when I first met Danny," stated lightweight contender Jamel Herring, who recalled his fisrt amateur loss to current middleweight champion Daniel Jacobs. Check it out!

JAMEL HERRING ON FIRST AMATEUR LOSS TO DANIEL JACOBS:

He was real quiet; a cool kid and just laid back. Man, I thought I couldn't be touched. I was like 16 and I think he was only 15 at the time. So we were right there and I was going through everybody. I ran into him in the Finals and I thought it was going to be another win. I remember him being...for his age, he was so strong. On top of that, he gave me my credit because he said I had a good left hand as well. I just remember him being just so sharp. And we both had just started boxing at that time, but I just remember him being so sharp. He took his craft serious. After I lost that fight, it made me want to better myself as a fighter. Over the years, I started watching him advance and going through the weight classes and winning National Championships and it's crazy to see where he's at now, but that one fight with him opened my eyes. Danny Jacobs gave me my first amateur loss. He made me take boxing a lot more serious.

I lost my first pro fight recently to Denis Shafikov and I have bounced back since. But as a teenager, I took that loss hard. I actually took a break from boxing for like a good 3 or 4 months after that. After I took that loss to Shafikov, you and I was chopping it up in a week or so and I was telling you the game plan to come back and how I felt. But it was a lot different as a kid, losing like that, especially when you feel like you're on top of the world and you take that ego hit and reality sets in. As an adult, I take it on the chin and keep it moving. It didn't affect me when I came back recently in my last fight. That fight still stands out in my mind with me and Danny because it made me realize how serious the sport is and how serious others take this sport. I thought I was the best at what I do and I learned then that there is levels to this. I came back and got back on my grind.

At that time, he was so sharp and I think he had a pro style already, even at a young age. I feel like he always had a pro style because he would set up his punches. He wasn't wild and just winging shots. I think that's why he may have had trouble in the amateurs at times with somebody like Shawn [Porter]. You see how Shawn fight now; imagine how he was in the amateurs. Shawn is just an overwhelming fighter, especially in the amateurs. He was known for that lead left hook. And you still see it today. That's how he gets in. He would come in with that lead left hook and then drop bombs on you once he got in, even at the amateur level. I think that's why Danny had a hard time at that level because his style fits him more as a pro and that's why it works great for him today. To me, he has always been sharp. He even had me take notice when he took that loss to Demetrius Andrade. At the time, Danny was knocking out everybody. A lot of people don't know that, but Danny was knocking out everybody on the national scene. That motherfucker stopped me. Im'a keep it 100, that strong motherfucker stopped me. It was one of them fights where we were going blow for blow; that's why he acknowledged I had power too, but he was more crisp with his and he just happened to catch me, man. And you know, as a kid, they ain't going to risk you getting hurt. They don't let you take damage. That's when I knew I had to get my shit together. He stopped me, but I didn't feel too bad because he was stopping everybody on his way to the National Title. I was like, "This kid gonna be something crazy."

It's crazy because now I fight at 135 and he's a huge 160-pounder. But when I started boxing, I only fought in two weight classes; 132 and 141. With him, he was just going through the weight classes. He fought Demetrius Andrade at 152 and he shot past that. Some kids just keep growing, like Erickson Lubin. I don't think he's going to stop growing at 154. One day he may be a damn super middleweight. That's just how some people are built. For me, in terms of the pro level, I ain't gotta kill myself to make weight because my body isn't growing no more. If anything, I'll probably peak out at maybe 147. It's like we talked about before, dudes that fight super middleweight and now light heavyweight, like Andre Ward now, was fighting Tim Bradley. Andre Ward was fighting dudes that's at welterweight and maybe even junior welterweight.

Even when I see Danny today, we'll joke about it. I'll tell him, "You know I gotta get my rematch." It's like a 30-pound difference now. It's always good to see somebody you came up with do they thing and represent. We both from New York, so he represents where I'm from and it's always good to see those you came up with doing great things in boxing. I never really had a rivalry with anybody I came up with in the amateurs because I was always told, "Forget worrying about people that you fought, even at the national level in the amateurs. You gotta try to worry about them foreigners that's coming over here and try to take what's yours." I'm a fan of Golovkin and all, but I don't know him. It's not like we have history together, but people like Semajay Thomas, we fought each other in the amateurs, but there's no bad blood because we look at the bigger picture. We may meet again at the pro level, but it's gotta be about smart business. We're not going through a bracket and just linking up. Everybody I came up with, I wish them the best of luck. I'll never have anything bad to say about anybody that I ever fought in the amateurs. I hope they succeed and I hope they wish the same for me.
[ Follow Percy Crawford on Twitter @MrFighthype ]