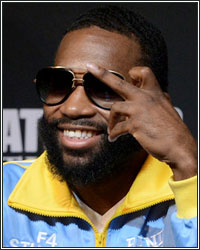 Adrien Broner is the dream opponent of every high-minded fighter in the 140-147 lb. weight range. Not only can the Cincinnati native draw huge amounts of publicity to anything he does-and publicity translates to money in boxing-but he's also viewed by many as highly beatable.

Inconsistent and lackluster performances have plagued the 27-year-old fighter in recent years with losses to Marcos Maidana and Shawn Porter establishing relatively modest high-water mark for a fighter who, at one point, boasted so much raw potential. Chalk it up to weight issues and/or a professional indifference to his craft, but Broner has entered his physical prime a full four years after he's stopped developing as a fighter.

But, whereas other fighters with similar career stagnation may have long been cast into the role of fringe contender or gatekeeper, Broner still finds himself a headliner.

Given the favorable risk/reward ratio involved in fighting him, it should come as no surprise, then, that challengers are lining up for the chance to face "The Problem."

Right now, the rumor is that a Broner-Mikey Garcia catchweight bout is in the works for later this summer. The lightweight titlist would be moving up to 140 lbs. for a crack at the former multi-division world champ, but it's a good risk for what would likely be the biggest payday of Garcia's career.

Last year, rumors circulated that Manny Pacquiao and his people were interested in reaching beyond Top Rank in-house matchmaking to face Broner before settling on a third bout with Timothy Bradley. (Bradley, also, by the way, chose to call out Broner earlier this year when asked about an opponent for his return to the ring).

While Pacquiao and Bradley would be nice fights to take with sizeable payouts, more realistic options for Broner involve other fighters advised by PBC bossman, Al Haymon.

Danny Garcia, looking to rebound after a tepid, timid performance against Keith Thurman earlier this year, could be looking in Broner's direction for a comeback win that would draw maximum exposure.

Andre Berto could want a piece of Broner for the same reason Garcia should.

Keith Thurman, who is currently recovering from elbow surgery, may also see Broner as the ideal opponent-someone able to generate a large amount of publicity, but also vulnerable to a main stage defeat.

Even one-time Broner mentor and "Big Bro," Floyd Mayweather, at one point last year, wanted to get in on the "beat Adrien" business by publicly (via FightHype) expressing a desire to promote a Broner-Errol Spence Jr. bout.

Writer and former boxing manager, Charles Farrell, once compared Broner to "a psyche ward patient with a cardboard crown and a handful of ripped up newspaper, proclaiming himself a wealthy king," but there's no denying that this faux-king has clout.

Even if the line to fight him is only there for the purpose of landing a winnable big money bout against someone who has lost much of his competitive "street cred," the reality is that Broner has importance. Above and beyond his ability to provide a consistent quality effort in the ring, the market is there for Broner to benefit from who he is and for any future big name opponent to benefit from who he is, too.

Of course, Broner is entirely capable of flipping the script and shocking those would-be opportunists looking for a big and relatively safe payday. The boxing world, though, is clearly not banking on that.