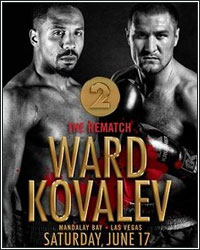 Believe it or not, everyone won Saturday night at the Mandalay Bay in Las Vegas as Andre Ward scored an ugly-looking, but career-defining eighth-round TKO over Sergey Kovalev.

Ward and his true believers, of course, got the win they needed to keep the Ward wagon going.

Kovalev got his beefy hands on a good chunk of face-saving denial when it comes to a bout he was well on his way to losing, anyway.

Even Ward's legion of serial critics and flat-out haters got something they could use on Saturday, something they could desperately grasp on to in their never-ending quest to diminish Ward and his accomplishments.

In the highly-awaited light heavyweight world title rematch, Ward came out a little faster, sharper, and more aggressive than in the first bout, negating much of what his Russian foe wanted to accomplish. A never-out-of-control Ward would take four of the first seven rounds before pulling away and closing the show in the eighth.

Last November, when the two met in a disputed unanimous decision win for the former super middleweight kingpin, Ward seemed to have figured out his power-punching foe by the end of the bout. In the rematch, Ward picked up where he left off, amping things up a bit with the knowledge he gathered the first time around.

Body shots-and the occasional borderline low blow-bothered the Russian KO artist greatly, sapping both his gas tank and his will to extend himself. In the eighth and final round, Kovalev issued one final offensive surge in the opening moments, but was otherwise a spent bullet, coming forward out of instinct, but not really coming with anything threatening.

Ward seized on a weakened, seemingly deflated Kovalev, cracking the former champ with a right hand near mid-round that seemed to shake him and then laser-focusing on the body, which eventually led to the fight being stopped by referee Tony Weeks.

The controversy (or conveniently manufactured controversy) would come from the previously mentioned borderline low blows and the closing shot of the fight, which WAS a legitimate low blow. The reality, though, is that Kovalev was well on his way out before the final low blow and complaints of foul play are soaked in a heavy dose of denial.

Having said that, the Weeks stoppage WAS fairly disappointing. It wasn't exactly the video-friendly kind of stoppage conducive to a clear, indisputable end. In retrospect, however, Weeks was not wrong in stopping the fight when and how he did. Kovalev was bent over, not defending himself, after taking some heavy shots. With no standing 8-count rule in effect, there was nothing else Weeks could do, other than, maybe, issue an unofficial standing 8-count in the guise of a low blow warning.

But, again, it would've meant nothing to the eventual final outcome. Kovalev was clearly on his way out.

We can now count Kovalev among the legion of other fearsome, feared "beasts" totally disassembled by good, solid boxers. Media and fans WANT to believe in these macho fairy tales of raging man-beasts, but it's still good, solid technique that almost always wins the day when science and violence meet.

Kovalev, as a fighter, is a better all-around boxer than many of the habitually overrated offense-minded "beasts" that capture the boxing public's attention and affection. But, like the others, he's a fighter who, because of his offensive skills and heavy hands, has never had much of a need for a second or third gear in the ring. Unable to adapt to those who won't fall under the weight of his massive firepower, there is no Plan B, should Plan A fail him.

Even Kovalev's own assistant trainer, Don Turner, was realistic about Kovalev in retrospect.

"Kovalev is just a puncher," Turner said during a post-fight interview with Dontae's Boxing Nation on YouTube. "He ain't no thinker."

Having a bully's mindset and little ability to adapt to opponents who won't collapse before their might, leaves fighters like Kovalev at a career dead end when publicly de-pantsed.

And for Kovalev, there may be no coming back from this loss. He may still win some fights and take a paper title or two, but usually, when the book is written on how to beat a "beast" like Sergey and the mystique of their dominance is gone, the monsters are pretty much finished.

As for Ward, well, he'll go on being the best fighter in the world, who, for any number of reasons, just will not get his just due from at least half the boxing world.

At the end of the day, although much happened Saturday night, not much has changed. Ward is still WARD, Kovalev is still clutching at bitter denial, and, likely, not one single mind has changed in the ongoing Ward vs. critics tug-of-war.