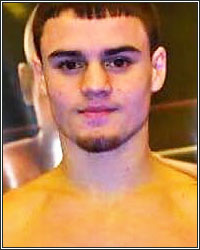 "I'm definitely looking to be a champion, but we're taking things slow. I'm just going to let it come, but that is the goal...I bring a lot of excitement. I have everything that you would want to see: speed, power and good defense," stated bantamweight prospect Chrisitan Carto, who talked about his upcoming June 30 return to the ring. Check it out!

PC: I have heard a lot about you, my man. How's it going?

CC: I'm doing good. I just got back from the gym. I fought at the end of April and now I'm back in the gym preparing for another one on June 30th.

PC: You have already had 3 fights in 2017. Obviously the goal is to stay busy. How important is that to you?

CC: It's real important to stay busy. When you stay busy, you stay training. I'm about to be on my tenth fight in a year, so everything is going good. I like to fight and my manager is my brother, so he keeps me real busy.

PC: Are you working on anything in particular in the gym or the whole package?

CC: I'm working on everything. I think you have to.

PC: You carry that "Philly fighter" tag. That comes with a lot of expectation and responsibility. How do you embrace that title and the expectations that come along with it?

CC: It's a great time right now. There are a lot of good fighters coming up and a lot of up-and-coming talent in Philly right now. It's good being mentioned with guys like Stephon Fulton and Darmani Rock because I was in the amateurs with them.

PC: You are 9 fights into your career and you have fought a 44-fight veteran and a 37-fight veteran. I spoke to a respectable guy out of Philly and he feels you will be a bantamweight champion sooner rather than later.

CC: I'm definitely looking to be a champion, but we're taking things slow. I'm just going to let it come, but that is the goal.

PC: And don't let the baby face fool you. 9-0 with 9 knockouts, obviously you can crack, my man.

CC: Yeah! And I'm not really looking for any knockouts. I'm just letting everything come. A couple of knockouts that I had didn't come easy, so I'm definitely not forcing it; I just get in there and keep working.

PC: And I like the fact that you are scoring some of these knockouts in the last round or the round before the last round. These aren't just 1st round blowout knockouts.

CC: Right! I'm breaking my opponents down and then finishing them off when the time is right.

PC: How did you get into boxing?

CC: My grandfather boxed and my two great uncles, they boxed. My grandpa was world ranked. His name was Frank Carto. My dad didn't box, but my brother boxed. I came to the gym with him one day and someone was in the gym and he was like 4 years older than me and one of the trainers came up to me and asked if I wanted to box the kid. And I didn't really want to box him, but I couldn't say no. So I boxed him and I did pretty good, so I stayed in the gym. I was playing ice hockey too, so I was playing ice hockey and boxing at the same time. Since I was 16 years old in 2012, it's been all boxing.

PC: Are there any fighters out there who you steal little things from?

CC: Oh, I try to steal bits and pieces from every fighter. I try to take a little bit from several fighters. I watch a lot of guys from Philly, like Julian Williams, "Scooter", that's Stephon Fulton; everybody. I'm a student of the game. I don't try to copy or nothing, but I try and take something from them.

PC: There is a lot of hype behind you. You're undefeated with a 100% knockout ratio. Does that add any pressure on you or do you embrace that and use it as fuel?

CC: I don't really try to think about it a lot. I just train as hard as I can. I don't take any days off and I go in and fight.

PC: Is there anything in particular you're looking to showcase on the 30th?

CC: I want to do everything good. I want my defense to be sharp, use my jab, be fast, smart and strong. I want to hit and not get hit really.

PC: Boxing is in a great place right now and it's a great time to be a fighter and an even better time to be a fan of fighting.

CC: There are a lot of real good fights that have happened lately and coming up. Errol Spence's fight with Kell Brook was a really good fight. Gervonta Davis seems to be making a strong push and the sport is doing real good. We got the Garcia and Thurman fight and Golovkin and Canelo are fighting, so again, it's exciting.

PC: What can fans expect when they watch a Christian Carto fight?

CC: I bring a lot of excitement. I have everything that you would want to see: speed, power and good defense.

PC: I appreciate the time. Best of luck on the 30th. Is there anything you want to say before I let you go?

CC: Thanks a lot for calling!
[ Follow Percy Crawford on Twitter @MrFighthype ]