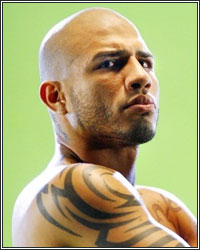 Four-division former world champ, Miguel Cotto, has become a jaded realist over the last few years of his career. No longer the "good company man," the Boricua battler has been matchmaking with the risk-reward ratio firmly in mind since his embarrassing TKO loss to Manny Pacquiao in 2009.

Nowadays, there is more businessman than warrior in Cotto and risky fights only get signed if there's a guarantee that he will be richly compensated for them—and not too roughed up, physically, from the challenge. Consider it a well-deserved run towards padding the bank account after years of doing as told and taking the kind of punishment that often goes hand in hand with being a company man in boxing.

Newly-signed with Golden Boy Promotions, Cotto is slated to face Japanese brawler Yoshihiro Kamegai on August 26 in a bout that can probably be best described as an entertaining squash. Make no mistake about it, the objective of this bout is to get Cotto looking once again like a blood and guts warrior and less like the careful boxer he has looked like in most of his recent fights. The idea is to build him up for one final cash-out in December against an opponent yet to be determined.

The problem for Cotto and Golden Boy, however, is that pickings may be extremely slim for a major PPV clash later this year.

The most obvious choice of opponent would be the winner of the upcoming Saul Alvarez-Gennady Golovkin bout on September 16. A rematch with Alvarez, who beat him via unanimous decision in November of 2015, would probably produce around a million buys, just like their first bout. The fight was close enough to manufacture a demand for a rematch and, of course, the Mexico vs. Puerto Rico rivalry will always be a keen marketing tool. If Golovkin should beat Alvarez, though, Cotto may give pause to accepting the challenge of a larger opponent who could inflict some serious damage to him for a significantly smaller payout.

A likely back-up to an Alvarez rematch would involve casting a net into the hungry seas of the welterweight division and bringing up a "name" who can sell a fight and bring some sort of clout to a career grand finale. Cotto has reportedly been linked to such efforts in the recent past, supposedly making attempts to secure bouts with the likes of Juan Manuel Marquez and Timothy Bradley. Another possible, albeit unlikely, player in that welterweight export mix is Australia's Jeff Horn, who is coming off a huge underdog victory over Manny Pacquiao.

Within Cotto's 154 lb. home division, Miguel faces nothing but high risk for relatively low reward. One can assume that facing the likes of Demetrius Andrade, Erislandy Lara, and Jermell Charlo is not in keeping with the likely goal of finishing his career with a big bang and a huge financial score.

So, where does Cotto go after Kamegai? Maybe the most likely option is that everything gets pushed back eight months or so in order to let dust settle and get a clearer idea of who could be his ideal final opponent. This is assuming, of course, that the Kamegai bout doesn't get pushed back to later this year, moved from its date because of the Mayweather-McGregor mega-event scheduled for that same day. As of right now, though, Golden Boy seems intent on keeping their date. However, that may change as the reality sinks in that they are competing with a boxing event getting lead story treatment on Sportscenter.

Unless something emerges out of the blue, there doesn't seem to be much there for Miguel Cotto's final run. Will he take a greater challenge out of necessity for a lower payoff? Maybe he'll simply settle for a lesser event for his last bout and hope his promoter can hype it up to something beyond what it really is.

Or, maybe, this is all a sign that the time to end things for Miguel Cotto is here and now. With nothing really left to prove and no apparent burning desire to do anything beyond earn a pay check, what's the point in going on?