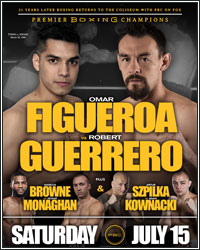 Well, that was fun. A full day of boxing with not one single moment of outrage or embarrassment.

Last Saturday was chock full of quality fight action that not only played out to reasonable, honest conclusions, but also delivered high-end boxing action to fans starved for the good drama the sport can often bring. Here are a few notes from Saturday's all-day action:

-- Chris Eubank Jr. carries a lot of baggage with him and has burned a lot of bridges for a young man, but the guy has got the raw potential to be an outstanding fighter. He's not there yet--and, sometimes when an ego blooms too quickly, a fighter never fully develops—but, if he can keep the attitude in check, he could own 168.

-- Arthur Abraham is just an older, slightly slower version of what he always was. There's really no need to talk about him being "shot." Saturday's version of Chris Eubank Jr. would've beaten any version of Abraham, who was always overrated in my estimation. Abraham had fairly heavy hands, a good chin, high-guard defense, and a talent for stealing rounds. That's just about it.

-- By knocking out Artur Szpilka, Adam Kownacki just became the new Artur Szpilka.

-- Living in Mexico and watching the Spanish Language broadcasts is a trip sometimes. On Saturday's Fox en Espanol telecast of the PBC card, I got to hear a couple of rounds of the broadcast crew call Marcus Browne, "Marcus Brownie."

-- As for Marcus Browne, could it have been any clearer that the man is on a completely different level than Sean Monaghan? Post-Browne drubbing, I'm looking forward to less "Seanie" buzz online.

--In the main event of that PBC card at the Nassau Coliseum in Uniondale, New York, Omar Figueroa Jr. looked sloppy as fuck against a shot-to-pieces Robert Guerrero. I don't see much of an upside for Figueroa at 147, but all-action fights with Brandon Rios, Andre Berto, and Adrian Granados could make some money and give fans some memorable action.

-- Backtracking a bit, but why was an Omar Figueroa-Robert Guerrero main event headlining a card at the Nassau Coliseum in Uniondale, New York in the first place? From a butts-in-seats, geo-friendly perspective, it makes no sense to me.(Having Long Island boy, Joe Smith Jr. fighting out in California when there was a nice NY card so close to home also makes no sense). Having said that, though, I have no complaints about the card at all. Good, solid matchmaking and quality work all around.

-- Speaking of the Premier Boxing Champions telecast on Fox, what the hell was up with Brian Kenny's hair and makeup? In case you missed it, just Google "Cesar Romero, Joker."

-- Meanwhile, over at HBO, there were three solid, quality fights that may have been light on star power, but managed to deliver on action. Best of all, there was no overlap with the PBC on Fox card, so fans got to see every top fight broadcast that evening.

--And the winner of dumbest management team goes to—Team Joe Smith Jr., for not capitalizing on back-to-back knockouts of Andrzej Fonfara and Bernard Hopkins. Instead of waiting out the division and fighting some well-deserved soft touches until a big fight emerges, these guys took a risky, relatively low-pay bout on the undercard of a fairly small show against mega-risky Sullivan Barrera. Much to Smith's detriment, the high-risk/low-reward proposition didn't pay off and now the kid has lost out on a chance at a much-deserved life-changing payout.

-- I have to be honest here, but after several hours of watching boxing while eating and drinking, Jezreel Corrales-Robinson Castellanos was totally bathroom break time for me. I will catch up on that one later, but I will say that hearing that Jezreel Corrales came in as a welterweight for his super featherweight title defense was jarring. Boxing desperately needs to go back to same-day weigh-ins.

-- Miguel Berchelt-Takashi Miura was a bit disappointing, but only because I was expecting a whole lot from this one. Overall, the super featherweight division is looking really nice. You forget just how deep the division is until you take a look at Boxrec.

-- All in all, Saturday was a really good day for fight fans. It was a day to just enjoy the sport without a single moment of disgust, outrage, or angst. Cue Ice Cube's "It was a good day."

Got a question (or hate mail) for Magno's Bulging Mail Sack? The best of the best gets included in the weekly mailbag segment right here at FightHype. Send your stuff here: paulmagno@theboxingtribune.com.

Buy Magno's awful, hateful (sometimes insightful and funny) book, Notes from the Boxing Underground, via Amazon on Kindle or in paperback.