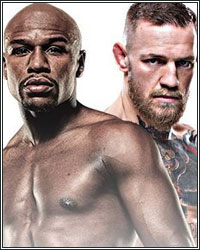 When it was reported earlier this week that there were still as many as 7,000 tickets available for the August 26 Floyd Mayweather-Conor McGregor mega-event in Las Vegas, critics of the fight pounced on the news like Dan Rafael pouncing on an incoming tray of fresh Swedish meatballs at a media buffet.


The prevailing wisdom among hardcore boxing fans and media is that McGregor has zero chance against Mayweather. Online boxing sportsbook topbet.eu continues to favor Floyd (-600) over Conor (+400) by a hefty margin. In most quarters of boxing fandom, this bout is considered a farce of the highest, most cynical level.


So, chalk one up for "smart" curmudgeons and "purists?" "The Money Fight" may not be a big score after all. Sanity has prevailed. The enemy has been defeated. Boxing can go back to being palatable to 60-year-olds! The scourge of incoming new fans has been turned back before it even had a chance to start. Back to our man caves where we can watch boxing with an ever-shrinking group of like-minded "real" fan.


Wait, not so fast.


Doing the math, the Mayweather-McGregor live gate, even at the ridiculous prices being asked for seats ($10,000 ringside to $500 for the nosebleeds), will only represent about 10%, at most, of the fight's total take. Dana White, himself, has said that the live gate figure right now is at about $60 million, which is edging closer and closer to the all-time gate record of $72 million set by Mayweather-Pacquiao. Even if none of those 7,000 available seats (3,000 at the primary source and 4,000 on the secondary market) sell, things will be just fine for the event's bottom line.


What people fail to realize in the gleeful rush to turn back two very disagreeable cash-conscious characters is that Mayweather-McGregor is not like any other fighting event we've seen before.


This isn't a boxing event in the traditional sense. No die-hard fan is planning a weekend excursion to Vegas, weeks and months in advance, around this fight. Those hardcore fans who plan on being in Vegas around this time are most likely planning their trips around Canelo-Golovkin, which is just three weeks later on September 16.


Floyd-Conor also isn't a UFC event in the traditional sense. UFC shows tend to be moderately priced and more accessible to the average fan.


Mayweather-McGregor, at least at the live, in person, level is an event designed for the rich and famous to celebrate the rich and famous. Mayweather, himself, reportedly made the conscious decision to price the tickets above what normal fans could ever justify paying for a one night event. "The Money Fight" is for the 1% and the rest of us will be allowed to peek in, through a TV screen—for a price.


Really, this is not all that different from how boxing always operates at the pay-per-view level. Tickets to the arenas are jacked up, forcing interested parties to pay a hefty price for live access with everyone else forced to pay for the privilege of watching from home.


The difference with Mayweather-McGregor is that nobody's pretending that this ISN'T, first and foremost, a money grab. That could actually be seen as a good thing, if you're a "glass half full" kind of guy. Whether the event will actually be worth the money asked to watch it is a question asked of every event, regardless of how large or small. Boxing IS a business, after all. Don't doubt for a second that any promoter, promoting any show, would be looking to charge Mayweather-McGregor prices for a seat if they could.


So, before celebrating the defeat of "The Money Fight," just sit back and accept reality.


Mayweather and McGregor and everyone else involved in the mega-event WILL make their money. The fight IS going to happen. Whining over the sanctity of the game or even the quality of the actual match-up will not matter one bit. Boxing "purists" can either choose to deal with what's going to happen and maybe even make the best of it or figure out a way to tune it out completely until the whole thing is over.