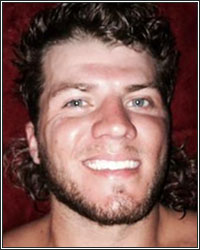 "My dad left me a legacy and I'm proud of that legacy. I don't try to use it as fuel or anything. I pride myself on being me and if I'm being honest, I'm never going to fill his shoes. I'll never be as good of a fighter as him. He gave me the opportunity to make something of this, so I'm going to try my best," stated heavyweight Kenzie Morrison, who talked about his next fight, his future plans, and much more. Check it out!

PC: You have scored 2 knockout wins this year. You had to make some changes after a couple of draws; you changed gyms and your trainer. How do you gauge out your year so far?

KM: I feel like I've finally found a home as far as a gym. I kind of jumped around a little bit and struggled trying to find a fit in a few places. I feel right at home at the gym I'm at now. I'm learning more, it's a good program, and I feel like I'm improving. I have a lot to learn as far as experience and just fighting and sparring and getting in rounds, but I gauge my 2017 as improving and I have my ears and eyes open.

PC: Any time you get into this sport late, you're always playing catch-up. What do you feel you have to do to bridge that gap as quickly as possible?

KM: I've fought for 3 1/2 years now and I feel like I'm just starting to settle in where I feel like I'm getting the basics down to where I know what I'm comfortable doing and not comfortable doing and how to push yourself and prepare for fights. The thing is I don't have that much experience, so I don't know what to do to close that gap. I'm just trying to do the best that I can and just grind.

PC: You mentioned finding a gym that felt like home and that you were comfortable with. How important was that for you at this stage of your career?

KM: Ah man, it was a breath of fresh air. It's like a weight was lifted off of my shoulders. When you're in a gym where everything just doesn't go together and it doesn't flow every day and people cause problems, it makes it hard. So I would say it was extremely important for someone to find that comfort zone within the gym you train at because your gym life kind of gotta be like your home life. It's gotta flow. You gotta love going and get along with the people that are there. I love the guys that I train with. It's also a fitness gym; it's more of a boxing gym, but it's fitness too. So you got your average teacher, painter, real estate broker, and college coaches. They all come in there too and what we do inspires them too. I love everybody there, so I would say that's important.

PC: You look and sound just like your father. There is no hiding that at all. Does that add pressure on you and what you are trying to accomplish in the boxing game or are you kind of fueled by the fact that you can keep the legacy going?

KM: I love and miss my dad. It kind of freaks me out to when people say things and I see pictures and whatnot, you know. My dad left me a legacy and I'm proud of that legacy. I don't try to use it as fuel or anything. I pride myself on being me and if I'm being honest, I'm never going to fill his shoes. I'll never be as good of a fighter as him. He gave me the opportunity to make something of this, so I'm going to try my best. Hopefully he is proud of what I have accomplished so far. I pray to him just like I pray to God and I hope it pans out. My mom hates it (laughing).

PC: She's not a fan of you being a fighter?

KM: No, she's not a fan of me looking so much like my dad (laughing).

PC: (Laughing)! You definitely are a spitting image of him. Kenzie, what have you learned most about yourself throughout your first 13 fights?

KM: I've learned that 13 fights isn't that much at the professional level because most fighters who have 13 professional fights have had anywhere from 100 to 200 amateur fights. It's hard for me to say that I have figured anything out about myself because it took a couple of fights to shake the jitters. Then when I was able to shake the jitters, I realized that I was focusing a little bit more and I was able to listen to my corner and my conditioning was getting better. As far as finding out about myself, I feel like I'm a mobile heavyweight. That helps a lot when you're fighting the bigger guys that tend to want to stand there and trade punches. I'm able to move my feet and make them big guys move around a lot and catch them in awkward positions and at angles. I have found that I am more of a boxer-puncher than I am a banger. That's the way I feel comfortable; fighting on the defense.

PC: What are your goals? When this is all said and done, what would you have liked to accomplish?

KM: Well, I want what everybody wants. I would like to have a world title. The longer that I am in the sport and the older I am getting, I see how rough the sport is. The toll that the training takes on your body; when I started out, I wanted to try to fight until I'm 30. I'm 27 now; I got 3 more years. I would be tickled to win a world title, but I've kind of pulled it back a little bit. I would love to just fight for a title and get paid and get out clean and be able to take care of my family having achieved that. It doesn't mean that I'm not going to give it my best and try to win. Obviously that's the goal, but I met a lot of the greats and I have seen what boxing has done for them and to them. I'm not trying to stick around and be stubborn and be too tough for my own good, but I definitely want to make some money. Pro boxing is prize fighting and I'm in it to make money. I'm not in it to be the toughest guy in the world. That's my goal is to make as much money as I possibly can and hopefully doing that, win a world title.

PC: Have you watched your dad's fights, and if so, do you feel you share any of his qualities or have you stole a couple of his moves?

KM: I have watched every one of them. I wouldn't say that I have stolen any moves. His style works for me at times. But like I said, I'm more of a boxer-puncher; he was more of a banger. He would stand in there with a lot of head movement and would catch fighters coming in there with hooks. I definitely like the left hook. I think that's a shot of mine that's kind of like his. It's a fast left hook that can be short, it can be rangy. I can throw it from outside or inside. So, maybe the left hook a little bit is like his.

PC: You are out there in Oklahoma. They actually have a very good fan base in boxing. Are you feeling the love and support out there from everyone?

KM: Oh yeah! I fought for Tony Holden now for 3 years and the stuff that he is building there in Northeastern Oklahoma is getting real. I'm fighting August 25th on a Fox Sports undercard right there on Main Street in Miami, Oklahoma and Fox is actually going to broadcast that right after Mayweather-McGregor weigh-ins. All of the fans there who have watched me grow and watched my brother grow and some other guys who have been fighting with us; watched them. You're right, the fan base is awesome. They tear the roof off of the place of where we are fighting.

PC: Kenzie, I wish you the best of luck on the 25th. We will definitely chat after your fight. Is there anything else you want to add before I let you go?

KM: Right on! I appreciate the opportunity to do this interview. I hope you stay safe and you do good as well; keep me in mind.
[ Follow Percy Crawford on Twitter @MrLouis1ana ]