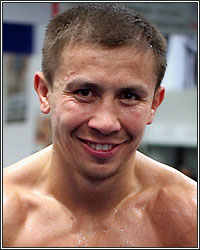 If Gennady Golovkin can't deliver a dominant, marquee win this Saturday against Saul "Canelo" Alvarez, he becomes an instant laughingstock.

After five years of hearing non-stop propaganda about Golovkin wanting to tear through the middleweight division and disgrace the sissy millionaire fighters who are afraid to step into the ring with him, now is the time to deliver.

Team Golovkin's relentless pursuit of a major payday has forced the focus on fighting Alvarez for over two years now, with the young Mexican star being destroyed by the fawning pro-Golovkin media for having the nerve to deny their man-crush a major payday.

That same love-struck media has created a scenario where "Triple G"—already ranked among many writers as an all-time great in the 160 lb. class despite a slimmer than slim resume—BETTER deliver a suitably dominant performance against the "cowardly" Canelo or this upcoming bout is going to come across as the punchline to a years-long joke.

The Kazakh KO artist WILL be roasted alive if he doesn't come through like the unstoppable machine of this media's wet dreams because, now, after a career free pass given to the man for being a force of nature so awesome that he is unable to get a "real" fight, to come across as anything less than superhuman will be a letdown.

Realistically, it could very well be that Alvarez isn't even a top two middleweight and the "best vs. best" narrative being used to set up and then promote this fight is nothing more than a justification for Golovkin's team to get their hands on a "real" earner as an opponent—an earner they feel they can beat. It's fair to say that Canelo, a definite elite at 154, might not be any more than the fourth best middleweight in the world at this moment (behind Golovkin, Daniel Jacobs, and maybe Jermall Charlo).

So, if Golovkin is the beast of 160 and an all-time monster ranked only behind the likes of Hagler, Monzon, and Hopkins, and he CAN'T waltz right through a guy who may be no better than no. 4 among active 160-pounders? That's the sort of stuff that just begs for a backlash. Worse yet, what if he actually loses?

There's no coming back for Golovkin if he fails to shine this Saturday. He will be ripped to shreds by the critics. The media that adored him, along with the true-believing fans who once were convinced he could do no wrong, will scramble to make excuses and justifications for his performance—something that will make Golovkin look absurd when stacked up against the over-the-top blind adulation and benefits of all doubt given to him before the fight.

Reality will slap everyone in the face when it comes to Golovkin and a career built upon simple, stylistically convenient matchmaking juxtapositioned against cartoonishly loud cries for a challenge.

But maybe Gennady Golovkin IS as good as everyone says he is. Maybe he will finally prove that he can decisively beat someone not perfectly suited to make him look good. Maybe, after 19 world title bouts, Golovkin will be justified as a great fighter held back as a victim of circumstance in a weak division that was slow to give him a shot at an elite-level win.

It's totally possible that such a high-profile win this Saturday will be enough to secure a legacy for a career that has gone by under remarkably little scrutiny.

But the exact opposite could happen if Golovkin fails to shine. Gennady could be buried by a failure to deliver on five years' worth of media propaganda. His actual career accomplishments could be completely negated by an embarrassing performance in this one fight around which his career has been built.

Either way, the legacy of Triple G is on the line against Canelo Alvarez and soon everyone will see how this particular "drama show" will play out.